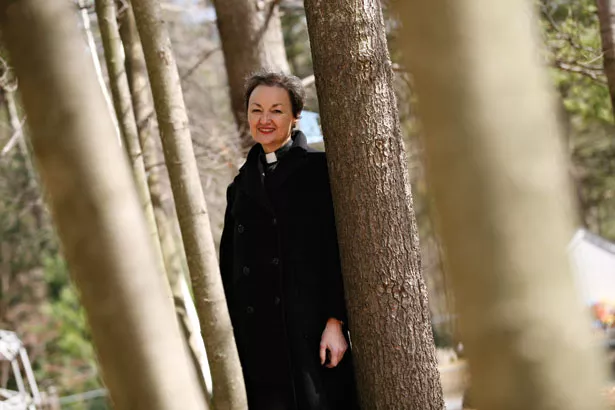 In March 1967, Science magazine published an essay, "The Historical Roots of Our Ecologic Crisis," by a UCLA history professor named Lynn White. An expert in technological innovation during the Middle Ages, White argued that the environmental crisis looming over the planet was the fault of Western Christianity, which had fostered among believers a blatant disregard for the world beyond themselves.
"By gradual stages," White wrote, "a loving and all-powerful God had created light and darkness, the heavenly bodies, the earth and all its plants, animals, birds, and fishes . . . God planned all of this explicitly for man's benefit and rule: No item in the physical creation had any purpose save to serve man's purposes."
Once its adherents had established the rules of play - by, among other things, destroying the sacred groves of nature-worshipping pagans - the Christian church became what White called the "psychic foundation" for the scientific and technological invention that secured our mortal dominance over God's creation. The only way to escape the present ecological crisis, White concluded, was to "find a new religion, or rethink our old one."
Theologians reacted with anger to "The Historical Roots of Our Ecologic Crisis." But, as White had hoped, it provoked some Christians to re-evaluate their relationship to the natural world. Forty years later - and 21 years after White's death - the results are starting to take hold in American houses of worship. How White's insights might be corralled to help transform the environmental ethics of Western civilization is the subject of "Greening Our Religions: Interfaith Responses to the Environmental Crisis," a five-week lecture series hosted by Ascension Lutheran Church in South Burlington.
The lectures are a dream realized for the Rev. Nancy Wright, who became pastor at Ascension Lutheran about a year and a half ago. Wright, who has both a divinity degree and a Master's in Environmental Conservation Education, says the series is a way of "testing the spirit" for a more organized response shaped by the combined perspectives of Christians, Muslims, Native Americans, Jews and Buddhists.
"We're asking, at the end of each lecture, 'What does this lead you to think and do?'" Wright says. "I don't know if the witness will be strong enough to start to try and change society."
The series began on April 6 with a lecture by Saleem Ali, the associate dean for graduate studies at UVM's Rubenstein School of Environment and Natural Resources. In an interview, Ali said that Muslims, like many Christians, have "trivialized the living world."
"Especially when you compare Islam to contemporary Judaism and the reformed churches," Ali said, "the afterlife is much more significant. When people have that kind of approach, it's hard for anyone to convince them about conservation and so on."
The series also features,on April 20, Kenneth Mello, an assistant professor at UVM who specializes in Native American religions; and on May 4, Stephanie Kaza, a UVM professor of Environmental Studies and a practicing Soto Zen Buddhist. Within those two traditions, however, the link between the divine and nature is much less ambiguous than it is among the children of Abraham - Muslims, Jews and Christians - whose faiths have so influenced the fate of the planet. To that point, "Greening Our Religions" represents part of the ongoing response to Lynn White, who inspired a generation of theologians to pore through scripture and the writings of, among others, Augustine, Thomas Aquinas and Francis of Assisi, for traces of a Christian environmental ethic.
Where do conservative evangelicals stand on environmentalism? In May 2006, the Rev. James Dobson, founder of Focus on the Family, the most influential evangelical Christian organization in the world, revealed his position. Dobson, whose daily radio broadcasts reach an estimated 220 million people in 160 countries, was moved to comment by the reported remarks of Richard Cizik, vice president of the National Association of Evangelicals. Cizik suggested that, as a social issue, climate change was as important as abortion and gay marriage - sentiments that Dobson considered "anti-capitalistic" and suggestive of "an underlying hatred" for the American way.
"What Richard Cizik and his associates want us to do," Dobson warned, "is roll back the use of fossil fuels to 1998 levels, or even earlier, which would paralyze industry and put millions of people out of work."
But other evangelicals were already reconsidering their environmental values. In 2003, the National Religious Partnership for the Environment launched a "What Would Jesus Drive?" campaign, in a not-so-subtle dig at SUV-owning Christians. The following year, a poll by the Pew Center for Religion & Public Life found that concern about the environment was growing among all religious believers, including the conservative mainline Protestant congregations.
What has yet to emerge among Christians, says Rebecca Gould, a professor of religious studies at Middlebury College, is a less centralized environmental activism. Gould, who will deliver a "Greening Our Religions" lecture at Ascension Lutheran on April 27, says the evolution of theological thinking on the environment has been "great, but it hasn't really hit the on-the-ground culture."
"People have built on other people's work in a nice way the last 10 or 15 years," Gould says. "But does it make any difference at all in what people are hearing in their churches and synagogues, and what they are doing in their communities?"
Gould and Laurel Kearns, of the Drew University Theological School, are trying to answer that question in a research project called "Religion on the Ground: The New Environmentalism of Religious Institutions." So far, Gould says, they have documented several "really lively" efforts that combine public theologizing and grass-roots activism. One example is a group of nuns that created a sustainability center near Cleveland; another is the Coalition on the Environment and Jewish Life, which works to integrate environmental concerns into Jewish liturgy and education.
In Seattle, an organization called Earth Ministry has fostered "congregational partnerships" among 100 churches with active environmental-action committees. The hope is to energize small groups of like-minded Christians to inspire their congregations, in turn, to take collective action.
"What's interesting about Earth Ministry," Gould says, "is that it deals with a lot of mainline congregations. They aren't all super-liberal or Unitarian Universalists, but Methodists, Presbyterians, Congregationalists, Episcopalians."
Still, most traditional Christian congregations, while more aware of environmental issues, have yet to grapple with them. Gould and Kearns interviewed an environmental working group of the National Council of Churches, for example, only to discover that group members were having trouble engaging their fellow congregants on the environment. "There wasn't as much happening in their congregations as one would think or hope," Gould says. "We were surprised."
Nancy Wright isn't. The theme of her lecture, delivered Sunday evening at Ascension Lutheran, was the "ambiguous ecological promise of Christianity."
That also happens to be the subtitle of a book, The Travail of Nature, by H. Paul Santmire, a prominent eco-theologist who has wrestled with "The Historical Roots of Our Ecologic Crisis" throughout his career. On Sunday, Wright acknowledged that Christians who embrace the Rapture will never care about the environment. They believe that Christ's followers will be transported to God's side while the rest of humanity is slaughtered by the Antichrist.
But then there are those who are inspired by the Hebrew prophets Isaiah and Jeremiah, who spoke of the need to be the stewards of God's creation. Wright calls these worshippers "prophetic Christians," and they give her the most hope for the future.
"Prophetic Christians work ecumenically and inter-religiously," Wright said, "knowing that God's request of Adam and Eve in the Genesis story to have dominion of the plants and animals has been misinterpreted as power and not, correctly, as care."