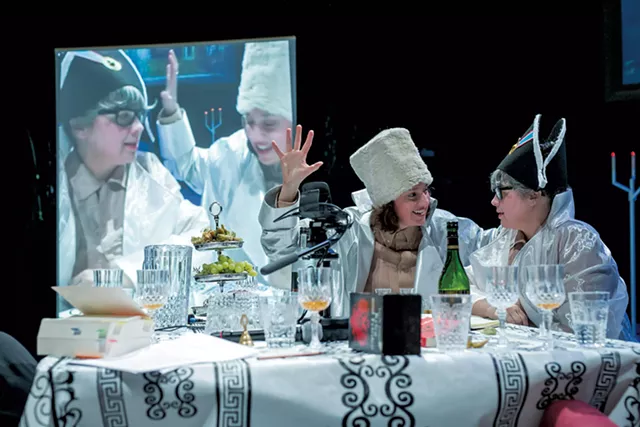 Photos: Courtesy Of Hopkins Center For The Arts
Gob Squad in War and Peace
Every theater season can present thought-provoking, moving, even brilliant plays. But occasionally a truly unique theatrical form comes our way. Gob Squad is one such company reimagining creative boundaries. The troupe arrives at the Hopkins Center for the Arts at Dartmouth College on April 6 and 7 with its rendition of War and Peace.
Anyone expecting a faithful adaptation of the novel will be disappointed. Not to mention that would make for a very, very long play — Leo Tolstoy's 19th-century novel tops 1,000 pages. Instead, Gob Squad uses the monolithic story as a vehicle with which to explore such weighty topics as capitalism, celebrity and, yes, war and peace.
Gob Squad, an artist collective with a core of seven British and German members, is based in Berlin. But the group was born at Nottingham Trent University in England in 1994, as member Sharon Smith explained by email.
"Gob Squad emerged out of a combined arts degree," she wrote. "Students were encouraged to work in between chosen disciplines — fine art, performance art, contemporary music and, later, dance." They did not necessarily study theater.
On the website, another member explains that Gob Squad put together a theatrical production in order to get free tickets to a Glastonbury music festival. And it just kept going after that.
Though Gob Squad primarily works in Europe, the troupe has performed more than 40 works all over the world, not only on stages but at unorthodox venues such as car parks, subway stations and on the street, according to the company's website. (A detailed and often hilarious timeline of the group's bumptious history is worth a read.)
Gob Squad's MO is to constantly — and collectively — create motifs, movements, imagery, set pieces and alternate ways to explore a theme. Those concepts are then woven together into a hybrid of theater, performance art and public discourse.
War and Peace already has played to sold-out crowds in New York's Under the Radar Festival, as well as in Europe and Russia.
Margaret Lawrence, programming director at the Hop, said she has "fallen in love with this company." She described Gob Squad in superlatives, among them "so imaginative" and "extremely clever."
For those unfamiliar with Tolstoy's classic novel, it chronicles the Napoleonic invasion of Russia and how it impacts five aristocratic families. The story includes more than 500 characters. Gob Squad engages seriously with the work but also brings to it a sense of humor. "Have you actually read it?" one actor asks in the performance, adding, "I'm only halfway through."
One of Gob Squad's refreshing qualities, according to Lawrence, is its use of audience participation. But she assured potential theatergoers, "It's not scary. They're not going to stalk up the aisles and grab you."
Also, Lawrence clarified, "You do not have to know War and Peace to enjoy this performance."
In fact, Gob Squad's presentation of the play rests on the idea that, even if "we can't speak about [war] from a position of direct experience, we want to speak about it anyway," Smith explained.
Gob Squad's War and Peace draws inspiration from the opening scene of Tolstoy's novel, which takes place at a dinner soirée. The characters are discussing the historical events of the day and their hopes for the future. Anecdotally, John Kopper of Dartmouth's Russian department wrote an essay about Gob Squad's piece. Referencing that essay, Lawrence said, "Tolstoy famously wrote 16 drafts of the opening salon scene, and [Kopper asserts] that Gob Squad has written the 17th draft."
The play puts selected audience members literally in this dinner scene. "Most often in Gob Squad's work, we want to put ourselves with the audience, not apart from them," Smith wrote.
Gob Squad's style has been compared to that of Augusto Boal, a Brazilian politician who founded Theatre of the Oppressed in the 1970s. It was based on the democratic principle that all people can and should actively participate in public discourse. Thus the theatrical form is more dialectic than didactic, in which the audience becomes "spect-actors," as opposed to spectators. Boal used this form as a democratic tool for communities to explore their political realities and imagine change.
Smith acknowledged the comparison but pointed out that Gob Squad's process and method of making work is very different. "We were quite informed by postmodernism out of America in the '60s and '70s," she said.
Those influences, combined with limited money and space, have led to the troupe's spare but creative aesthetic. For War and Peace, Smith explained, "We were inspired by a particular moment where the Rostov family have to very quickly pack their belongings and leave because the war is coming their way. We had imagined a set that could be packed away quickly and reestablished quickly. We wanted it to have that temporality."
In the production, the actors spend most of the first 40 minutes helping their audience-actors get accustomed to the stage, drawing out conversation and engaging them with themes from Tolstoy's text.
"By the end of the night," Lawrence said, "the audience feels like one theater company together."
By bringing viewers into the show, Gob Squad invites modern-day reflections on the timeless themes of War and Peace. One twist is the notable appearance of such celebrities as Nelson Mandela, Mickey Mouse and — you may have guessed — Donald Trump.
When the show was first performed in Munich, Germany, in March 2016, Trump had already reached celebrity status around the world for his outlandish and unusual presidential campaign. "We thought he was a joke, and we still think he's a terrifying, dangerous joke," Smith said.
She stressed that she does not speak for the collective but thought she could safely suggest that Trump was a major historical figure for the time, and remains so two years later. "In the beginning of the process, he was a ghoulish warning," Smith said. "Now, he's a reality."