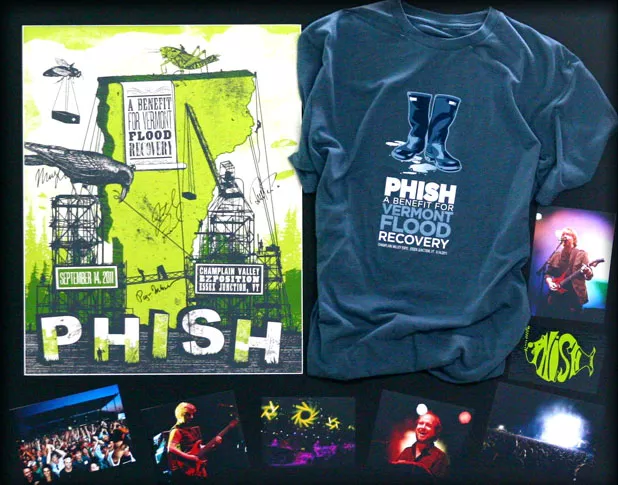 The benefits for victims of Tropical Storm Irene just don't stop. And that's a good thing, because all is not yet righted after the devastating floods that hit Vermont at the end of August. Phish's September 14 benefit at the Champlain Valley Expo continues, too, in a way: The phab phour provided Creative Habitat of Burlington with a groovy concert poster signed by the band members, photos from the show taken by Brian Jenkins and a handsome steel-gray commemorative T-shirt featuring rubber galoshes, all neatly arranged and framed. This is available for one lucky winner of a raffle. The piece is on view at the Shelburne Road store and on its website.
The money goes to the band's philanthropic Waterwheel Foundation, which in turn is allocated to flood relief, says Creative Habitat co-owner Mark Dowling. Raffle tickets are only $5 — available at the store or online — and the drawing is Tuesday, November 15.
Meanwhile, the store is also offering yet another flood bennie from a homegrown enterprise, Shelburne-based Keep Vermont Weird. KVW, which also sells tees and bumper stickers with that slogan, has created a grass-green, heavy cotton T-shirt that says "THE VERMONT WAY" in fat, yellow block letters on the front, with "WE JUST ROLL WITH IT" on the back. Fifty percent of profits from the $25 shirt goes to the Vermont Irene Flood Relief Fund, says KVW co-owner Mike Olson — and the rest to the three Vermont businesses involved: KVW, Select Design, which makes the shirts, and Northfield's Comfort Colors, which dyes them. Roll on.