courtesy of the Lake Champlain Community Sailing Center
Burlington's Rock the Dock Celebration
Fireworks light up the state for the Fourth of July, but there's more to these celebrations than smoke and lights. The festivities are a chance for families and neighbors to come together and commemorate the anniversary of our nation's independence. Ready to party, patriot-style? Vermont towns host parades, street fairs, cookouts, concerts and even outhouse races. Read on to find the fun in your own hometown.
Barre
Thrill seekers watch racetrack action before a special fireworks show. July 4, 6:30 p.m., Thunder Road SpeedBowl. Info, 244-6963. thunderroadspeedbowl.com
Barton
Agricultural amusements — from a tractor pull to games on horseback — kick off the festivities. A grand parade at 3 p.m. leads from downtown to the Fairgrounds; fireworks follow at dusk. July 4, 8 a.m.-dusk, Orleans County Fairgrounds. Info, 525-3555. orleanscountyfair.net
Brandon
Family fun kicks off on Friday with a food fest and street dance. Saturday festivities include karaoke, a bounce house, children's games, a 1 p.m. parade and afternoon music. Fireworks burst over the village at dusk. July 5, 5-10 p.m., and July 6, 11 a.m.-dusk, Central Park. Info, 247-6401. brandon.org
Bristol
The small town celebrates the Fourth in a big way with live music, games, crafts and a bright lights show ending Wednesday evening with a bang. The Great Bristol Outhouse Race, a 5K road race and a themed parade extend the fun to Thursday. July 3, 6 p.m.-dusk, and July 4, 7:30 a.m., various downtown locations. Info, 453-5451. bristol4th.com
Burke
Revelers chow down at an outdoor barbecue and soak up the scenery from the chairlifts before an exciting display of sky bursts. July 5, 6:30 p.m., at Burke Mountain Ski Resort. Info, 626-7300. skiburke.com
Burlington
Live bands and fun-filled activities — including an air show, obstacle course and bounce house — set the scene for spectacular fireworks over Lake Champlain. July 3, 3 p.m.-dusk; fireworks at 9:30 p.m., various waterfront locations. Info, 864-0123. enjoyburlington.com
Rock the Dock Celebration: Queen City sailors host a benefit for the CSC McConnell Scholarship Fund with prime lakeside seating, restaurant eats and DJ'd tunes. July 3, 6:30 p.m., Lake Champlain Community Sailing Center dock. $25-65. Info, 864-2499. communitysailingcenter.org
Cabot
A Main Street parade leads to an afternoon of fun in the sun, including field games, a chicken barbecue and a dunk tank. July 4, 11 a.m., Cabot Recreation Field. Info, 563-9907.
Colchester
Amateur athletes make strides at a fun run, then take in a Main Street parade and evening concerts before a fireworks finale at Bayside Beach. July 4, 8:15 a.m.-dusk, various locations. Info, 264-5640. colchestervt.gov
Essex
Independence Day makes a splash at the swimming pool. Other festivities include live music, a bounce castle, an obstacle course, circus acts and Super Nova Disc Dogs. July 4, 6 p.m.; fireworks at 9:30 p.m., Maple Street Park. Rain site: Essex High School ice rink. Info, 878-1375. ejrp.org
Fairfax
A two-mile parade route to the recreation park is followed by the always-popular Ducky Race, now in its 21st year. July 4, 1 p.m., Fairfax Community Park. Info, 849-2641. fairfaxrecreation.com
Grand Isle
Neighbors come together for potato-sack and three-legged races, a chicken barbecue, pie contests, pony rides and other blast-from-the-past celebrations. July 4, 1 p.m., Grand Isle Recreation Field. Info, 598-6533. champlainislands.com
Greensboro
"The Funky Fourth of July" features a lively parade at 10 a.m. and fireworks at dusk. July 6, 10 a.m.-dusk, various locations. Info, 533-7723. greensborovt.org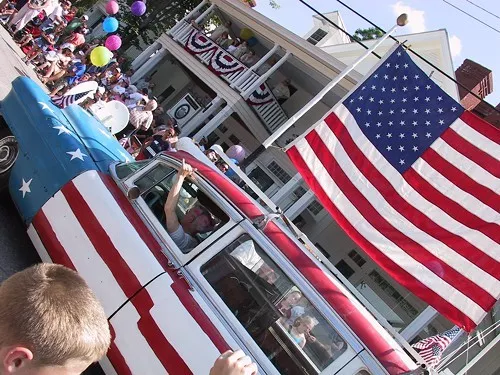 courtesy of Jeff Knight
Warren's Fourth of July parade
Island Pond
Three days of festivities are jam-packed with a duck race, parade, music and fireworks. July 5-7, all day, at various locations. Info, islandpondchamber.org
Jay
Dinner, light fare and swimming precede magnificent sky blossoms. July 4, fireworks at dusk, Jay Village Inn & Restaurant. Info, 988-2306. jayvt.com
Jeffersonville
An old-fashioned town parade kicks off carnival-style entertainment and a frog-jumping contest. Head to Smugglers' Notch Resort at 5 p.m. for the Firemen's Barbecue on the Green, patriotic music by the Vermont National Guard 40th Army Band and fireworks in front of the Green Mountains. July 4, 10 a.m.-dusk, various locations. Info, 644-1118. smuggs.com
Killington
High spirits fly at this Fourth of July celebration, which includes a parade, barbecue potluck, pool party and nighttime fireworks. July 4, all day, Herbert I. Johnson Recreation Center. Info, 422-2105. discoverkillington.com
Ludlow
Popular blues artists steal the stage at the picnic-friendly Red, White & Blues Festival. The Adventure Zone will be open for trampoline bungee jumping, mini golf, zipline tours and more. July 6, 11:30 a.m., Okemo Mountain Resort. Info, 228-1947. okemo.com
Milton
A parade, music, magic, tethered hot-air balloon rides and chicken barbecue culminate in "the most spectacular fireworks display Milton has ever seen." July 4, 11 a.m.-10 p.m., Bombardier Park. Info, 893-4077. milton250.org
Montpelier
Patriots catch street entertainment, circus arts, concerts on the Statehouse steps and a 6 p.m. parade. Downtown fills with bands and vendors before evening fireworks. July 3, 10 a.m.-10:45 p.m., downtown Montpelier. Info, 223-9604. montpelieralive.org
Newport
Bring your own picnic to this spirited shindig featuring music, entertainment, kids activities, food and, naturally, fireworks. Don't miss the bed races down Main Street. July 4, noon-10:30 p.m., Gardner Memorial Park. Info, 334-6345. kingdomaquafest.com
North Hero
Sky bursts bloom after dark at a fireworks extravaganza in the middle of Lake Champlain. July 3, park opens at 10 a.m. for swimming and picnicking; fireworks at dusk, Knight Point State Park. Info, 372-8400. champlainislands.com
Randolph
Folks reflect on American life in a themed promenade and street fest featuring unique floats, antique cars and live music. July 4, 10 a.m.-3 p.m., Merchant's Row. Info, 728-9027. randolph-chamber.com
Rochester
Patriots celebrate the nation's birthday with the Independence Day Dash, supporting Pierce Hall's renovation project. A colorful community parade follows at 11 a.m. July 4, 8:30 a.m.-6 p.m., Rochester Park. Info, 767-3631. rochestervermont.org
Rutland
Award-winning fireworks at 9:45 p.m. cap Summer Smash 2013, which includes carnival-style concessions and the Stoney Roberts Demolition Derby. July 4, 4:30 p.m.; fireworks at 9:45 p.m., Vermont State Fairgrounds. Info, 773-2747. rutlandvermont.com
St. Albans
Bay Day begins with the Great Race, a 3.1-mile run, 12-mile bike and 3-mile canoe race. Town celebrations continue with games in the park and a sparkling fireworks display at dusk. July 7, 9:45 a.m.-dusk, St. Albans Bay Park. Info, 524-2415. stalbanstown.com
Shelburne
For the 51st year, the church hosts an auction and bazaar, followed by a barbecue with all the fixings. July 4, 9 a.m., Shelburne United Methodist Church. Info, 985-3981.
South Hero
A colorful themed parade starts at the corner of Landon Road and South Street. July 4, 11 a.m., various locations. Info, 372-5566. champlainislands.com
Stowe
This old-fashioned celebration starts with marching music in the Moscow parade. Face painting, music, clowns and food in the village follow from 11 a.m. to 3 p.m. The fun picks up at Mayo Farm at 6 p.m., with fireworks at dusk. July 4, 10 a.m.-dark, various locations. Info, 253-7321. gostowe.com or stowevibrancy.com
Vergennes
Folks ooh and ahh as fireworks illuminate the evening sky above the Red Mill Restaurant. July 3, 5-10 p.m., Basin Harbor Club. Info, 475-2311. basinharbor.com
Waterbury
This two-day soiree features a carnival atmosphere of clowns, a hypnotist show, lawn-tractor jousting, a parade, live music and more. June 28, 6-10 p.m., and June 29, 11 a.m.-10 p.m. with fireworks at dusk. Info, 760-8080. waterburynqid.com
Warren
Thousands don red, white and blue to attend one of the state's largest parades. After, they head to Lincoln Peak for a barbecue, live music in Castlerock Pub and dazzling fireworks come nightfall. July 4, 10 a.m.-10 p.m., various locations. Info, 496-3409. madrivervalley.com
Williston
Beatles tribute band British Mania cover classic-pop hits on the green before a fireworks display. July 4, 6 p.m., Maple Tree Place. Info, 879-9100. shopmtp.com
Woodstock
Independence Day starts off on the right foot with a road race and kids fun run, followed by live music, a community cookout, a flag ceremony and booming fireworks. July 4, 7:30 a.m.-dusk, various locations. Info, 457-2500. unionarena.org
Old Vermont Fourth: Celebrate the Fourth the old-fashioned way — with patriotic speeches, wagon rides, ice-cream making and an egg toss. July 4, 10 a.m.-5 p.m., Billings Farm & Museum. $3-12; free for kids under 3. Info, 457-2355. billingsfarm.org
This post was written by Kids VT managing editor Carolyn Fox.