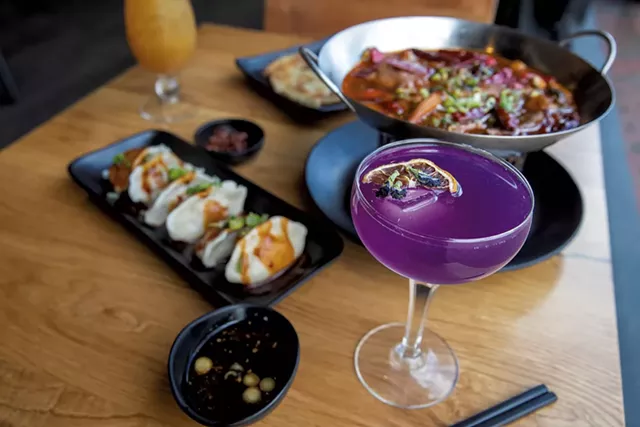 James Buck
House cocktail with butterfly pea flower, Mongolian lamb with hot chile, scallion pancake and Sichuan spicy dumplings at Mandarin in Winooski
The day was hot — unseasonably so. Temperatures edged into the eighties as October leaves skittered into the curbs around the Winooski traffic circle, where the trees were bright with autumn color. At the base of the circle, a sign on the outside wall of Mandarin advertised red lotus cosmopolitans. I don't usually drink pinkish vodka martinis at midday, but the prospect of an icy beverage (and perhaps air conditioning) was enough to draw me inside.
The new Chinese restaurant opened at 22 Main Street in late August, led by Lawrence Fong, son of Joyce Fong of Joyce's Noodle House in Essex Junction. He named the spot for Joyce's original Burlington outpost, the Mandarin, which was located near the base of Church Street where Gaku Ramen now stands. Former Mandarin regulars may recall seeing a young "Larry" tucked in a booth doing his homework after school.
Joyce is a partner in the new restaurant, which bears some family resemblance to the Church Street business. Mandarin's place-mat Chinese American menu reads like a "greatest hits" lifted from Joyce's pages-long menu in Essex Junction. Guests will find handmade crab Rangoons, pillowy golden chicken fingers, sesame chicken, orange beef and tiki cocktails. During the day, $10 lunch combos deliver a half-portion starter and a choice of entrée with fried or steamed rice.
James Buck
Butterfly pea flowers used in a house specialty cocktail
But it's clear even before you enter Mandarin that this is not Joyce's 2.0. Youth has a habit of taking a family's traditions and making them its own. "I'm first-generation Chinese American," Lawrence told Seven Days last week, "but I'm also a Vermonter." On the bar, sleek wooden caddies by Winooski woodworker Steve Hadeka of Pleasant Ranch hold straws and napkins; most of the beers on draft are local.
In addition to supporting other local businesses when he can, Lawrence said, he wanted to make Mandarin "a modern, up-to-the-times kind of scene." On Fridays and Saturdays, the bar stays open late — often after midnight, if people are still hanging around — and DJs sometimes take over the sound system.
At night, the restaurant's globe lights bathe the space in warm violet light; from the outside, it looks more like a clubby lounge than a full-service restaurant. By day, dark floors and ceilings absorb some of the sunshine that streams through the street-side picture windows, keeping the restaurant at once adequately lit and soothingly dim. Lattice screens and leather booths delineate the space into sections, lending a modern sheen, while the 1890 building's original wood columns impart a subtle industrial vibe.
Seated alone at a black leather banquette against the back wall, I sipped a noontime cocktail — one of the finest I've enjoyed in some time. Bartender Woody Wright-Moore, who has made the rounds at many of Chittenden County's finest cocktail bars, including the Bearded Frog and the Daily Planet, manages Mandarin's liquor program. Before the restaurant opened, he and Lawrence said they intended to improve on the expected Chinese-restaurant tiki tropes with craft cocktails, local beer and a well-curated wine list.
James Buck
Bartender Woody Wright-Moore standing behind jars of housemade dried fruits used for custom cocktails
On that promise, they've totally delivered. My Boba Fizz — a frothy, pale-yellow concoction made with gin, cream and a splash of soda — was a multidimensional delight in cocktail form. Atop the luscious marshmallowy head, a crispy dried lime wheel shattered into sour-bitter shards when I bit into it. But the real fun was in Hoovering up the popping boba — petite, liquid-filled spheres sometimes found in bubble tea — through the wide paper straw. They popped against the roof of my mouth, leaving my tongue awash in yuzu tang and sweet citrus, They were so plentiful that dozens remained even after I'd finished the flower-scented, Creamsicle-tasting liquid.
Other Mandarin drinks include tiki tipples such as the Singapore sling and zombie, scorpion bowls, a rum punch, and a honeyed lemon-ginger vodka shaker called Jackie Chan. Canon classics include the Sazerac, old fashioned, mai tai and paloma.
If you want to drink more than one of Wright-Moore's superb sippers (something I'd absolutely encourage), you're going to have to eat eventually. And Mandarin's food puts a solid spin on what the family has been doing at Joyce's for years.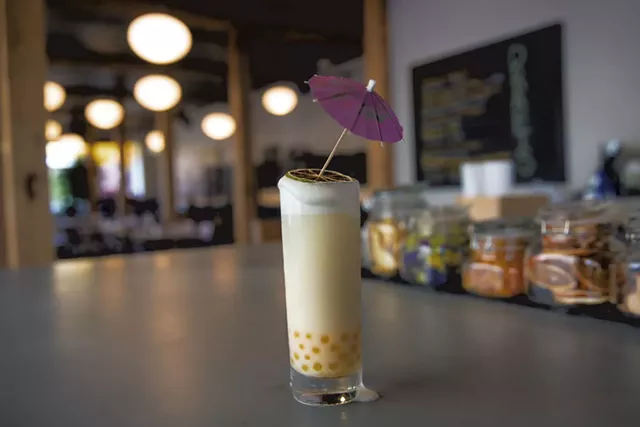 James Buck
The Boba Fizz
The thumbprints visible on a set of dumplings revealed that chef Hong Mui makes the half-moon-shaped porky pockets fresh daily. Inside, nibbles of soy-splashed pink pork were pungent with scallion — Joyce's "secret recipe," Lawrence said.
Wedges of scallion pancake were toasty and crisp at the edges, crêpe-y toward the middle, and made for dunking in the thin soy-vinegar-garlic sauce that came alongside.
Dining alone, I nibbled these snacks between cocktail sips and let my eyes wander the room. Down the banquette from me, a man in a pressed button-down shirt conducted a business meeting. Across the way, two coworkers gossiped about their boss; over there, two women slurped noodles during a working lunch. Down the middle of the restaurant, a large group from a Burlington-based nonprofit compared notes on how to best hold their chopsticks.
It was a busy shift for one server. Lawrence jumped in — running food, filling water glasses, delivering cocktails and dashing back to the kitchen when he noticed a missing garnish or sauce. He worked with the smooth, calm professionalism of someone who has food service in his DNA, as Frank Sinatra burbled standards over the airwaves.
James Buck
Sichuan spicy dumplings and scallion pancake
Though I had to be somewhere in 40 minutes, I was inclined to linger over my entrée of Mongolian lamb. A few bites at a time, I spooned the saucy, chile-laden stir-fry onto a small plate with rice, then looked on idly as the rest simmered away in a hot-pot on the table. The satiny brown sauce clung to the tender strips of lamb, diced bell peppers, bamboo shoots, water chestnuts and baby corn.
Would that I could lounge here awhile, I thought, envisioning the glow of the evening lights. I imagined the heat of several cocktails warming me as the cold of an autumn night set in outside. I daydreamed that I lived closer and could drink freely, then wobble on home without driving. I wanted to stay and watch the Mongolian sauce simmer down and thicken, bite by bite, laughing with friends, as the hours ticked by.
Then again, a working lunch in a buzzing, well-run restaurant is also a moment to savor.