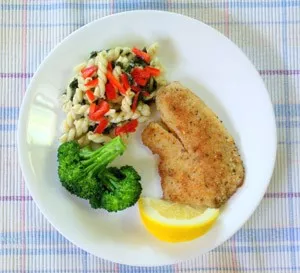 As warm weather returns, I like to cook a little lighter, and fish cooked well fits that bill. I remember my mother's preparations of fish or other cutlets for frying — one bowl for dredging the cutlet in flour, one bowl for dipping each piece in an egg wash and a final bowl for coating it in bread crumbs. Each cutlet would be quickly browned in butter and then baked until cooked through. The result was a crispy, delicious treat, perfect for cold weather, but not something I'd prepare in summer.
I used the same technique for years until I found several methods that are less messy, and less fatty. The one described below is my favorite. The result is more delicate than with the three-dip method above, perfect for a healthy summer meal.
Mild-flavored tilapia is ideal for kids who typically don't like fish. Add a bright green vegetable and a potato or pasta salad, and this could become one of your favorite family meals.
Crispy Tilapia
4 tilapia fillets
1 ½ cups bread crumbs, plain or Italian style — don't use fresh bread crumbs because they may not brown and crisp enough
½ teaspoon salt (adjust to taste)
¼ teaspoon pepper (adjust to taste)
2 tablespoons mayonnaise for coating (low or no-fat is fine)
1-2 tablespoons vegetable or olive oil
lemon wedges or ranch dressing
Place the fish on a clean surface and pat dry with a paper towel.
Place the bread crumbs, salt and pepper in a small, wide bowl and toss to combine.
Brush each piece of fish with a light coating of mayonnaise and place in the bread crumbs, turning to cover both sides, and pressing lightly to get the crumbs to adhere.
Heat a 10-12-inch skillet over medium to high heat and add 1 tablespoon of vegetable or olive oil, tilting the pan to coat. Place the fish in the pan, cooking until browned, about 2 minutes, and carefully turn each piece over. If the pan looks too dry, add another tablespoon of oil.
Continue cooking until the fish is cooked through, about 2 or 3 more minutes on the second side. Serve with lemon wedges or ranch dressing.
Hints/Suggestions
Cooking Time: 35 minutes
Serves: 4
This recipe works just as well with pork, chicken or turkey cutlets.
Kristina Creighton is a former restaurant owner and the author of Kristina's Kitchen Cookbook and The Practical Palate Cookbook. She lives in Granville.