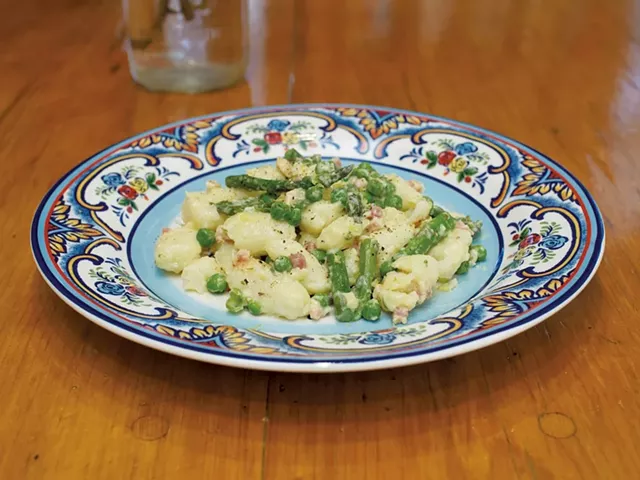 ANDY BRUMBAUGH
Gnocchi With Spring Vegetables
For as long as I can remember, my daughter's favorite Italian dish has been gnocchi (pronounced NYOH-kee), a fluffy pasta dumpling usually made with potato. She simply can't get enough of it. In her more poetic moments, she has referred to it as a happy little party in her mouth.
We have chosen restaurants to eat at based purely on whether or not they have gnocchi on the menu. And when my sister recently took a trip to Milan, my daughter was jealous of the gnocchi-filled meals she enjoyed there.
Though potato gnocchi originated in Florence, it is popular all over Italy. Luckily, the pasta is not too challenging to make from scratch, especially if you enlist help.
There are a few tricks to making really good potato gnocchi. First and foremost, use russet potatoes — they contain less water than other varieties so you can use less flour to form the dough. Second, instead of mashing the potatoes, put them through a ricer or grate them on the largest holes of a box grater, like I did. This helps to keep the finished product fluffy, and not gluey. Third, the dough should be kneaded only until the flour is incorporated because overworked dough can make for tough gnocchi.
Traditionally, the dough is rolled into ropes and then cut into small pieces. If you'd like, use the tines of a fork or a gnocchi paddle (available inexpensively from a good kitchen supply store) to make indentations in each gnocchi. These are thought to help the pasta hold more sauce. I like them because they make the gnocchi look authentic.
I wanted to make the dish into a celebration of springtime, so I used a tip that my sister picked up in Milan, steeping just a pinch of saffron with the cream for the sauce. This lends it a light earthy flavor and a pretty pastel yellow tint.
Incorporating tender young asparagus and lovely little peas, along with the sharp bite of really good Parmesan and the crunch of nicely crisped bits of pancetta (Italian bacon), this dish is at once creamy and light. The sauce nicely coats the fluffy pillows of gnocchi.
So gather your family together for some pasta-making fun. The process is almost as delightful as the final product.
Gnocchi With Spring Vegetables in Saffron Cream Sauce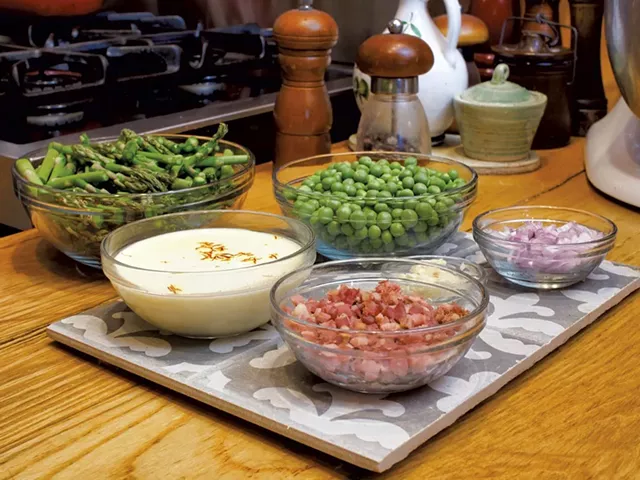 ANDY BRUMBAUGH
Ingredients for the saffron cream sauce
Ingredients:
for the gnocchi dough:
2 pounds russet potatoes
1 ½ cups flour
1 teaspoon salt
1 egg
For the sauce:
¾ cup half-and-half or cream
a few threads of saffron
¼ cup cubed pancetta
1 tablespoon olive oil
3 cloves garlic, minced
½ shallot, minced
1 pound young, thin asparagus, cut into 1-inch pieces
1 cup shelled peas
½ cup water
salt & pepper to taste
juice from half a lemon
½ cup grated Parmesan cheese
Directions: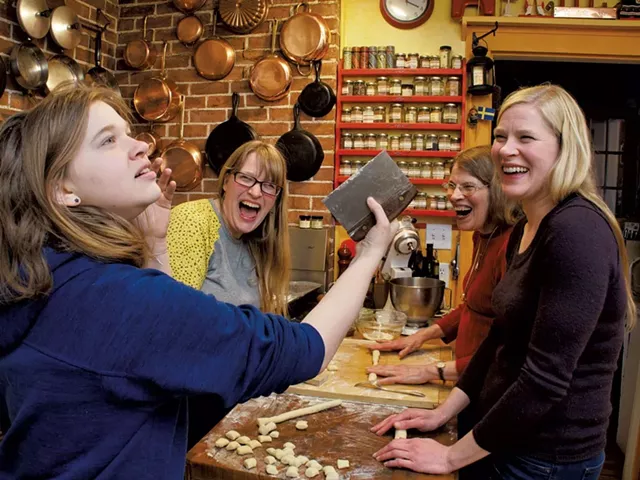 ANDY BRUMBAUGH
Astrid (second from left) makes gnocchi with her daughter, mom and sister
To make the dough:
Put potatoes in a large pan, cover with cold, salted water, bring to a boil and simmer until cooked through, about 30-35 minutes. Drain, cool and peel.
Grate the potatoes on the largest holes of a box grater, or put them through a potato ricer.
Add flour, salt and egg. Mix (preferably with your hands) until just combined, 30 seconds to a minute. The mixture will still be a little sticky.
Line two baking sheets with parchment paper, flour them lightly and set aside. On a lightly floured countertop, roll a piece of dough about the size of a lemon into a rope about 3/4-inch in diameter. (Cover the remaining dough with a kitchen towel so it doesn't dry out.) Cut into 3/4-inch long pieces. If desired, roll each piece on the back of the tines of a fork or along a gnocchi paddle to make ridges.
Place finished gnocchi on lined baking sheets and lightly sprinkle with flour.
Repeat until you've used all the dough.
To cook the gnocchi:
Bring a large pot of well-salted water to a boil. Working in small batches, gently place gnocchi in the pot — do not crowd them, or the pieces may stick together — and boil just until they begin to float, about a minute.
Gently remove the gnocchi with a strainer or slotted spoon, toss with a little olive oil, and put aside until ready to add to the sauce. Repeat until all gnocchi are cooked.
To make the sauce:
Add saffron to half-and-half or cream and allow to steep in a measuring cup at room temperature.
Sauté pancetta until crisp. Drain and set aside. Heat olive oil in the same pan and add garlic and shallots. Cook for about 5 minutes over medium heat, until the shallots are translucent. Add asparagus and peas; sauté for about 3 minutes. Add the water, cover and steam until the asparagus is tender, 6-8 minutes.
Add saffron-flavored half-and-half or cream and stir to coat the vegetables. Return the pancetta to the pan, then stir in the gnocchi, tossing to coat. Season with salt and pepper to taste. Stir in the Parmesan cheese and lemon juice, and serve immediately.
Pro Tip: Gnocchi can be made ahead and frozen. Freeze uncooked pieces on a baking sheet, then transfer to a freezer bag. When ready to use, they can be cooked from frozen; just boil them a little longer.