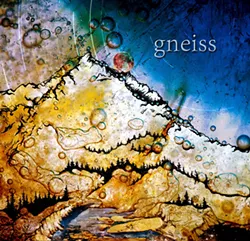 (Self-released, CD, digital download)
In geological terms, gneiss is a high-grade metamorphic rock formed by the metamorphosis of granite or other sedimentary rock under high temperature and pressure. It is similar to slate, in that it's composed of distinct mineral layers. However, gneiss is stronger and harder than slate and often has dazzling coloration. Fun fact: The oldest crustal rocks on Earth are 3.5-billion-year-old gneiss found in western Greenland. In other words, the stuff is practically the foundation of the planet.
In local-music terms, Gneiss are a Burlington rock band formed by the metamorphosis of foundational jam-band elements. The group's recently released debut EP, Release EP, is composed of six cuts that reveal distinct layers of influences. Unfortunately, it appears the quartet's metamorphosis isn't quite complete. While Gneiss ably mimic the feel-good vibes of the Grateful Dead and the 1990s grooves of Strangefolk and Phish, there is little transformative about the EP.
That's not to say it's an unpleasant listen. "Change" is built around a bouncy mid-tempo groove, sunny guitar and keyboard riffs. "Mountain High" is a heartfelt ode to communing with nature. "Piano in Every Room" is a funky, spunky ode to music itself. "Northern Lights" shimmers and shifts with ethereal guitar and rippling keys. "Too Much" offers fat bass grooves. "Ice Jam" closes the EP with ominous space jams.
The problem is simply that there's nothing new here. If you've paid even passing attention to the jam scene over the past 20 years, Gneiss don't offer anything you haven't heard done before, and often better. Release EP parrots the same noodle-y grooves, limp rhyme schemes and now-predictable song structures that have kept the festival scene wiggling for decades. There's nothing inherently wrong with this, except that the band seems capable of so much more.
Johnny Meli is a technically proficient and at times fiery guitarist. Drummer Jacob Blodgett and bassist Jesse Cowan form a sturdy rhythm section that consistently locks in the groove. And keyboardist Naomi Galimidi has some sparkling moments that suggest she could be a special talent. Each member is a capable vocalist. The elements are there. Perhaps with a little more artistic heat and pressure — particularly in regard to arranging and songwriting — Gneiss could forge those elements into something more like their namesake: strong, beautiful and unique.