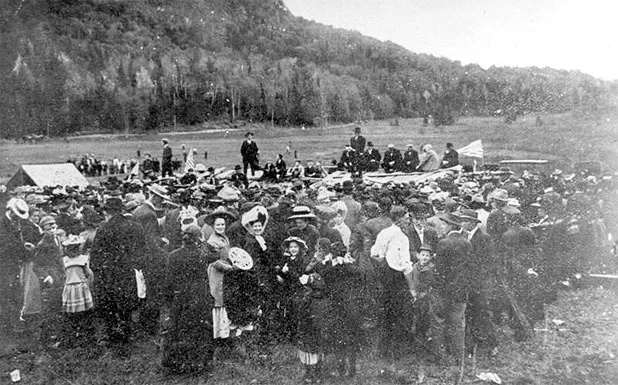 A gathering of Gloverites from 1910
Two hundred years ago this Sunday, a pond in Orleans County burst its banks and "ran away." Some Vermonters and their descendants are still arguing about what happened next.
Take Spencer Chamberlain — an American hero? According to one version of the Runaway Pond tale, when 2 billion gallons of water roared through the Barton River Valley on June 6, 1810, young Chamberlain dashed ahead of the flood to warn the inhabitants of a grist mill downstream.
Or not. According to another Runaway Pond tale collected in Wayne H. Alexander's Runaway Pond: The Complete Story and retold by Glover resident Jack Sumberg on his blog Runaway Ponders, the actual runner was a guy named Solomon Dorr. In this second version, Chamberlain is mentioned only as one of the men who dug the fatal channel intended to feed more water to a mill, undermining the pond.
Water under the bridge? Wrong.
Dennis D. Chamberlain, a great-great-great-grandson of Spencer, lives in Davis, Calif., and was raised in Utah, where his ancestors moved in the mid-19th century. Last month he self-published a book called Run Chamberlain, Run: Solving the 200-Year-Old Mystery of Runaway Pond, which attempts to clear things up, and establish Spencer Chamberlain as the hero of the day.
Dennis isn't the first Chamberlain to try. In 1860, Spencer's granddaughter, Jeanette Chamberlain Phillips, immortalized his run in verse, giving credit for his lightning speed to his Native American heritage:
Above the roar of the water a loud voice was heard,
Run Chamberlain run, you are as swift as a bird
Though fair in the face and soft was his hair
The blood of the red man still lingered there.
Dennis Chamberlain's version may be more prosaic, but it's more carefully researched.
For his part, Sumberg, former director of the Old Stone House Museum in Brownington, has been blogging about his Runaway Pond research since last January. Despite inspiring Chamberlain's rejoinder, Runaway Ponders isn't primarily about debunking legends. It's part history, part essay and part humor — Sumberg has even cooked up a "Runaway Pond 2010 Bicentennial Lifestyle Catalog."
He looks skeptically at all tales of the flood, noting, "There are those who have said that the story of Runaway Pond is all a 'humbug.'" But he's also interested in why the stories were handed down in the first place.
Back in the day, notes Sumberg, the flood was seen as an inevitable disaster and an example of "God's providence." Later, people focused on the human engineering mishap that caused the deluge, and Runaway Pond became "a story of good intentions run amok."
Today, writes Sumberg, some Vermonters may see "justification for the sorts of checks and balances" that keep development and industry from having their way with the landscape. Others, he suggests, may view the approaching bicentennial as a reminder of the halcyon days before Act 250, "when a few Vermonters took their destiny in their own hands and set out on a bright spring morning to 'git 'er done.'"
All these words about a pond that ran away 200 years ago? You can learn even more about this famous, (almost) bloodless disaster at Glover's bicentennial celebration this weekend.