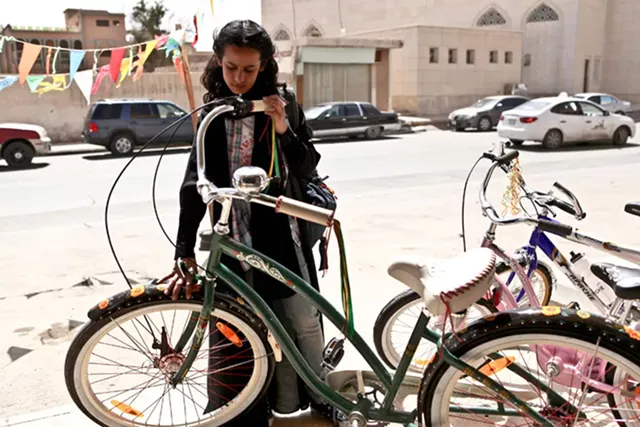 Wadjda by Haifaa Al-Mansour
The Global Roots Film Festival, a 4-year-old project of the Vermont International Film Foundation, is shifting gears. Instead of screening one movie monthly for six months, as it has done since 2013, the fest will pack seven films into one weekend — Thursday through Saturday, February 11 to 13, at Burlington City Hall Auditorium. And this year, to celebrate the 25th anniversary of the Burlington-Bethlehem-Arad sister city program, the focus will be on fairly recent films from and about the Middle East.
When Global Roots began, its mission was "specifically to show films made in the countries of origin of New Americans in Vermont," says coordinator Orly Yadin, executive director of VTIFF. Now, she says, "The whole idea is to counteract media representations of countries that are usually just depicted as killings and riots and suffering and rape."
Yadin shies away from one-dimensional films, a preference reflected in the seven titles she selected for this week's event. The films range from the new foodie doc In Search of Israeli Cuisine, by Roger Sherman; to Theeb, a 2014 World War I coming-of-age story, by Naji Abu Nowar.
"Women in Sink," a 2015 short by Iris Zaki, features conversations among women in a Haifa hair salon. "The filmmaker, a young woman in her twenties, is very political but not trying to make a political film," explains Yadin. "She's Jewish, but the woman who runs the salon is Arab, and the clients are all mixed. She gets them, in a very humorous way, to talk about their relationship to each other."
The 2014 Academy Award nominee Omar, by Palestinian director Hany Abu-Assad, "has the intimacy of a star-crossed romance and the political and moral complexity of a [John] le Carré story," wrote Jonathan Romney in the Guardian.
Almost Friends, made by Nitzan Ofir and Barak Heymann in 2013, tells the story of two sixth-grade girls, one Israeli and one Arab, who form an online relationship that is tested when their families meet in person. Open Bethlehem, filmed over a number of years by director Leila Sansour and released in 2014, gives an intimate view of the historic town.
In Write Down, I Am an Arab, director Ibtisam Mara'ana Menuhin tells the story of Palestinian Arab poet Mahmoud Darwish (1942-2008), in part through his love letters to his Jewish Israeli lover, Tamar Ben-Ami.
Lastly, Wadjda by Haifaa Al-Mansour tells the story of an entrepreneurial young Saudi Arabian girl who enters a Koran recitation competition to win money for a bicycle. It's the first feature-length film shot entirely in Saudi Arabia (in 2012), and the first made by a female Saudi director.
Directors Sansour and Sherman will attend receptions prior to their film screenings, and be on hand for question-and-answer sessions afterward, on Thursday and Saturday, respectively.
Yadin says she's excited about the growth of the festival and its potential to highlight the often-overlooked multidimensionality of other cultures. "Nothing is black and white," she says. "It's much richer; there are shades of gray."