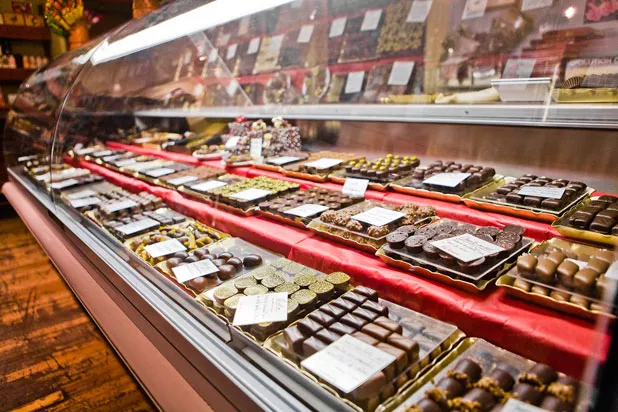 For the gastronome on your gift list, think international. Montréal is a city filled with celebrity chefs, up-and-coming terroir, vibrant ethnic enclaves and strong French traditions. From spices to gadgets to glühwein, if you can't find it in Vermont, grab your passport and head north.
Old Montréal For: epicurean grocery, condiments, wine storage and accessories
When you leave the windswept cobblestones of rue St. Paul for the warm aromas of Chez l'épicier, be prepared: Laurent Godbout, chef-owner of this light-filled space overlooking Marché Bon Secours, likes to mix it up. He pairs white tablecloths with chicken-wire lamps, fresh Québec ingredients with French tradition, and fine dining with a gourmet grocery.
At the last, you can fill a refined gift basket with tagliatelle and truffles, sparkling wine from Château d'Estoublon in Provence, and Madagascar sugars flavored with pistachio, hazelnut and rum raisin. For the same price, you can buy a gift certificate for dinner — where the happy recipient could order, say, the duo of roasted scallops and braised pork belly, followed by a chocolate club sandwich with pineapple fries.
At 12º en Cave (which translates to the perfect temperature for storing wine), you won't find a drop of vin. But the spacious store is awash in accessories: VacuVin collapsible champagne coolers that you store in the freezer; fine decanters by Peugeot (the top-of-the-line model has a silver base and leather handle); a pewter collar, called Le Collier de Bacchus, that slips over the neck of a red wine bottle to prevent drips. If your favorite oenophile already has more accessories than she can shake a Reidel grand cru glass at, don't worry — the company also designs and installs custom wine cellars.
Beneath the street and in full view of the St. Lawrence River is the Marché du Vieux, where condiment is king. Yes, you can lunch on a smoked-meat sandwich or snack on a coffee and croissant in the café, but the real draw is the boutique, filled with Québec products designed to enhance your dining experience. La Carminé (20 pounds of apples caramelized, strained and poured into a slim glass jar) is best poured over vanilla ice cream. Rubicond, a fragrant cider vinegar, is good mixed with olive oil and used as a dip for fresh bread. Maison Madelon spice grinders combine Montréal steak seasonings with maple syrup to flavor salmon, pork, chicken and cheese. Beer lovers will want both mustards from the local McAuslan Brewery: Griffon, a smooth Dijon infused with Griffon Extra Pale Ale, and the grainy version made with St. Ambroise Pale Ale.
Plateau Mont-Royal For: fine tableware, silicone cookware, European chocolates, bulk and prepared foods
3 Femmes et 1 Coussin, on a calm street off bustling St-Denis, is typical of the quartier: Its owners are young, full of energy and determined to make their niche products indispensable. The niche in question is fine porcelain — restaurant-quality tableware imported from Portugal and custom printed in Québec. Minimalists might opt for all-white place settings with serving pieces in unusual shapes (triangle bowls, half-moon platters, flat-sided teapots). The color-savvy may want to mix designs in vivid blue, red, purple and green. Pieces with the Candide pattern (bright red allium globes with green centers and stems) make perfect holiday accoutrements. And much is on sale through Christmas.
For more traditional designs, shop Arthur Quentin. Choose from hand-turned Italian pasta bowls, Belgian linens, stemmed cake plates, resin-handled flatware in luscious colors, impeccable French knives, sophisticated glassware, Guy Degrenne teapots with stainless cozies — and that's just a sampling from the first of three rooms. Farther on, don't miss the Lékué silicone products in vibrant orange and luminous green, including egg-poaching pods, squeeze bottles for decorating plates, and a steam case that allows you to prepare fish in the oven or microwave (and do away with messy parchment paper).
Stocking stuffers will rejoice at Au Festin de Babette (Babette's Feast). This lovingly outfitted tea salon carries confections by French chocolatiers Valrhona and Michel Cluizel; a Swiss chocolate called Stella Ginger; calissons (almond cookies from Provence); loose teas and tiny teapots; small tins of olive oil infused with garlic, basil and truffles; red and green Malagueta pepper sauce from Brazil; Favol quince, thyme and rosemary preserve to spoon over Roquefort. Once you've indulged recipients on your gift list, treat yourself: Shop owner Martine makes thick, rich brownies, using an intense cocoa, crystallized ginger and chocolate chips.
Create your own gourmet gift baskets and save money at La Folie en Vrac (Luxury in Bulk). Some products are displayed in the cardboard they came in; others are jammed onto narrow wooden shelves. Take your cue from the souk-like atmosphere and mix and match: organic pancake mix, Turkish tapenade with red peppers and eggplant, fiddlehead ketchup, tins of smoked mussels and mackerel filets in oil. Or choose a theme, such as Asian (green and yellow Thai curries, Fair Trade rice from Laos); or French (cassis-flavored Dijon mustard, LU cookies, jams). Or dive into the store's extensive selections of olive oil, coffee and tea.
Pack a cooler if you plan to shop at Première Moisson (First Harvest). The prepared foods at this Québec chain have saved many a Montréal dinner party, and they can get you through a weekend with houseguests. Serve boeuf bourguignon one night, cassoulet the next, and treat the kids to fresh pasta and sauce. For appetizers, pile slices of fresh baguette with tapenade and set out toothpicks alongside balls of chèvre marinated in oil and herbs. There are fresh fruit tarts, fancy layer cakes and even foolproof breakfast fixings — croissants and apple turnovers that you bring home frozen, thaw overnight and bake when everyone is awake.
Marché Jean-Talon For: molded chocolate, exotic spices, organic grains, cookbooks in French and English
The Jean Talon Market is a great source of Christmas trees at this time of year, and of specialty foods all year long. Of the 28 permanent stands, one of my favorites is Chocolats Privilège. Even the blinds in this sliver of a store are the color of cocoa, and the aroma of hot chocolate tickles your nose as soon as you open the door. Step inside, and you'll find delightful chocolate meringues and teacakes, darling molded Santas and snowmen. Want to be the hit of your office holiday party? Arrive with an artful, edible centerpiece. Balls of white chocolate (dyed red and green) separate five dark-chocolate disks; each layer is smaller than the one below it, forming a conical tree. Fill the empty spaces with the company's elegant truffles, and your reputation is made.
Where to find healthy food gifts? The plain packaging at Ferme Michaca keeps prices down and puts the focus where it should be: on the organic nuts, grains, fruits and vegetables filling the tiny shop's no-nonsense steel shelves. Heaped on a shelf near the checkout is a small mountain of Rainbow Valley limes, easy to imagine in a glass bowl mixed with something rouge — perhaps the whole pecans nearby. Put shelled pistachios with dried Canadian cranberries, which look like tiny garnets. Pale granola doesn't fit the color scheme, but at $4 a pound it's easy on the wallet — and the various flavors (ginger, hemp, flax and pumpkin) can easily be poured into holiday tins for giving.
In contrast, the packaging at Olives & épices is key. How else would you know that among the shop's 30-plus varieties of dried peppers, Catarina from Mexico registers 3/10 on the heat scale, or that Bhut Jolokia, from India, leads the pack at 28/10? Elsewhere in this narrow boutique, labels affixed to stylish bottles trace the heritage of their contents: Spanish estate-bottled extra virgin olive oil; balsamic vinegar from Modena, aged six, 10, even 50 years. Let yourself be entranced by the lyrical typeface on the Portuguese fleur de sel, seduced by snappy cans of Manzanilla olives stuffed with anchovies, and wooed by simply stamped bags of black cardamom from Assam. All make lovely and serviceable gifts.
Of the 2500 titles at Librairie Gourmande, a bookstore dedicated to cookbooks in English and French, the most beautiful is filmmaker Douglas Gayeton's coffee-table book Slow: Life in a Tuscan Town. This humorous collection of essays and photographs celebrates the growing, preparing and selling of food in small Italian towns. The hot new book on the celebrity cookbook shelf is also Italian: At Home with Maria Loggia is a luscious representation of the country's contemporary cuisine, with recipes, tips and full-color photographs. A small section of used cookbooks contains classics and surprises, including Playboy's Host and Bar Book. And don't miss the culinary magazines near the cash register, among them Peacham-based Edward Behr's The Art of Eating.
Outremont For: kitchen tools from Québec artists, food-scented bath products, the most kid-friendly experience in town
Les Touilleurs, in tony Outremont, is an exquisite kitchen store with high ceilings, white walls and tools designed by local artists. The name means "the stirrers," and the place sells plenty of stirring implements, including a line of maple cooking paddles designed by an oar maker — which, notably, come in right- and left-handed versions. Slender olive-oil dispensers and deep salt cellars made from hand-blown glass would be welcome additions to any table. Sleek, multiwood cutting boards make original hostess gifts, for the same price as a bottle of wine. And there's even a gift for the noncook on your list: a gently curved wooden fruit bowl made from interlocking strips of Québec maple. Turn it over and — voilà — a stylish trivet.
Most adore the scent of chocolate, but not everyone loves the calories. For the second group, Juliette et Chocolat sells Madame Savon soaps infused with honey, tea and black vanilla; fragrant chocolate and vanilla massage oils; and a body wrap made from Canadian clay, Maritime seaweed and Fair Trade cocoa. But the nonedibles represent a tiny percentage of the shop's celebrated wares. Most people come for hot fudge sundaes, European-style hot chocolate, chocolate fondue and crêpes. Buy a gift certificate for a family outing here, and the kids will remember it all year.