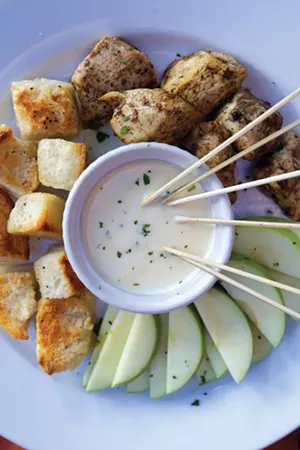 Justin Cash
Table 24
Off the fast-food strip in downtown Rutland, the incongruous Table 24 is a multicultural oasis. With its wide-plank floors, beamed ceilings and sunset-red walls, the welcoming eatery looks like a mashup of Provençal bistro, Mexican cantina and Texas roadhouse.
The fare is similarly inspired: global comfort food. Table 24's signature appetizer, for instance, is Jerk Chicken Fondue — chunks of white chicken marinated in a papaya-mustard-cilantro-scallion-peppercorn paste, then grilled and piled on a plate alongside sourdough croutons, apple slivers and a cup of velvety melted Gouda.
"In order to succeed, you need to be all things to all people," says chef-owner Stephen Sawyer, who worked at restos all over the American West before coming home to Rutland three years ago to open his own place. First thing he did was build a wood-fired grill. "It allows us to do a lot of fun stuff," Sawyer says.
24 Wales St.
Rutland/Killington
Rutland, VT
802-775-2424
American (New) and Events Venue
Even the American classics are delivered with more, well, spice. "Joyce's Meatloaf," for instance, is made of ground veal, wild mushrooms and a balsamic glaze. The mac 'n' cheese is smothered in no less than five cheeses, including Cabot cheddar.
Justin Cash
Table 24
You're guaranteed not to leave hungry after a hulking pork tenderloin covered in blueberry barbecue sauce or a moist rotisserie chicken on a pile of garlic mashed potatoes.
Baby back ribs, grilled rib eye and pan-seared fish are among the other entrée options.
Sawyer initially envisioned a wine bar but wasn't sure if it would fly in Rutland. He settled for an extensive wine list — with 19 available by the glass — and 15 beers on tap. Killington skiers seem to get it. They're packed in on winter weekends, sipping and sampling appetizers such as duck risotto fritters and seared ahi tuna.
American food isn't what it used to be.