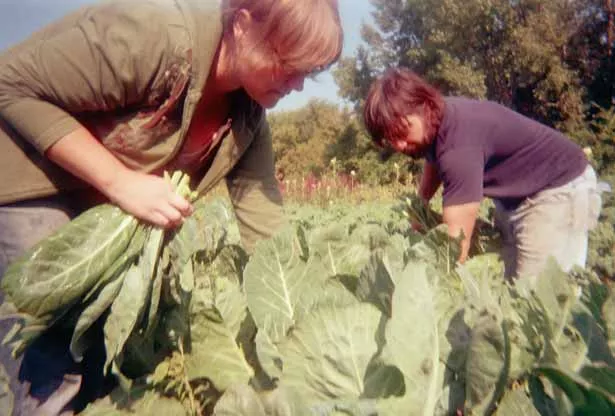 Jenn McGowan and Bryan Stuart
When Jenn McGowan culls crops in Burlington's Intervale, she's carrying on a custom as old as agriculture itself. McGowan, the 28-year-old director of the Healthy City program, works 10 hours a week this time of year as a "gleaner."
Harvesting excess or damaged produce to feed the hungry remains both a tradition and a necessity in many societies. France, for example, still enforces a medieval law that allows gleaners to take whatever is left on private lands once their owners have finished reaping.
The French law was inspired by biblical injunctions such as God's command to the Israelites in the Book of Leviticus: "When you reap the harvest of your land, you shall not wholly reap into the corners of your field, neither shall you gather the gleanings of your harvest: you shall leave them for the poor and for the foreigner."
For the purposes of gleaning, nothing has changed over the millennia. Today, thousands of poor Vermonters, including recent immigrants, receive what McGowan and two assistants glean from eight farms in the Intervale. In this, its sixth season, Healthy City expects to donate 30,000 pounds of produce to an array of social-service agencies in Chittenden County. Among the recipients are the Committee on Temporary Shelter, the King Street Youth Center and the Vermont Refugee Resettlement program.
Healthy City's gleanings consist of lettuce, spinach, string beans and other greens for which there are no buyers. In some cases, farmers simply grew more than they could sell. Other vegetables go unharvested because of cosmetic flaws that render them unsaleable at farmers' markets. If these surplus or scarred crops weren't collected, McGowan notes, they would be left to rot and then be disked into the soil at season's end.
"A lot of food that's perfectly edible goes to waste unless it's gleaned," says Bryan Stuart, an AmeriCorps member working with Healthy City. Rising from a crouch, the 24-year-old Indiana native holds up a bunch of collard greens at Healthy City's own 12-acre Intervale farm. Holes have been gnawed in their leaves by flea beetles, but these collards have lost none of their flavor or nutritional value, Stuart points out. And they're sure to be popular among those Burlington-area immigrants who savored collards in Africa or Asia, McGowan adds.
Gleaning opportunities abound in the United States, an agricultural cornucopia, but the practice is spreading slowly. The Society of St. Andrew, a 30-year-old Christian social-action group, coordinates a national network of volunteers who annually glean and distribute 15 million pounds of produce. But the society has no chapter in Vermont, where organized gleaning appears to occur only in the Intervale and the Lamoille Valley.
The state would benefit from more widespread and intensive gleaning, suggests Jane Kitchel, a Democratic state senator and board member of the Vermont Food Bank. About 60,000 Vermonters - nearly 10 percent of the population - experienced "low or very low food security" between 2003 and 2005, according to America's Second Harvest, a national food-bank network. About 20,000 went hungry at some point during those years, Second Harvest estimates.
Kitchel's Barre-based agency supplies mostly canned goods, pasta and other non-perishables to all the charitable food shelves in the state, which together served 66,000 clients last year. Organizers would like to be able to provide the needy with much greater quantities of fresh food, but "because of its perishability that's been a limited piece of what the Food Bank does," Kitchel notes.
Free veggies represent a healthy addition to the menu. "A lot of what's in the food-supply system may be heavy in calories," she adds. "There's a concern about the extent to which food availability contributes to obesity."
Hundreds of Vermonters who can't afford to shop regularly at commercial outlets do receive fresh produce for at least a few months each year through the efforts of Salvation Farms, a gleaning project based in Wolcott. The 3-year-old operation expects to provide 30,000 pounds of gleaned items this season to food shelves in Hardwick, Morrisville, Cambridge and other Caledonia and Lamoille county towns. Salvation Farms distributes about 40 crop varieties, as well as loaves left over from a farmers' market in Stowe, says Theresa Snow, the project's director. And it offers not just bread but "roses, too," as the old trade unionist slogan put it: Some volunteers glean and donate flowers from their home gardens.
Although there's a half-acre teaching garden on its grounds in Wolcott, Salvation Farms isn't actually a farm at all. Instead, it gathers produce from lands owned by 18 area farmers who allow gleaners to collect what reaping operations leave behind. Hundreds of volunteers - most of them from Johnson State, Sterling College in Craftsbury and a couple of local high schools - do the work of "culling unmarketables," Snow explains.
Snow, 29, was raised on a dairy farm in nearby Morrisville. But her commitment to gleaning arose from an unlikely place: Ground Zero. After earning an Associate's degree from Sterling College, Snow became an AmeriCorps volunteer in Washington, D.C. She arrived in New York in the aftermath of the September 11 terrorist attacks to assist the American Red Cross' relief efforts.
"What pushed me to do Salvation Farms was the anger and frustration I felt at that time in New York," Snow explains. Many of those displaced or bereaved as a result of the toppling of the Twin Towers had "no awareness of ways to live and to think about resources except in personal economic terms," she says.
So Snow conceived Salvation Farms as an attempt to "create self-confidence and security in other than financial terms. If we look back to the earth," she suggests, "things do slow down, but that might be a more rewarding way to live."
Gleaners certainly aren't driven by the profit motive. Snow's organization scrapes by on a yearly budget of $56,000, and it's currently running a $20,000 deficit. In the Intervale, Stuart and a Burlington teen, Mike Delage, get small stipends for their work.
But there are other, non-monetary rewards for this honorable activity. One day last week, the scene at Healthy City's farm evoked a famed painting by Jean François Millet. As McGowan, Stuart and Delage scavenged for collards, they looked like the three figures picking at a field in "The Gleaners," a work Millet completed in 1857. A chain of solidarity seemed to stretch from far away and long ago to this sunny September afternoon in the Intervale.