Kekla Magoon's newest middle grade novel, The Season of Styx Malone, sucks in young readers right from the start, when brothers Caleb and Bobby Gene briefly swap their baby sister for a gunnysack of fireworks. The brothers meet a new neighbor, Styx Malone — an older, cooler kid who hatches a summertime trading scheme, and has a few secrets of his own.
Magoon — a graduate of Vermont College of Fine Arts' MFA program in writing for children and young adults and a faculty member there for the past five years — is a seasoned pro. She has written 11 novels, multiple essays and short stories and a nonfiction book about the Little Rock Nine. Her first young adult novel, The Rock and The River, earned Magoon a Coretta Scott King - John Steptoe Award for new talent. Further accolades include three Coretta Scott King Honor Book Awards — the most recent for The Season of Styx Malone. These awards highlight the contributions of African American authors and illustrators to children's and young adult literature.
Magoon spent her childhood in Fort Wayne, Ind. Although the metropolitan area is racially diverse, Magoon attended schools with few black students, and much of her writing directly confronts issues of race.
How It Went Down, published in 2015, is a young adult novel influenced by the fatal shootings of Trayvon Martin and Michael Brown. Magoon has also written about school integration and the Black Panther Party. Several years ago, one of Malcolm X's daughters, Ilyasah Shabazz, asked Magoon to collaborate on a novelized account of her father's adolescence. The resulting YA book, X: A Novel, was released in 2016 and long-listed for the National Book Award.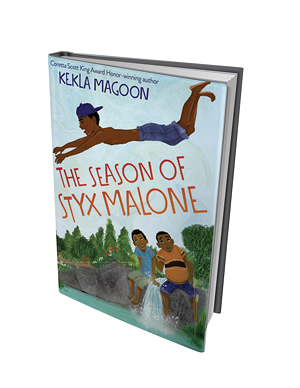 Magoon writes about racism, the civil rights movement and foster care, but her books are also filled with the exuberance of childhood. Her middle grade Robyn Hoodlum series — a retelling of the classic Robin Hood story — features a young, urban biracial heroine and her smart band of misfits. The three books are filled with rollicking and irreverent humor. In The Season of Styx Malone, racial conflict appears not at the book's center, but permeates the characters' quest for their own happy ending.
Magoon spoke with Kids VT about her work.
Kids VT: What was it like working with Malcolm X's daughter?
Kekla Magoon: Amazing ... Malcolm X was instrumental in showing the systemic nature of racism. The way we teach about the civil rights movement has been way too limited. But schools are now incorporating more discussion of Malcolm X, black nationalism and the black power movement ... As a boy, Malcolm X didn't know he was going to be famous. The book tells the story of a young man who was feeling lost and sad, and experienced the burdens of poverty and racism ... Kids are able to recognize those feelings in someone. Maybe they can realize they don't yet know what kind of impact they might be able to have ... If somebody would have told me as a kid I would have grown up and written all these books, that I would live in Vermont and be interviewed by a magazine, I would have said, No way.
KVT: Your insistence on the power of youth voice runs through your many books.
KM: One unifying thread in my work is about being or feeling ordinary. The Season of Styx Malone opens with Caleb, who wants to feel special — or not ordinary — but he doesn't have a handle on it. He doesn't really know what that means ... It's easy to feel insignificant in the face of history, and wonder what it is I'm going to stand up for ... Traditional storytelling is about heroes. But what does that look like on a day-to-day basis? We forget that the everyday matters in the way we tell stories ... I remember what it was like as a kid and being told, Someday you'll be able to do X, Y or Z. But I was a smart kid, and I knew I could do more ... I want kids to know they do have power.
KVT: What advice do you give to young writers?
KM: My advice is two-fold. Keep practicing. It takes a lot of work and rewriting and learning how to tell a story to become a better writer ... You might have to rephrase, making things clearer so someone can understand, but that's part of being a writer. Always believe that your stories are important.