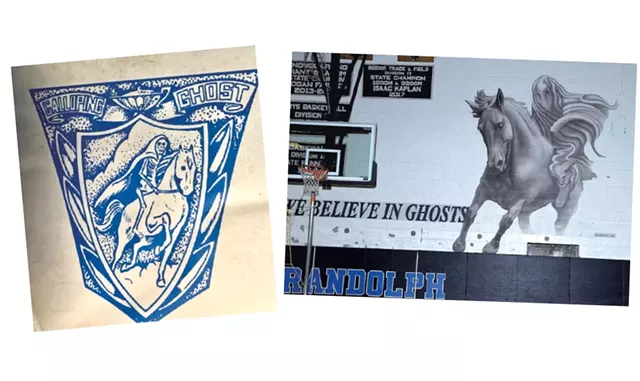 Courtesy Photos
The historic mascot (left) and removed mascot
This poltergeist is getting another makeover.
Randolph Union High School, home of the Galloping Ghosts, has erased a mural of its mascot over concerns that the hooded figure on horseback looked like a Ku Klux Klansman. Debate over the controversial image has ebbed and flowed in the decade since it first went up, but it gained new urgency after students raised a Black Lives Matter flag on campus last year, Orange Southwest School District superintendent Layne Millington said.
While some alumni argued for keeping the mural, Millington said he made a unilateral decision to erase the controversial image, which appeared on the gym wall and on some clocks in the school. Workers painted over the mural on Sunday and are replacing the clocks, Millington said.
"There was an image in the gym prior to that which was actually a little worse, because the mascot had a point on his sheet," said Millington, who's been on the job two and a half years. "So [the recently erased image] was the attempt to kind of replace that one."
There aren't plans yet to create a new mural but any future use of the mascot will depict a Grim Reaper astride a horse, the image the school used until the 1980s, Millington said.
The Galloping Ghost nickname dates back to the 1940s, when opponents only saw flashes of white — the team jersey color — as quick and agile basketball players flitted around the court, Millington said.
He broke the news of the mural change in an email to the school community last week.
Millington expected a mixed reaction to his decision, which he made on his own as a way to avoid a divisive and protracted community debate, like the one that recently roiled South Burlington when it dropped the Rebels moniker. But the Randolph school superintendent received about 100 emails in the days following, and they were all positive.
"People are kind of happy at this point to just get it out of the way and move on," Millington said.