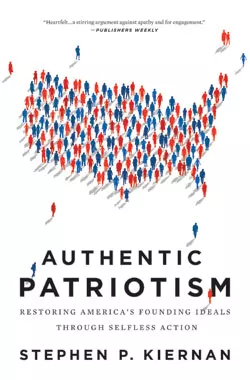 Readers old enough to remember the first Bush presidency can surely recall the "thousand points of light" initiative he championed throughout his term.
George Herbert Walker Bush laid it out in poetic terms in his 1989 inaugural address: "I have spoken of a thousand points of light, of all the community organizations that are spread like stars throughout the nation, doing good .... The old ideas are new again because they are not old, they are timeless: duty, sacrifice, commitment and a patriotism that finds its expression in taking part and pitching in."
Stephen Kiernan, 50, surely remembers the proto-Bush's advocacy of citizen voluntarism as a patriotic endeavor. So why is this Charlotte author writing about the virtues of volunteering as though he has made some dazzling discovery?
Kiernan's new book, Authentic Patriotism: Restoring America's Founding Ideals Through Selfless Action, takes an apolitical approach to social action similar to the one urged 20 years ago by Bush senior and, more recently, by Bush junior. In 300 pages, Kiernan formulates an overall analysis that's essentially conservative, even though he clearly wants the book's thesis to be regarded as progressive.
The myopic mindset at the core of Authentic Patriotism distracts readers from its solid journalistic aspects as well as its insights into the impact volunteering can have on both the doers and receivers of good deeds. The book also highlights an important but underreported social trend in today's America: a broadening commitment to giving time and money to help the ill and the impoverished. Kiernan, a Middlebury graduate, cites the many "service learning" programs that have sprouted at U.S. colleges, and he points out that it's become unusual for endurance races not to include fundraising efforts on behalf of one charity or another.
He's probably right that this phenomenon, along with the many individual initiatives he recounts in the book, represents a response to the alienation and passivity so pervasive in American consumer society. Kiernan marshals a fleet of statistics showing the persistence of poverty in the United States. These symptoms of "a nation adrift" reveal the inability of both government and the market to solve social problems, he argues.
What's needed, Kiernan concludes, is an outpouring of "authentic patriotism" — not the flag-waving, jingoistic kind, but a selfless "love of country" expressed through commitment to "the common purpose and shared values within a geographic boundary … Authentic patriotism," he adds later, "is about the United States of America, its well-being, its future, its adherence to founding principles." Defining "selfless action" in nationalistic terms may seem oxymoronic.
It's true, of course, that millions of Americans suffer deprivation amid enormous wealth. But hardly anyone starves to death in this country. And, if all human lives are to be valued equally, why doesn't Authentic Patriotism at least mention the millions of Africans who do succumb to hunger? Kiernan writes inspiringly about volunteers' efforts to help fellow Americans stricken with cancer or ALS (Lou Gehrig's disease), but he says nothing about easily preventable maladies such as malaria and diarrhea that might kill fewer children in poor countries if people in this richest of all nations undertook fundraising campaigns on their behalf.
Kiernan says the U.S. will remain largely powerless to "lift the world as we might until we are taking better care of ourselves. We need to get our house in order first." That sounds like an excuse for narcissism in a book that's supposed to be about altruism.
A bigger defect is the book's contention that the federal government is now inherently incapable of bringing about positive social change. "Government is too sluggish, and too divided by partisanship, to lead the way to a stronger America," Kiernan tells us. The New Deal/Great Society "model" of federal action producing dramatic reductions in poverty rates no longer applies, he adds. So much money is now spent on lobbying that Congress cannot and will not help Americans in need, the book maintains.
That's true — up to a point. Yes, the insurance industry succeeded in killing the "public option" in health care legislation. And corporate lobbying groups made sure that a single-payer, Medicare-for-all system was never seriously considered. But the health insurance bill Congress finally did adopt contains far-reaching reforms that big-money interests bitterly resisted. The same goes for the financial regulation bill opposed by Wall Street. Oil company shills likewise attacked the clean-energy components of the massive economic rescue package put together last year by Congress and the Obama administration.
Maybe the FDR/LBJ model does still work, however imperfectly, now that a compassionate Democrat once again occupies the White House.
Kiernan has little to say about Obama's significance and potential. He does acknowledge that the president's "call to unity of national spirit, his urgings toward service, have galvanized millions of people." Kiernan seems dubious, however, about Obama's ability to achieve much of anything, what with "two wars under way, an economy in crisis, and global mayhem, from the nuclear ambitions of North Korea to the contested election in Iran."
But most of those who voted for Obama did so with the expectation that he can and will make progress on all these fronts — especially if pushed hard by his supporters to fulfill his campaign promises.
Kiernan further claims that federal spending initiatives don't make much of a difference. He describes the nearly trillion-dollar stimulus measure as having failed to end the recession while plunging the budget so deeply into debt that it's now impossible to allocate funds to worthy causes.
Here again, Authentic Patriotism makes some partially valid points — and again it fails to look beyond the limitations it wrongly imposes. The book is premised on a weird refusal to challenge the ways in which Americans' tax dollars are being spent in what is still a democratic political system where citizens' grievances can be redressed.
Framing volunteer action in terms of patriotic sentiment leads Kiernan to take some reactionary stands. For too many Americans, he writes, "patriotism is scorned as weak or simple or compliant with outdated norms. These views are expressed by protest, by ridicule of power, by buying a bumper sticker that mocks leaders or questions authority. This is not patriotism either. Not even close . . . these expressions of liberal perspectives are far too superficial to be called the real thing."
If real Americans don't question authority, then it's easy to see why this particular promoter of patriotism treats the Pentagon as though it were a benign institution. "National defense continues to be a priority; it may even grow in importance," Kiernan observes as part of his argument for why the federal government can't cure social ills. He assumes, too, that all the money Washington spends goes toward uniformly commendable goals. After having reported that federal outlays climbed to an unprecedented level in October 2007, he comments, "so government's fiscal exertions on the people's behalf had reached an all-time high."
No waste, then? No reckless squandering of the people's money in pursuit of a war of aggression in Iraq? No point in trying to reorder our government's priorities?
Authentic Patriotism ignores the fact that as much as 44 percent of federal tax receipts — close to $1 trillion — go to military purposes. Kiernan doesn't point out that the 2009 U.S. military budget was almost as large as the total of all other nations' military appropriations combined. Does he believe this is as it should be? Does he think it would be unpatriotic to suggest otherwise?
This book's outlook will appeal not only to the Bushes, père et fils, but to Obama-esque believers in bipartisanship. On his website, Kiernan touts the favorable notice given to Authentic Patriotism by Purple State of Mind, described as "a national political blog that features ideas that can appeal equally to red- and blue-staters." Purple State of Mind calls Kiernan's book "a pitch for seeing the country through completely different eyes, neither left nor right, conservative nor liberal."
That's precisely the problem. In politics, there's no such place as "neither left nor right." Authentic Patriotism inhabits a fantasy land.
In keeping with his call for every adult American to devote three hours a week to volunteering, Kiernan has launched something called the B1 Campaign — meaning that you, too, can be one of the volunteer heroes whose stories are told in the book. The impact of such an uptick in do-goodism might be as amazing as Kiernan envisions. But there's no need to start a volunteer-action clearinghouse of his own when one already exists: namely, the Points of Light Institute founded in 1990 in response to George H.W. Bush's call for nationwide volunteer service.
In a recent profile in the Rutland Herald, Kiernan launches a preemptive attack on reviews such as this one. "I fully expect there will be reviewers who don't like this book because of their cynicism," he tells the Herald. "Mr. Cynic," Kiernan adds, "what do you got? Let me hear Plan B."
OK, Steve, here it is: a skeptic's (not a cynic's) alternative to an naïf's Plan A:
Drop the patriotism shtick. It's a cute marketing ploy, but it promotes narrow-mindedness. And, instead of encouraging only individual good works, make the case for collective political action to achieve what solitary volunteers cannot bring about. Let's continue using DNA testing to free the wrongly convicted, tutoring in schools in poor neighborhoods and providing free medical care to underserved communities — all examples described in Authentic Patriotism. But let's also, and above all, (re)build a movement that will persuade our elected representatives to take several billion dollars away from the Pentagon and use it to improve the criminal justice system and every school in every poor neighborhood. With the money left over, we'd also be able to guarantee basic health care for all citizens, just as every other rich country has already managed to do.