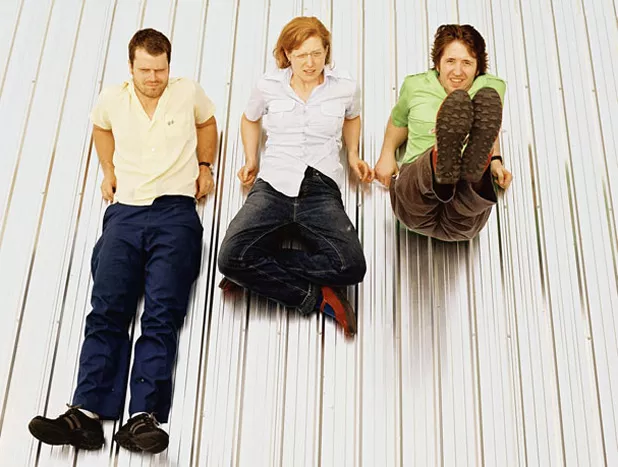 When I first started in the esteemed employ of Seven Days some six-plus years back, the Thanksgiving week column terrified me. Take a look at the club listings and you'll see why. Go ahead, I'll wait.
Notice anything? No? Exactly.
With apologies to karaoke nights and cover bands, there is very little on the local music docket during Thanksgiving week that you could call newsworthy. And there rarely is. For a variety of reasons, Thanksgiving week — and the weekend, especially — is traditionally the slowest of the year on the club front. If you need proof, witness that Higher Ground isn't even open again until Thursday, December 5.
That's a bit of problem for a columnist who makes a living opining on local music. So for the first year or two I that helmed this piece of editorial real estate, I summoned all the bullshitting powers I'd honed in high school English classes to tease out a reasonable facsimile of a column from one or two mildly interesting tidbits, items that would be borderline column fodder at best on a normal week. Those columns, to the surprise of no one, sucked.
So, necessity being the mother of invention, a few years ago I started using the Thanksgiving week column to acknowledge some of things about our cozy li'l music scene that I'm grateful for. Lo and behold, it's become my favorite column to write each year, ironically because I often find myself with too much to write about.
So here it is, and I'll even try to sprinkle in some newsy tidbits along the way.
First things first: I'm thankful for family and friends, old and new. And for Buckley. Whosagooboy?
I'm thankful for the swell of new and newly renovated music venues that have popped up all over Vermont this year. In Burlington alone, we've seen the rise of ArtsRiot, the rebirth of the Skinny Pancake, the relocation of Venue and the introduction of innumerable studio spaces, including Jenke Arts and Angioplasty. In Montpelier, Sweet Melissa's is proving to be a welcome new addition in a beloved old space. Parker Pie Co. expanded with a new joint, Parker Pie Wings in Newport. Hell, even sleepy Calais got a cool new hotspot since last we ran this column — the Whammy Bar.
I'm equally thankful for the old guard, the clubs that have provided a scene-wide foundation for years. Nectar's and Club Metronome, Higher Ground, Radio Bean, the Monkey House, Charlie O's, Positive Pie, the Bee's Knees, Tupelo Music Hall. This list could go on for a while.
I'm also thankful for independent promoters such as Angioplasty Media, MSR Presents, 2K Deep, Nexus Artists, the Vermont Comedy Club and many others who have identified unfilled niches and, instead of whining about how no bands they want to see come to Burlington — which is what most of us do — just go out and make it happen.
I'm thankful for the completely random trend of surf bands emerging in Vermont this year. I don't think I'd want to explain the phenomenon, even if I could.
I'm thankful for the doctors and staff in the cancer center at Fletcher Allen Health Care. I love you, mom.
I'm thankful the local comedy scene … well, exists. A quick anecdote:
Last Saturday evening, I happened by the Monkey House with my sister and my girlfriend, Sarah. We weren't there for a show, just for a quiet beer. Before long, comedian Josie Leavitt walked in. She stopped, clearly surprised to see me.
"Are you here for the gay show?" she asked, incredulously.
"Uh, I wasn't aware there was a gay show," I replied. "I guess I am now?"
(Confession: Just because I compile the club listings every week doesn't mean I have any clue what's happening on any given night at any given club. That's because once the paper comes out, my mind is already on next week's issue. Though, in fairness, you'd think "the gay show" might have stuck in my memory.)
What followed was an all-gay standup showcase hosted by Chicky Winkleman — who, by the way, is straight, and is also about as close to an unapologetic shock comic as we have in Vermont. And it was great, an unexpected pleasure. Unfortunately, we had to split before Leavitt's headlining set. But I think I found a new local favorite in Hilary Boone, who was simply delightful. And that probably wouldn't have happened as recently as two years ago. But now you can happen into an empty Winooski bar on a quiet Saturday and all of a sudden a comedy show breaks out. That's pretty great.
I'm thankful for Sarah, who has smilingly accompanied me to more of those shows than I'm sure she wanted to. Love ya, babe.
I'm thankful to live in a place where a print newspaper, that media dinosaur, plays such an important role in its community. Earlier this year, James Fallows, a distinguished correspondent with the Atlantic, visited Burlington as part of a series on American cities. He was particularly taken by the fact that not only is Seven Days not going belly-up, as so many others have recently — RIP, Boston Phoenix — the paper is thriving.
"What has kept the paper going, and growing, seems connected to the economic and cultural power of locally conscious sentiment in the town as a whole," Fallows wrote in a September piece.
He's right. The reason 7D remains vital is that this community is vital. Fallows followed up that piece with another one identifying Burlington as one of a new breed of small city defined by, among other qualities, great natural beauty, a supportive arts scene, entrepreneurial spirit and progressive ethics.
In other words, we're here because you are — even if the local music scene is taking the week off.
Another quick anecdote:
Last Thursday, I ran into an old friend at Kelly Ravin's CD release show at the Higher Ground Showcase Lounge. Ravin, by the way, was excellent, as were the Concrete Rivals, the Montpelier-based surf-metal band that opened the show. (See? Surf!)
As we chatted by the back bar, I noted how impressed I was with Ravin's set. My friend grinned and nodded.
"You know," he said. "I think right now is about as good as it gets."
He went on to talk about the inevitable ebb and flow of the Vermont music scene. He would know, since he's been active in it since the early 1980s — or, put another way, about as long as some of the guys onstage have been alive.
"It always comes and goes in waves," he continued. "But right now, I can't recall a time when there was this much good stuff happening here."
I think he's right. I grew up here in the 1990s, so that locally legendary scene will always be special to me. I was an active musician in the mid-2000s, so I'm partial to that era of Burlington music, too. I'm sure other scenesters of varying vintages would have their own favorite eras.
But I honestly can't recall a time when there was a greater embarrassment of musical riches in Vermont than what we currently enjoy. Hell, even in this "down" week, you can still catch some great local music — for example, the Blim Blams, Swale and Monoprix at Nectar's this Saturday, November 30. (Full disclosure: My brother plays in that last band.)
To further drive home the point, I'm honestly considering expanding our annual Best Vermont Albums list this year from 10 to 20, or breaking it into categories, because I'm not sure how else I could feasibly do it without royally snubbing a lot of deserving artists. There has simply been that much good music made this year.
But, all things considered, that's a hell of a great problem to have. And I'm deeply thankful for it.