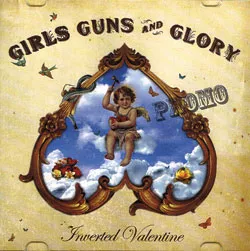 (Jack Squat, CD)
Reigning darlings of the diminutive New England country-music landscape, Boston's Girls Guns and Glory have received glowing accolades for their fantastic live performances. The band recently captured a victory in WBCN's Rock N' Roll Rumble, one of Boston's most renowned live music competitions. That's a rare and impressive feat for a country band in a city where the genre is consigned to a handful of cover acts and is a largely ignored blip on the radio.
When lead singer Ward Haden exclaims his desire to shoot his pistol at the moon or to hop in a big white Ford to "go for a drive and get out of this town," the stop-and-go, coupe-lined streets of Beantown just don't come to mind. Yet Girls Guns and Glory's third album, Inverted Valentine, is a decent collection of primarily up-tempo country songs. And while it lacks any overall thematic concept, the band's musicianship is solid.
Ward is a capable front man who sings of heartache, hard times and hard drinking in a pleasant, if somewhat banal, manner. Tracks such as "Six Sixty Seven" and "Working All the Time" cast off worry, conjuring Friday afternoon mischief at the local sports bar/saloon.
Yet most tracks on Inverted Valentine are not distinct enough from one another — typically, a plucky chord progression on an acoustic guitar sets the pace while the rest of the band and Hayden's shrill pitch filter in around it. That formula translates somewhat poorly to the confines of a record. Without the wound-up backdrop of the tipsy, low-lit bar crowd that has embraced the band over the last three years, the band comes off as polished and detached.
The highlight of the album is "Ramblin' Ole Daddy," (CLICK HERE TO LISTEN) a poignant, sorrowful country waltz in an old Americana vein. "'Cause there'll always be women / There'll always be drinks / One roll of the dice is still gambling," Hayden sings, rising to a chorus that submerges the listener into heartbreaking warmth with a pool of ride cymbal, soft snare and pedal steel guitar. The song is a rare tender and original moment for an outfit whose forte is rollicking live sets.
Catch a glimpse when Girls Guns and Glory mosey into Nectar's this Saturday.