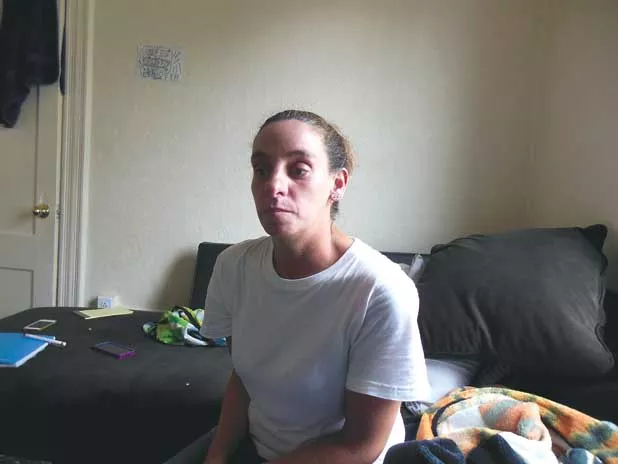 A quiet crisis wrought by indiscriminate federal budget cuts may force more than 2000 low-income Vermonters from their homes by the end of the year.
Housing officials plan to remove 774 households from a program that subsidizes rents for many of the state's poorest residents. The cuts have already affected hundreds of Vermonters who had been taking part in what's known as the Section 8 voucher system. No one knows what's become of many of the tenants who have already been turned out.
Under this 76-year-old New Deal initiative that was expanded by President Lyndon Johnson, local housing authorities negotiate with private landlords to set monthly rent payments for families and individuals who meet income-eligibility criteria. In Chittenden County, the cut-off point is pegged at $34,900 a year for a family of three. But most Section 8 households earn much less. The Washington-based Center for Budget and Policy Priorities estimates that the average annual household income for Section 8 tenants nationwide is $12,500.
Section 8 requires tenants to pay between 30 and 40 percent of their incomes for rent; the program covers the difference between that figure and the monthly amount specified in the lease. Vermont did not contribute to the cost of the 6792 vouchers its residents received last year from the U.S. Department of Housing and Urban Development — valued at $49.3 million.
That deal is changing. Due to the across-the-board federal spending cuts known as sequestration, the state's Section 8 allocation has been slashed by $5.5 million, resulting in an 11 percent reduction in the number of vouchers available to Vermonters who don't earn enough money to pay for market-rate housing.
David Yacavone, commisioner of the Department for Children and Families, said that 4400 Vermonters, including 900 children, spent at least one night in state-run shelters last year. The Section 8 cuts mean "the ability to access housing is going to get significantly harder," he said.
Translation: more homeless Vermonters. Median monthly rent for an apartment in Chittenden County was $918 in 2010, according to the U.S. Census Bureau. A Section 8 household would have to spend 90 percent of an average income of $12,500 to rent a market-value apartment in the Burlington area.
Bill Bissonette, a local landlord who rents to many Section 8 tenants, said revoking a voucher "for a single mom with two little kids means she not only loses her housing — she might also lose her kids."
Amanda Benson is one of those mothers with two children currently being forced to vacate a subsidized unit. She tells a complex story involving a partner with drug issues, a ruling by housing officials that he move out of the apartment and some $2000 owed for rent, lights and gas.
"They pretty much set me up for failure," Benson said of the Section 8 overseers. She received her voucher a year ago, after spending several years on a waiting list, Benson added in an interview in the cluttered Winooski apartment she has to vacate this week. "I was totally honest with them," she said in regard to her increasingly dire circumstances. "So many people lie, but I was totally honest."
Where will she and her two adolescent boys go now? "I don't know," Benson replied. "Maybe put ourselves in storage?"?
It's possible Benson and her sons could have remained in their apartment were it not for sequestration. Enforcement of tenant obligations under the federal program has been stepped up in recent months, acknowledges Paul Dettman, director of the Burlington Housing Authority, which administers Section 8 in Winooski as well as in Burlington. "In the past," he explained, "we'd say, 'You've messed up, but we'll give you another chance.' We're not saying that anymore."
A recent example involves Susalyn Kirkland, the mother of two boys who were charged last month with assaulting a police officer at the family's home in Burlington's Old North End. "They're trying to take away my Section 8," Kirkland cried out following a July 31 court hearing on charges of impeding a public officer, disorderly conduct and resisting arrest. The Kirkland family's case "probably isn't going to end well," remarked Bissonette, the owner of the Spring Street apartment that she rents.
Because of the federal cuts, Dettman has no choice but to reduce the number of vouchers assigned to his agency — from 1829 to 1679. Since March, he's eliminated about half of the targeted 150. Residents of the 343 public housing units his agency operates are not affected by the sequestration.
Not every canceled voucher results in eviction. Some Section 8 tenants die or move out of subsidized housing voluntarily. In most of those cases, vouchers that would normally become available to those on a waiting list are not being issued.
"There used to be hope if you were on the waiting list that you could couch-surf for a year or so and then move into a Section 8," said Meribeth Seaman, a housing advocate at the Champlain Valley Office of Economic Opportunity. "The waiting list is now more than five years, and even then you have little chance of getting a voucher because of the cuts."
Failure to pay rent or to report an increase in income may cause tenants to lose their Section 8 vouchers, Dettman said. Involvement in violent criminal activity or drug dealing is also grounds for eviction, according to the Section 8 household's agreed code of conduct. Dettman scours the news and checks in regularly with the courts and cops to stay on top of relevant cases. Less serious offenses, such as drunk driving, do not result in termination of Section 8 assistance, he pointed out.
Tenants facing eviction get two months to file an appeal, Dettman said. They're entitled to an attorney, often supplied by Vermont Legal Aid, at hearings over which he presides, the housing administrator added.
What's happening to some Section 8 tenants does not amount to acts of cruelty on the part of the Burlington Housing Authority, commented Bissonette, who has been renting subsidized units for 30 years. The landlord described Dettman as "the best housing program administrator I've seen," adding, "He has some difficult decisions to make."
What does seem cruel, observed Burlington Housing Authority Section 8 coordinator Janet Green, is the loss of a long-awaited voucher for a family that has been living in shelters or on the street. Sequestration is to blame, she said, but added that the state should allocate funds to protect families threatened with losing their homes due to Congress' assault on HUD.
"A lot of the time, families have a lot of supports in place when they're homeless," Green said. "But when they're housed, those supports go away, even though the complexity of their issues has not gone away.
"Instead of watching them become homeless and then spending big amounts to put them up in hotels," Green added, "the state should be helping them now to stay in housing."
She noted that the Shumlin administration and Vermont legislators have begun discussing the possibility of shifting or adding money to the state's community housing grant, which currently provides about $870,000 to agencies that provide services to the homeless.
With the Republican-controlled U.S. House refusing to approve inflation adjustments for many federal programs, reductions in Section 8 started having an impact a couple of years ago. Bissonette, who owns about 300 rental units in the Burlington area, said he has seen about a dozen of his tenants lose vouchers since then. That's cost him $50,000 in rent and legal fees for eviction proceedings, said Bissonette, who also owns Al's French Frys in South Burlington.
He used to rent almost all of his apartments to subsidized tenants, Bissonette noted. "I've had second- and third-generation Section 8 people living in my buildings," he said. "They've spent their whole lives in the system."
Asked why he specializes in renting to the poor, Bissonette explained, "That's how my business model ran. I grew up in the Old North End, and I'm very conscious of the trials and tribulations people there go through on a daily basis." It's also true that the government is a consistent supplier of tenants and always pays its portion of the rent on time.
Today, Bissonette rents only about 100 of his 300 properties to Section 8 households. "I had to change my business model," he said, citing the reduction in vouchers.
What's happening with Section 8 amounts to "a real crisis that's not been visible," commented David Weinstein, a policy adviser to Sen. Bernie Sanders. Weinstein termed the sequestration approach to deficit reduction "incomprehensible." It serves as "a blunt instrument that's doing a lot of damage to vulnerable people," he said.
The Democratic-controlled Senate Budget Committee on which Sanders sits has voted to rescind the cuts in the Section 8 program, Weinstein noted. But the Republican House is refusing even to discuss such a softening of sequestration, he added.
The current cutbacks in Section 8 and other federal housing programs for low-income Americans are only the start of the projected 10-year sequestration process. The Center for Budget and Policy Priorities estimates that the number of vouchers available to low-income American households will be reduced by about 140,000 this year. And "as long as there are across-the-board cuts," observed Sanders spokesman Michael Briggs, "housing vouchers will continue to be cut."