Courtesy Of Vt Dog Rescue
Puppies fresh off the van at VT Dog Rescue
Normally, when Brigitte Thompson's dogs reach the end of their journey to Vermont, she lets them out of their crates and gives them time to play, wrestle and chase each other around on the grass — "letting dogs be dogs," as she put it.
Thompson runs VT Dog Rescue, a non-brick-and-mortar shelter founded in 2015. The Hinesburg nonprofit works with about 75 volunteers around the state to import, foster and find permanent homes for dogs pulled from shelters in Alabama, Louisiana and Mississippi. Pre-COVID-19, the group had vans arriving in Vermont every two weeks, importing about 300 dogs per year.
These days, Thompson cannot allow the ritual of volunteers congregating in a central location to greet each pup as it emerges from the vans. After their road trip, which can last 18 hours or more, the dogs are whisked away by volunteers to their foster homes. There's no pause to cuddle new puppies or throw Frisbees to older dogs.
"All that had to stop," Thompson lamented. "It's very, very different, but that's the only way we could follow the rules."
After Gov. Phil Scott issued his "Stay Home, Stay Safe" executive order in March, the Vermont Agency of Commerce and Community Development released new rules and guidelines that deemed shelter employees "essential workers." Shelters could continue caring for animals already in their custody but were prohibited from importing new ones from out of state.
In some respects, the pandemic created a perfect storm for animal welfare groups. As the economy tanked and millions of Americans lost their jobs — and, in some cases, their housing — charitable donations dried up and more animals were surrendered. Meanwhile, interest in acquiring pets surged, as people who were now homebound sought the comfort of companion animals.
But the greater supply of shelter animals didn't necessarily satisfy the increased demand. When Vermont effectively shut off its pipeline of out-of-state pets, it created logistical and financial problems for many of the state's animal rescue groups. And as the rules were updated, each organization interpreted them differently. Some resumed importations; others did not.
When the rules were first released in March, the Humane Society of Chittenden County already had a transport en route from the South with 60 dogs and cats aboard, according to president and CEO Joyce Cameron. All those animals were adopted within four days. In one week alone, HSCC received 450 applications from people wanting to become foster parents. Said animal care manager Cynthia Harris Cole, "We cannot keep kittens in the building. They just fly out of here."
So, how many transports have arrived at the South Burlington humane society since March? None, Cameron said.
"Our partners right now are chomping at the bit," she added, referring to their source shelters down South. "They have animals, and we have huge demand. And here we are, sitting with a limited supply."
Nearly all of Vermont's nine humane societies rely on interstate transport animals as revenue streams. For HSCC, the state's largest, adoption fees from mostly out-of-state rescues account for 25 percent of the organization's $1.2 million budget. Humane societies and non-brick-and-mortar shelters elsewhere in the state, which have smaller populations and fewer strays, are even more reliant on transport animals. They're "feeling the hurt more than we are," Cameron added.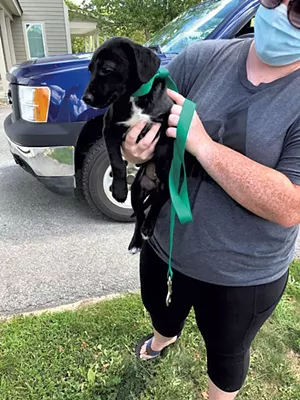 Courtesy Of Vt Dog Rescue
A Puppy From Vt Dog Rescue
By mid-May, VT Dog Rescue, which operates almost exclusively on adoption fees, devised a way of getting rescue dogs to Vermont safely. Its Mississippi-based transport driver quarantines for a week before traveling north. The cargo van, which holds 30 dogs, is equipped with a bathroom and all the food and water she and the animals need. The driver sleeps in the van and only gets out to fuel the vehicle and to feed and walk the dogs.
But not all shelters took the risk to receive rescues. Jessica Danyow is executive director of Homeward Bound, Addison County's Humane Society in Middlebury. In mid-March, Homeward Bound closed its doors to visitors and suspended all adoptions for three weeks. Her staff of 12 continued caring for the animals on hand and accepted local strays. But Homeward Bound stopped importing animals from the South — and not just because of the state mandate.
"To me, bringing a bunch of animals and people across the border that have been traveling up the East Coast just made no sense," she said.
By mid-April, Homeward Bound had switched to an appointment-only adoption system, which it's still using. It converted its three-season porch, with its large windows, into a cat viewing area where people could see the animals and transact adoptions through a slot.
Dogs were easier to meet, Danyow explained, because they could be brought outside on a leash. And though visitors were still permitted to physically interact with potential pets, Danyow found that many were willing to adopt based solely on discussions with Homeward Bound's staff and foster parents.
In early August, Vermont began allowing rescue animal transports from out of state without imposing geographic restrictions or mandatory quarantine periods. But even as those caravans began rolling again, they've fueled discussions that were already under way about the long-term implications of this interstate trade.
In the last 20 years, Vermont has become a prime destination for thousands of shelter animals rescued primarily in the South. It's difficult to determine how many are imported annually, said state veterinarian Kristin Haas, because Vermont has few regulations governing the practice.
What is known: New England has a higher rate of spaying and neutering than other regions, so it doesn't have comparable challenges with animal overpopulation. Consequently, many Vermonters (including this reporter) have adopted multiple animals from other states.
When done responsibly and humanely, animal welfare experts say, such transports can be mutually beneficial to the "source" communities where those animals are rescued, as well as to the "destination" communities that desire those pets and can offer them loving homes.
But experts caution that the interstate transports can also create unintended consequences, leading some rescue groups to rethink whether the practice fulfills their purported missions.
B.J. Rogers has been an animal welfare advocate for 15 years. Prior to his current position with Emancipet, an Austin, Texas-based nonprofit provider of low-cost veterinary services, he was vice president of the American Society for the Prevention of Cruelty to Animals, and before that, CEO of HSCC in South Burlington.
Rogers isn't necessarily opposed to interstate transports if they're done right. But, as he pointed out, the practice has downsides. Transport animals can spread infectious diseases, such as intestinal parasites and heartworm, from areas of high to low prevalence.
Courtesy Of The Humane Society Of Chittenden County
A new arrival at the Humane Society of Chittenden County
In source communities, the tendency to transport only the animals deemed highly adoptable — notably, kittens, puppies and smaller dog breeds — can exacerbate preexisting income disparities by leaving behind less-desirable animals that have significant behavioral or health problems, which are more difficult and expensive to care for.
And for some organizations, Rogers added, adoption fees become the sole purpose of interstate transports, creating a revenue stream they rely on for their survival. That dependence, he said, "can sometimes create this perverse incentive to engage in transport on a high volume that's more about sustaining the organization and its local relevance than it is about addressing the larger issues of animal welfare."
Such concerns aren't lost on Homeward Bound's Danyow, who is also president of the Vermont Humane Federation, a coalition of organizations that includes the state's nine humane societies, as well as wildlife and farm animal protection organizations, national animal welfare nonprofits, and low-cost spay and neuter groups.
When rescue groups partner with out-of-state shelters but don't address the underlying causes of their animal overpopulation, Danyow said, "You're just bailing out the ocean with a bucket."
For this reason, Homeward Bound gets its transport animals through St. Hubert's Animal Welfare Center, which runs a way station program in Madison, N.J. For every animal Homeward Bound receives, it pays $50 to St. Hubert's 44 source shelters. Those shelters, which are as far away as Puerto Rico and California, then use that money on vaccinations, spaying and neutering programs, and improving the conditions of animals in their communities.
Like other humane societies, HSCC is rethinking interstate transports, Cameron said, with an eye on community services that better meet the organization's mission.
Consider the case of Josie, who had all her teeth pulled out earlier this year. Stacey Miller, her owner, said the dog has never seemed happier and is barking and playing like a puppy again.
"Her tongue sometimes falls out of her mouth," Miller added, "but she's a whole new dog now."
Josie, an 11- to 13-year-old Yorkshire terrier — her age is a vet's best guess — was staying at HSCC when animal care manager Cole noticed her rotten teeth. Realizing the dog likely was in pain, she recommended that Josie see a veterinarian at Green Mountain Animal Hospital in South Burlington, who extracted her teeth.
At the time of Josie's surgery, she was staying at HSCC temporarily. Miller, who'd adopted her from a Tennessee shelter, had lost her home in October 2019 and couldn't find an apartment that would allow animals; Miller also has a 5-year-old cat named Miley.
"Honestly, we slept in my car sometimes," she said, "but I couldn't give up my pets."
Miller, who was struggling financially, took advantage of two programs HSCC offers to low-income Vermonters. The Good Neighbor Program provides up to two weeks of emergency pet housing if their owners are hospitalized, incarcerated, or lose their job or housing. Miller also benefited from HSCC's Rainy Day Pet Fund, which provides emergency veterinary care and spay and neutering services to financially insecure Vermonters.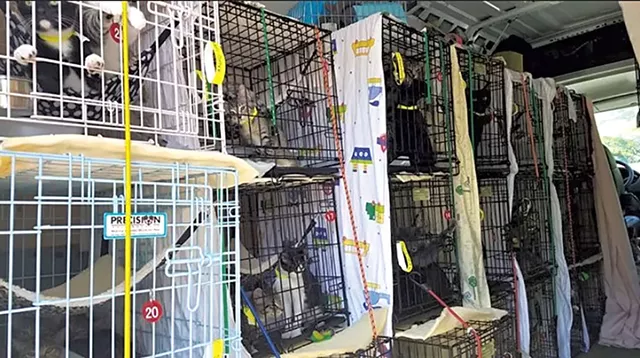 Courtesy Of The Humane Society Of Chittenden County
Kitten transport van
Programs such as these, Cameron said, are "the wave of the future" for humane societies, as many adopt a community-based model called "human-animal social services." Its goal is to reduce the relinquishment of animals to shelters and to keep people and their pets together.
Cameron readily acknowledges the conundrum: On one hand, there's a high demand in Vermont for transport animals for adoption. On the other hand, importing dogs and cats from out of state reduces the space available for animals rescued or surrendered locally.
"There have been times when we've had a three-week waiting list for people to relinquish their animals," explained Cameron, whose facility can house only 20 dogs at a time. "It doesn't feel good for me to be putting community members on hold. Normally, when someone is relinquishing an animal, it's highly emotional and there's usually a good reason behind it and time is of the essence."
No one in Vermont's animal welfare community suggested that the practice of interstate animal importation would cease anytime soon — during the pandemic or beyond. But animal welfare advocates were eager to remind Vermonters to do their research before adopting animals from out of state, especially without meeting them first.
As state veterinarian Haas noted, it's difficult to know whether that animal has been evaluated for behavioral problems — such as biting or aggression toward children or other animals — or underlying health issues. Haas has heard stories of new pet owners facing considerable vet bills, or worse, after adopting animals sight unseen.
Haas also cautioned Vermonters against adopting pets from organizations that won't allow visitors on their premises or provide veterinary or vaccination records.
Finally, Vermonters should ask about an organization's return policy if the placement doesn't pan out. Humane societies often end up with animals adopted through other rescue groups, either because that organization lacks the resources to take them back or it has no available foster homes.
"It's very compelling to go online and see a picture of a cute little puppy and think, Gosh, I've got to have this dog!" Haas said. "But there's some homework that people should be doing before making emotionally based decisions."