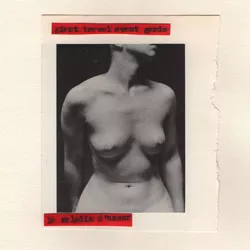 (What Doth Life, digital download)
Did you ever see the movie Bandwagon? Most likely, you have not. It was a tiny little indie that opened in 1997 on about 12 screens nationwide and pretty much flew under the radar of anyone who didn't have a family member in the flick. Or who, like this writer, randomly happened to catch it on rainy afternoon in Boston after calling in hungover, er, sick, to work. Anyway, the story is roughly this: A fantastically 1990s slacker dude gets canned from his job and starts a band in his smallish, no-name hometown. The band is really good. Like, the Lemonheads circa It's a Shame About Ray good.
The only problem is that the group's genius front man is painfully shy and has debilitating stage fright. The only way he can perform is to turn away from the crowd and face the drummer, pretending hundreds of eager eyes aren't squarely on him, anxiously awaiting his every guitar riff and vocal line. Somehow, the ostrich act works, and the band starts to take off. I won't spoil the ending except to say that dramedy ensues, and in the end everyone learns a well-wrought lesson about life/love/the true meaning of success/happiness/etc.
It's a nifty film and, if you can find it, is worth a couple of hours of your time. (An exhaustive, two-second Google search reveals you can actually see the film on Netflix Watch Instantly.)
In listening to La Maladie D'amour, the latest and possibly last album by Giant Travel Avant Garde, I can't help but be reminded of Bandwagon. For starters, the group hails from a smallish, no-name town — OK, it has a name: Windsor, Vt. Secondly, the record (and band) is startlingly good and comprises a wealth of classic indie and alt-rock influences that transports this listener to the halcyon, misspent days of his late 1990s youth. Finally — and perhaps most importantly — the band is led by a prolific and decidedly mysterious front man, Luke Chrisinger.
For the uninitiated, Chrisinger is a songwriting marvel. He has 49 albums available on his Bandcamp page alone. Forty-nine. That figure doesn't take into account his extracurricular exploits, which include at least as many albums with a variety of other artists and six records with GTAG. Suck on that, Ryan Adams. But despite his voluminous, roundly excellent output, Chrisinger hardly seeks the limelight; he almost seems to shy away from it. I couldn't tell you if he suffers from stage fright, but his Salinger-esque hermit-tude serves only to deepen the intrigue surrounding him.
With so much to parse, it would be hard to call any of Chrisinger's records his magnum opus. But perhaps La Maladie D'amour could at least be GTAG's. From mercurial, fuzzed-out start to bittersweet and equally fuzzed-out finish, the album is something akin to the lost tapes of a secret, mythical recording session between Doug Martsch, Robert Pollard and Brendan Canning. Backed by What Doth Life label mates Ryan Hebert and Brendan Dangelo (the Pilgrims) and drummer Bruce Black, the album is a phenomenon of indie rock, as masterful as it is mysterious.
La Maladie D'amour by Giant Travel Avant Garde is available at gianttravelavantgarde.bandcamp.com.