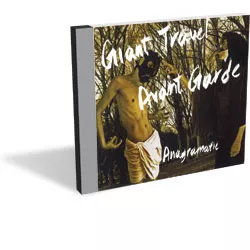 (What Doth Life, CD)
The musical micro-explosion in sleepy Springfield, Vt., continues with the latest from power trio Giant Travel Avant Garde, Anagramatic. The album, released by Springfield collective/label What Doth Life, confirms that something strange and wonderful is indeed a-brewin' in the Upper Valley. Who knew?
GTAG is the brainchild of prolific songwriter Luke Chrisinger, who has reportedly released 100 albums under various musical guises. Here, the guitarist and front man leads his power trio through a lo-fi noise-rock journey that is by turns soothing and frightening, but is ultimately a worthwhile listening experience.
The record opens unassumingly on "Hexagram." Over a skittering drumbeat courtesy of drummer Ryan Hebert, Chrisinger unveils a lazy guitar jangle that belies the unwieldy sonic experiments to come. But rudimentary, three-chord garage rock soon gives way to a swelling maelstrom of feedback, setting the stage for the ambitious sonic shenanigans to come.
"Two" is next and follows a similarly deceptive tack. Chrisinger favors a sleepy vocal delivery that runs in contrast to the insistent, grimy alt-rock simmering beneath the surface. Hebert is the glue here. At times, Chrisinger's ungainly, snarling guitar and Brendan Deangelo's winding bass threaten to careen out of control. But Hebert holds his bandmates in orbit, here and elsewhere on the record.
"Hundred Moon" is illustrative of GTAG's general approach, and in some ways represents Anagramatic in microcosm. The song begins as a prettily sparse acoustic guitar and voice ballad, but soon evolves — or perhaps devolves — into a swarming torrent of distortion and manic percussion as Chrisinger's sweet croon is ultimately swallowed in the sonic void. "Syndicate" is similarly emblematic. The three-minute instrumental interlude vacillates between calming swells of clean, melodic guitar and ragged, intimidating noise.
"Event Collector" is among the most conventionally constructed tunes on the record, and thus is among its most accessible, sounding something like a Pavement b-side. But even here, the band tempers alt-rock custom with sneaky sonic chicanery.
"Ghost Parade" is another straightforward-ish highlight and sets up the record's final act. "Ornament" follows with casual indie swagger, and eventually yields to the stunning album closer, "Population." The slow-burning, six-minute tune builds from a spare acoustic rumination into a head-spinning indie rock opus that is as rewarding as it is challenging — much like Anagramatic as a whole.
Anagramatic by Giant Travel Avant Garde is available at whatdothlife.com.