Crowds swarmed the Church Street Marketplace last Tuesday, navigating outdoor café tables, street vendors, slow-moving tourists and window shoppers.
Steps away, a ghost town. Inside the so-called Burlington Town Center, the sound of jazzy Muzak filled deserted, fluorescent-lit hallways lined with empty storefronts. Unoccupied massage chairs awaited patrons who seemed unlikely to materialize. Even a coin-operated race-car ride bore an apologetic "out of order" sign.
Bookended by Church Street and Macy's, the city's three-block mall is in limbo. Its owner, Don Sinex, has all of the permits required to break ground on a controversial redevelopment of the shopping plaza — as soon as this summer. But opponents have a different plan. Represented by Burlington attorney John Franco, various groups of city residents have launched a trio of legal challenges and are promising to keep submitting appeals until all of the options have been exhausted.
Now storefronts that only months ago housed American Eagle, J. Crew, and Journeys are vacant, their dark exteriors covered with brown paper. The building's remaining occupants, meanwhile, are still trying to attract customers while contending with general uncertainty about when construction might actually begin. The result is a disemboweled retail relic with little foot traffic — a far cry from the cutting-edge urban renewal project that wowed Vermont shoppers when it opened in 1976.
Of approximately 60 available storefronts in today's mall, only 25 are occupied — and that includes L.L.Bean and Macy's, neither of which is part of the redevelopment. The number is down from 36 last November and 43 in 2014, according to the Burlington Town Center website.
Similar shopping emporiums are closing all around the country — no indoor mall has been built since 2006, according to ABC News.
Sinex has offered his remaining Burlington Town Center tenants the option to move their wares to storefronts closer to the Church Street entrance. In the first phase of construction, the mall entrance to Macy's will be blocked off while wreckers and bulldozers raze the vacated western section of the shopping plaza. From start to finish, the redevelopment is scheduled to take three years.
As Tuesday morning advanced, the east side of the mall grew livelier. Patrons toting briefcases entered Starbucks from its Church Street entrance, and, as they left, coffees in hand, their muffled conversations trickled into the mall lobby.
Across the way, Rebecca Stowell and Tookie Mai washed the already-glistening windows of Five Guys. The fast-food burger joint replaced A Cuisine, a locally owned conveyor-belt sushi restaurant, which closed last fall after a short run. Five Guys is the newest addition to the Town Center and the only other store that faces pedestrian-heavy Church Street. Since the May 17 opening, business has been "steady," said Stowell.
She said she wasn't worried about the stability of her new job. If the Five Guys owners anticipated an issue, she said trustingly, "then they wouldn't have opened it, you know?"
It's been nearly three years since Sinex announced the redevelopment. A New York developer with Vermont ties, he's earned the backing of Mayor Miro Weinberger, Burlington city councilors of all political persuasions and several environmental groups. Last November, Burlington voters approved two mall-related ballot measures, including $21.8 million in tax-increment financing to pay for infrastructure along newly opened stretches of Pine and St. Paul streets. Sinex received the go-ahead from the city's design advisory board, conservation board and, finally, in mid-March, the permits from the Development Review Board.
The campaign against the reenvisioned mall, which includes buildings of up to 14 stories, started early on. As presented, Franco said, "the project is too big and does not deal with the problems it's going to create." Six months ago, Franco helped the Coalition for a Livable City challenge the wording of the TIF ballot question that Burlingtonians approved — but a judge dismissed three parts of the four-part suit in mid-May.
In March, after the Queen City's Development Review Board green-lighted the project, Franco appealed the decision on behalf of 57 plantiffs, including some CLC members. He argued that the plans do not include enough parking to accommodate the increased occupancy.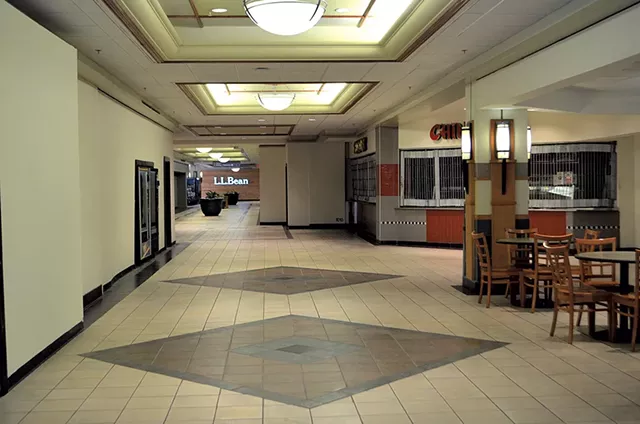 The project is out of scale with the surrounding area, the appeal stated, and does not comply with the city's own zoning regulations.
"This was not just a Hail Mary. There were serious appeals here," said Franco, who pointed to a judge's decision earlier this month that found his claims were not "tenuous or frivolous."
Legal appeals are a "long tradition in Vermont," he added. They're also a necessary component of a thorough review process; Franco maintains that the Development Review Board never considered his parking concerns in their discussions.
He said his clients would fight until the end. They have explored multiple avenues, including a request that the project be subject to Act 250 review. When the environmental district coordinator denied that motion, Franco immediately filed an appeal.
"It's a complicated project, and with complications come delay and controversies," said Brian Shupe, executive director of the Vermont Natural Resources Council. The VNRC opposed the project early on because it had too much parking, Shupe added, but with changes to the plan, it finally endorsed the development.
Still, he said, "there's a right for folks to have due process."
What about those whose livelihoods depend on the mall?
One saleswoman, folding shorts behind the counter of the women's clothing store Francesca's, said she expected to start a job search within the coming weeks. "They don't tell us anything," said the woman, who declined to give her name and didn't define "they."
She's in favor of the redevelopment — though she recognized its drawbacks. "I think it's going to be a hot mess for the next two years," she added.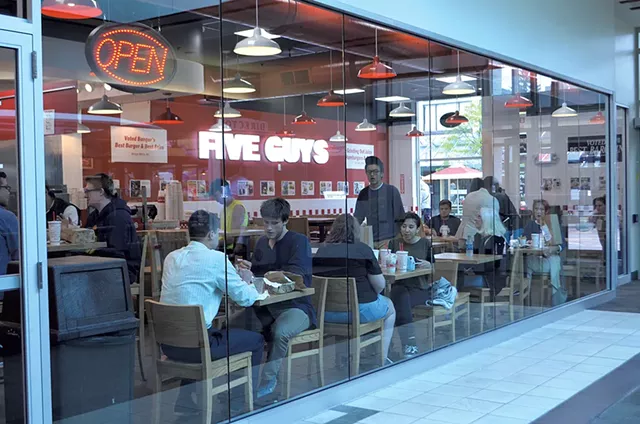 Upstairs, Sameen Mohideen said he's hoping to move Saraz, an Indian clothing and jewelry store, to a shop in the front of the mall. He ticked off the businesses that have left around him: "Hollister, American Eagle, Famous Footwear, J. Crew..." he trailed off.
"It's weird to be here alone," said Mohideen, who has owned his store for a dozen years. "It feels like we're abandoned."
Sinex exhibited a determined enthusiasm during an interview in his fourth-floor offices at 101 Cherry Street, above L.L.Bean. "I'm confident as time goes by, we'll win," he said, leaning forward at a conference room table. He was eager to list the project's many benefits: affordable housing, economic payback and fewer commuters, to name a few. Still, he doesn't feel any of it resonates with locals. "The 14 stories — that sinks in," he said wryly.
The ongoing litigation, though, means Sinex has yet to secure the majority of the financing for the $225 million project. In April, he announced that his company, Devonwood Investors, along with New York-based Rouse Properties, would combine to put up about $75 million in a joint venture agreement. The remaining funds are expected in the form of a $150 million construction loan.
Sinex has provided mixed messages about when the cash will come in. He told reporters in December, and then in April, that the financing would be set "within weeks." Now, six weeks later, he said he has "four to five" bidders interested in putting up the funds. But the legal tie-ups are costing him. No one's interested in forking over $150 million to $180 million while there are pending court appeals, Sinex said.
In court documents, Sinex has claimed that he's losing $270,000 every month that construction is delayed.
If Sinex manages to finance the project, he is allowed to proceed with construction, despite efforts to slow it down. But a ruling in Franco's favor could force Sinex to dismantle any progress that's been made. And if the case is appealed to the Vermont Supreme Court, it could drag on for months, even years.
Until the legal affairs get sorted, it's business as usual at the Town Center.
On the mall mezzanine last week, passersby grew to a steady stream as midday approached. French-speaking Québécois walked by, paying little attention to their surroundings as they streamed toward Church Street. Families strolled, clutching Macy's bags. A line formed for burgers, fries and shakes at Five Guys.
Shoppers paused by a prominent display with large renderings of the proposed development. Trudy Richmond stood before a visualization of a street-level scene, complete with contented shoppers. "It is tall," she said of the proposed towers.
Richmond moved to Burlington just a month ago, but in her previous town — Rockland, Maine — a five-story hotel spurred similar opposition. It was built, "and it's fine," she said. "You can get used to anything."
Jason Robinson, the owner of LeZot Camera Shop, moved from a Church Street studio in October 2016 to a space in the mall; he supported the redevelopment project from the start and wanted to be at ground zero — precisely 100 steps from the front door, he said, and close to what would become a new back door, where St. Paul Street would cut through the existing building.
Robinson has a loyal clientele that seeks him out; people come from as far as Maine for camera equipment and photo printing, he said. But Robinson, who supported Sinex ahead of November's vote on mall-related ballot measures, said he's worried about other shop owners who are losing foot traffic and don't know what will happen — nor when.
The waiting "is bad for downtown; it's bad for us in the mall," Robinson said with exasperation. "We emptied out this thing so we can do work, and now there's no work to be done — for what reason?"
With a public vote and the permits in place, Robinson said, the opposition effort "seems kind of personal now."