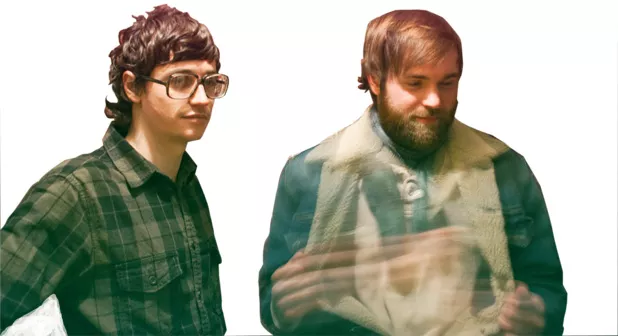 Bryan Parmelee and Brett Fiorentino
Good things come to those who wait. For fans of Parmaga, the more than three-year wait for the band's debut recording ends this Friday. At the BCA Center in Burlington, the local duo will unveil a striking new EP, Ghost Pops. The project also marks the launch of another anticipated local venture, Angioplasty Records. The satellite record label is operating under the umbrella of local booking and promotions outfit Angioplasty Media.
Parmaga began life in August 2007 when guitarist and songwriter Bryan Parmelee, 26, fled north to Burlington after graduating college in South Carolina. The Ohio native met drummer Brett Fiorentino, 27, through a mutual friend, and the pair started jamming under its original name, Maga. Within a month, they were playing basement shows around Burlington — Parmelee describes the music as a "straightforward, rockin', drums-and-guitar-type thing."
Straightforward rockin' would soon give way to headier sonic explorations as Parmelee began integrating samples and noises into the mix. However, the early returns on the band's forays into space rock were less than stellar.
"We probably got a little too ambitious too quickly," surmises Parmelee.
Ambition would become necessity for him when Fiorentino moved to New York City in 2009. Parmelee continued performing Maga songs solo under the band's current moniker, Parmaga. Without a drummer to back him, he began experimenting further with programmed beats and loops. Those experiments would ultimately inform the electronic flourishes that thread Ghost Pops.
Fiorentino returned to Burlington last year and the two reunited. They kept the name Parmaga to avoid confusion.
"It's also way more Google-able," says Parmelee, noting that there was already a Spanish band called Maga.
Parmaga began tracking Ghost Pops in October 2010 with local recording engineer Ryan Power. Despite having an album's worth of material, the duo went into the studio armed with what they considered their "most powerful" four songs, intent on just recording an EP.
"We figured it would be much more manageable that way," says Parmelee. "And much more affordable."
Parmelee has a background in recording, having studied sound engineering in college and then interned at a studio. He says his more formal education meshed well with Power, who is largely self-taught.
"I think we both learned a lot from each other," says Parmelee.
The results on Ghost Pops support that assertion.
The EP's title comes from an anomaly that occurred during the tracking sessions, in which strange, unidentifiable pops and crackles bled into the recording. Systematically trying to isolate the source of the phantom noises proved fruitless.
"We seriously couldn't figure out where they were coming from," says Parmelee. He adds that Power still hasn't solved the mystery — nor has it occurred again in any subsequent sessions.
The majority of those sonic specters were removed in editing and mixing. Still, several remain and create defining, if unintended, textures. Throughout the EP — four tracks that act more as movements of a larger piece than individual songs — strange, fleeting noises add subtle character to Parmelee's tunes. Skeletal string scratches are chilling against a spare melodic backdrop on "The Escapegoat." Warm, globular synth droplets break the surface tension of Parmelee's propulsive but lean guitar on "Plenty Hands." "The Well" features swells of cathedral reverb that soften Parmelee's thin vocal delivery, before yielding to Fiorentino's drums at the song's swirling apex and subsequent washout.
"My favorite part of most albums is the sonic depth," says Parmelee. "The little noises, like, where you can hear someone's fingers hitting the keyboard, or weird little scratches … that's always the thing my ears cling to the most."
Ghost Pops is not only Parmaga's debut but also the first recording released on Angioplasty Records. Angioplasty Media's Paddy Reagan first approached the band last fall about an idea he and AM founder Nick Mavodones had for a cassette-tape label. Having previously considered starting his own label, Parmelee was intrigued, though he balked at the cassette idea.
"Tapes are cool right now," says Parmelee. "But it's kinda stupid to limit yourself to one medium."
After some debate over the practical viability of releasing the project on a next-to-obsolete format, Parmaga signed on. Ghost Pops will be available through AR both on CD and as a digital download. Reagan says the label will release future projects in a variety of formats, including cassettes.
Parmelee also joined AM in a non-artist role to help oversee the label arm of the emerging media mini-empire. Future AR releases include a record from Reagan's own project, Paper Castles, as well as a number of other local and regional acts.
Reagan describes Angioplasty Records as an evolutionary cousin of Everyone Records, the short-lived label experiment by the late Burlington screen-printing and booking collective Tick Tick. Much as Tick Tick promoted local indie music by pairing Burlington acts with nationally touring bands at small clubs and studios around town, Parmelee views AR as a way to not only pimp his own music but also to raise the profile of the area's increasingly active indie-music scene in general.
"The ultimate end goal for me is to help put Burlington on the indie map, so that bands actually think of Burlington when they're booking tours," Parmelee says. "Part of that is nurturing more bands, getting names out there so people get more curious about the scene here.
"The Parmaga release is just the test subject," he continues. "It's the start of something new."