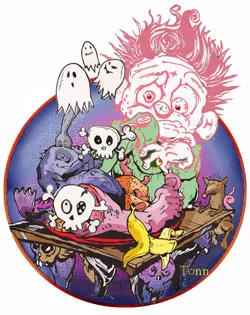 Food keeps us alive. That's a given. But just as life begets death, so sustenance can quickly transform into a killer. Forget about the Japanese blowfish, fugu. Even a humble salmon can prove fatal if improperly prepared.
But food needn't be life threatening to make folks break into a cold sweat. Take bananaphobia. Adults who hyperventilate at the sight or smell of the fruit are more common than you might think. Following a 2005 episode of "Dr. Phil" about irrational fears, the tactless Texan's website filled with admissions of food phobias, including bananas and ketchup. Lots of people cop to emetophobia — the fear of vomiting. Hopefully, they're able to steer clear of rotten bananas.
We spoke to four Vermonters who are currently preparing for Halloween festivities about the meals and foods that have spooked them. From a tuna casserole that took a trip down the toilet, to Rice Krispies that played host to mealworms, we heard some of the grossest, most embarrassing food yarns around.
We also asked our panel which food trend they'd like to stake through the heart, and whether they'd consider cannibalism. So sit down and pour yourself a glass of Chianti, Hannibal Lecter style.
What's the most frightening meal you've ever eaten?
It was a macaroni-and-cheese dish that a friend of mine had made. It just went wrong. It was a classic mac 'n' cheese, but "dressed up" with too many spices and too much Worcestershire sauce. And, of course, you have to sit there and go, "Oh, it's delicious!" As a chef, you have to be mindful that everyone is looking at you.
What was the scariest meal you ever cooked?
I don't cook any bad meals! The first time I tried to make crêpes out of the Betty Crocker Cookbook, I was probably 7 or 8. My parents were out of the house. I thought, I'll make crêpes! I didn't realize I didn't know what crêpes were.
When it told me to put the batter in a very hot pan, I thought pancakes. I made these horrible, rubbery disks of crêpe batter about an inch thick. They took forever to make, and they were black. It took me going to Europe to find out what a real crêpe was.
What food makes you cringe?
Okra. It's a textural thing. I can't even fathom it. Nothing can make it palatable, not tempura [frying it]. Nothing. It just doesn't sit with me well.
Do you have any favorites that make others balk?
Oysters and sweetbreads. People get a little grossed out about anything gooey. But I don't think I eat anything that makes other people go, "Ew." Sea urchin. Monkfish. It's just a general consensus in the kitchen that it's the ugliest and grossest thing in the kitchen to clean. You draw straws to see who cleans it.
What food trend spooks you?
Fried calamari. It's gotta go. It's been there, it's been done. Let's think of something different. You go to "Brendan Bean's Irish Pub" and they're making calamari! Corn meal? Please! They don't even know what a squid looks like.
I tried to take it off the menu here, and the comment cards were like they were printing themselves. Hence, we now have fried calamari back.
In a life-or-death situation, would you resort to cannibalism?
No. Unless there was really good cabernet and a really great fire. I want somebody to eat my dinner with. I like company when I have my dinner. There'd have to be a rabbit or something we could eat instead.
What's the most frightening meal you've ever eaten?
I'm a vegetarian, and a lot of times I've ordered a big calzone with a big meatball in the middle.
In '05, I was actually chewed on at the Chew Chew Festival when a dog lunged at my face and took a chunk out of my chin, so that was the worst time I was ever eaten.
In high school, I ate some chicken croquettes that were still half frozen, but I ate them anyway. I'm not one to send something back unless it's totally wrong. Another time, my mother and I were going to see a movie, and they brought me my vegetarian omelette and dropped it on the floor. Overall, though, I'd say hot dogs are about the scariest thing I've ever had.
What was the scariest meal you ever cooked?
I lived in New York at 19, and I had a girl visiting me from back in New Hampshire. I wanted to impress her, so I wanted to make tuna wiggle. I called my … godfather's wife, and she told me how to make a white sauce … She told me to use two tablespoons of flour, but I got confused and used two cups instead. I scooped out as many clumps as I could and tried to flush it, hoping it would go down the toilet. I ended up serving it — still with clumps — by candlelight, hoping it wouldn't show.
What food makes you cringe?
Cauliflower. It looks like albino broccoli. I don't have anything against albinos, but it's unappealing. I can deal with potatoes, but I want a more diverse plate. I just think that cauliflower is a tool of the white man and he's trying to impose it.
What food trend spooks you?
Caffeinated drinks with alcohol. I'm a nondrinker for many years, but the idea of putting a Red Bull in with vodka so we can stay up and drink more … Any of those energy drinks that are filling people with caffeine and things worse than that. Anything that's going to give you chest pains is scary to me.
In a life-or-death situation, would you resort to cannibalism?
I wrote a ballad in eighth grade about the Donner party with lyrics about how they had rump roast. If it were to survive, of course. If they're already dead, and I thought they weren't going to be poisonous, and there were no edible vegetation. How would my body react to the meat after 15 years of not having any? That could be scarier than eating someone. I would try every berry first, and if I hallucinated, well, then…
What's the most frightening meal you've ever eaten?
We were in Hartford, Conn. I ordered a salmon Caesar, and the fish came, and it was the worst-smelling, worst-tasting fish I've ever had. It turned out that what happened was the guy who was cooking it took it from a refrigerator that had been turned off.
What was the scariest meal you ever served?
We had a New Year's Eve dinner, and we had two seatings of 55 people. It was getting to be ten o'clock, and no food was coming out of the kitchen. It turns out my chef had gotten drunk and was passed out in the parking lot. That was unpleasant. We were able to revive him and get the food out a half hour late. That was 10 years ago. He was gone right after that.
What food makes you cringe?
I really hate eggnog. It has nutmeg in it, and I really don't like the flavor of nutmeg. I'm such a peasant I'll eat anything, but I really don't like marzipan, either. I don't like the flavor of cooked almonds.
What culinary trend spooks you?
Farm-to-table is so big these days. It can be great for local producers, but sometimes it can be hard to get consistent quality for a reasonable-sized restaurant. Like lamb, in particular. I would love to be able to serve Vermont lamb, but it's hard to get sometimes.
The other thing I don't like: grass-fed beef. I think corn-fed beef has great flavor. I like to serve that as opposed to grass fed.
In a life-or-death situation, would you resort to cannibalism?
I had such a hard time with [the movie] Alive. It was really, really, really painful for me to watch. The whole thought of it was painful for me. I don't know what I would do faced with death or starvation. I'd sooner shoot myself than kill anybody to stay alive.
Thea Lewis, Queen City Ghostwalk tour guide and author of "Haunted Burlington: Spirits of Vermont's Queen City"
What's the most frightening meal you've ever eaten?
I'd have to say that the worst meal that I've ever eaten was when I went to visit some friends who had some issues with spice. I knew they had issues with spice to begin with, because they always shot down any restaurant options with even a hint of ethnicity, but I wasn't prepared.
It turned out their diet consisted of mostly white food. As someone with a ghost tour, I'm not opposed to the white thing. It started off with something very mealy rolled up in a wrap — a cream-cheesy thing that was like a mayonnaise-y thing — just white. It was the kind of food a 3-year-old might enjoy. Hospital food, basically. I'm talking a pasta with a cream sauce with no flavor. It's basically like eating worms at that point. It was so unappetizing and gluey.
As we looked around the table, everyone was giving each other the eye — and drinking lots of wine. The meal ended with some still hungry, very drunken people walking out the door — just not a good scene.
What food makes you cringe?
There's a food that I couldn't eat when I was a kid: Rice Krispies. A science teacher gave us all an assignment to take mealworms home, and he told us to feed them Rice Krispies. After watching those little worms undulate around Rice Krispies in a clear container and making notes about my mealworms, I just couldn't do it. Until I was college age, I would look at plain Rice Krispies and all I could see was little mealworms crawling around.
Do you have any favorites that make others balk?
I used to work with a guy who would say, "You eat the weirdest crap I've ever heard of. You have no problems getting up and eating a can of sardines for breakfast." It's true. There are so many foods that I enjoy eating and very few that I dislike.
What food trend spooks you?
If you'd asked eight years ago, I would have said Chilean sea bass. All of a sudden everyone is hot on frying things in panko bread crumbs. If you're hearing too much about one ingredient, after a while, you're going to get sick of it.
On "Chopped" [on the Food Network] the other night … people were crusting things with granola bars. Now I want to try crusting things in a nice, crunchy, honey-rolled oat granola. I can imagine a nice pork chop in that nice crunch coating with some apple slices and onions. Pork lends itself so well to that sweet/savory thing.
In a life-or-death situation, would you resort to cannibalism?
[My husband once] said, "If we were in a plane crash and I died, you would eat me."
I told him, "Yes, darling, if it meant I would survive to care for our children." Some people think you need all your parts for life after death, but I don't agree. If it's a matter of survival, you go ahead and dig in.
I would hope there would be a heat source. The idea of raw human is like raw pig. Not really appetizing. Hopefully, the period of time right before your accident would have been a sanitary time.