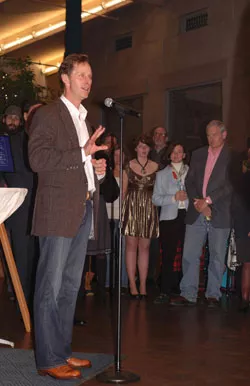 A couple weekends ago, luminaries in tuxedos and evening gowns gathered to sip champagne and celebrate the naming of Middlebury College's 100,000-square-foot arts center after a Portland, Maine, businessman.
Kevin Mahaney, class of 1984, had bestowed on his alma mater what Middlebury president Ronald Leibowitz described only as a "significant" gift.
Later, when asked why he declined to make public what it cost to attach his name to a prominent campus building, Mahaney, who is a commercial real-estate developer, replied, "It's the thought that counts."
Middlebury College seems to be trending away from its past practice of dedicating campus buildings to historic figures. The admissions office is named after Emma Willard, a pioneering local proponent of women's higher education. Alexander Twilight, the first African-American to earn a college degree, became the namesake of Twilight Hall in 1986.
These days, however, there's a price tag attached to posterity in the form of a building. But, as Mahaney's modesty suggests, it's not always possible to know what the going price is.
College officials say they have established no formal threshold that donors must cross in order to have buildings named in their honor.
It's clear, however, that a retired businessman from the Class of '51 gave enough for a wing of the refurbished Starr Library to be named the Donald Everett Axinn Center for Literary and Cultural Studies; and in 1998, Middlebury inaugurated the Kenyon Arena, an ice hockey rink largely paid for by Richmond "Chip" Kenyon, a 1985 graduate. The amounts of those two gifts have never been divulged.
With some expressions of largesse, the details are a little more to the point, while remaining shy of full disclosure. In the early 1990s, an anonymous donor gave $50 million to christen the science building the John M. McCardell, Jr. Bicentennial Hall, in recognition of the former Middlebury College president.
One important campus landmark — the $40 million Main Library — still awaits a patron whose generosity meets the school's doubtlessly high standard of munificence. But while it took 15 years for Kevin P. Mahaney to step up and claim the arts center, it's probably only a matter of time for the library, which opened in 2004.
Patrick Norton, Middlebury College's associate vice president for finance, said the school does not tap its growing endowment — $936 million by the end of 2007 — for building projects because, by law, nearly all the principal is to be maintained in perpetuity. Middlebury College does spend about 5 percent of its endowment — about $47 million — on financial aid, professorships and other purposes specified by individual donors.
Mahaney says he is a frequent donor whose previous generosity has been on behalf of athletics. A silver-medal winner in sailing at the 1992 Olympics, he helped pay for a domed sports center at the University of Maine. The building was then named after Mahaney's father, Larry.