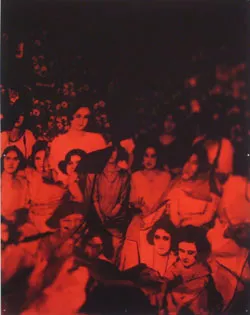 Past and present intermingle in the inaugural show of the Firehouse Center for the Visual Arts' new Second Floor Gallery. It's an installation of five large, multilayered works by University of Vermont professor of photography Tarrah Krajnak. The stated objective of the venue is to "provide space for local artists on the forefront of the contemporary art movement." Krajnak's work certainly lives up to that mission. Called "Inch of Dust," the show is a collection of 40-by-50-inch, vertically composed photos based on the work of Peruvian photographer Martín Chambi (1891-1973.)
Chambi was an indigenous Peruvian of humble origin, and many of the scenes he captured were of the folks he called "my people." His body of work includes tourist postcards and ethnographic documentation, yet he looked at the Andean world through a postcolonial lens. He did not objectify his subjects, who included middle-class individuals in Cuzco.
Chambi was also a masterful technician. Peruvian novelist Mario Vargas Llosa, winner of the 2010 Nobel Prize in Literature, wrote of Chambi that "when he got behind a camera, he became a giant, a true inventor, a veritable force of invention, a re-creator of life."
Krajnak was also born in Peru. Her curatorial statement posted with the exhibition posits that she "examines the function of the photograph in the authentication of origins, identity and the experiential." Krajnak "appropriates" Chambi images and projects them onto three-dimensional paper objects. This process warps and distorts the subjects into spectral abstractions, emphasizing both the malleability of a photographic image and the fragility of an artist's vision.
"Carnival, Cuzco, 1926" is a distorted group scene taken from a Chambi gelatin silver print. Krajnak rephrases it into a tapestry of lights and darks by projecting the picture on a crumpled piece of paper. Yet a reflection on the floor below the paper is "solid," not splintered. The Chambi group portrait depicts an anonymous group of people, including men in suits and ties and women in fancy dresses. This is one of the busiest and most abstract pieces in the exhibit.
Less complex is Krajnak's group of about 15 young women entitled "Senoritas at a Social Gathering in Cuzco, 1927." The title attributed to Chambi's original is "Birthday Party, Cuzco," dated 1931. It contains stark contrasts of light and dark. Krajnak tinted the piece red, as if theatrical lighting illuminated the original. There's a subtle blue tint to Krajnak's altered version of Chambi's "Wedding of Don Julio Gadea, Cuzco" from 1930. The image is less distorted than it is fractured, broken into jagged sections like shattered glass, or ice drifting on a pond. It's as if Krajnak is foreshadowing a troubled future for the wedding party, or perhaps reflecting on the transience of familial groups.
Krajnak has previously created works using anonymous early images, such as tintypes, but in "Inch of Dust," the origins of the photos are specific — the place, the people and the artist. Krajnak establishes a sort of dialogue with Chambi, pulling his subjects into the 21st century and asking conceptual questions about the nature of photography itself.
Krajnak's "Giant of Paruro, Cuzco, 1929" is based on Chambi's portrait of Juan de la Cruz Sihuana, a Peruvian giant whom Chambi photographed. Krajnak's restatement of this portrait, again, seems more fractured than distorted. Sihuana stands alone in the center of the composition, but a sort of vaporous aura surrounds him. The giant is dressed in Indian garb and a traditional earflap cap, and he stares directly into Chambi's camera with strong, placid facial features that seem timeless. Krajnak's version, however, tears the figure into several pieces, as if the giant is frail and transient.
The phrase "standing on the shoulders of giants" is apropos for this contemporary photographer's relationship to Chambi, and there's nothing wrong with finding inspiration in art history. Clearing the dust from the earlier photographer's handiwork is more an act of symbiosis than of appropriation.