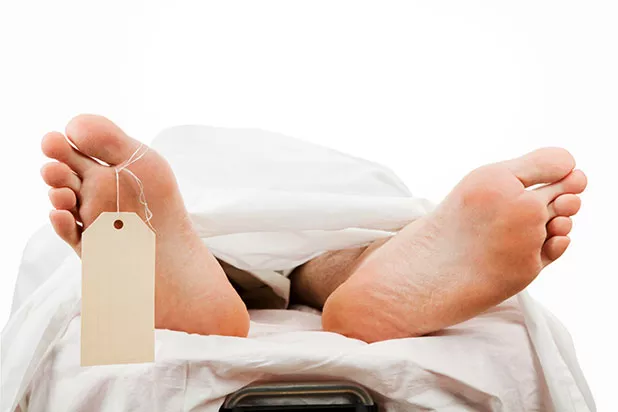 The University of Vermont wants you — or, more accurately, your remains once you've shuffled off this mortal coil.
It's not the kind of information medical schools typically advertise in a local newspaper. Then again, this isn't a typical year. For the first time in anyone's memory, UVM has a critical shortage of cadavers. And if the number of donations doesn't pick up by January, the university will have to start hunting around for dead bodies.
Rod Parsons chairs UVM's anatomy and neurobiology department. Appropriately enough, he's also director of the university's Anatomical Gift Program — a position he's held for 30 years. Parsons notes that donations are down this year by about half: from an average of 35 to 45 bodies annually to 20. That could create a problem for students in the spring semester.
Compounding the situation is the fact that demand for cadavers has actually grown as UVM has expanded its medical training and research programs. The College of Medicine has 114 students, up from 75 when Parsons became chair in 1979. That number doesn't include the students who are working toward graduate degrees in neuroscience, those training to become physical therapists, the residents who need corpses on which to practice new surgical procedures, or other medical researchers working at the Burlington campus.
Moreover, Parsons notes, most of UVM's donated bodies come from within the state, and Vermont's population growth hasn't kept pace with the school's burgeoning demand for corpses.
Parsons isn't certain what explains the record-low body count, though he has a few theories. It may be due to an encouraging trend: Vermonters are healthier and living longer. Or it could be a matter of chance: The number of anatomical donations fluctuates from year to year, ranging from 32 to 50. This year may be a statistical aberration.
Another possible factor is that anatomical gift programs have gotten a bad rap in recent years owing to a few "bad apples." Although UVM's program has a spotless ethical record, the same can't be said for all medical schools. For example, in 2007, the director of UCLA's Willed Body Program was arrested for profiteering from the sale and transportation of bodies and parts. Such revelations, though rare, do little to instill public trust in an industry that is largely unregulated.
Then again, Parsons suggests a more plausible reason for Vermont's declining number of donors: the cost associated with giving one's body to medical science. Although UVM absorbs nearly all the expenses, including cremating and returning the remains to families, the cost of transporting the deceased to the medical school is still incurred by the next of kin. In tough economic times, that expense may be too much for some Vermonters to shoulder.
In fact, it can be considerable, depending on where the person dies and who handles the body. According to a 2007 price survey of local funeral homes conducted by the Vermont Funeral Consumers Alliance, the cost of body donations ranges from $525 to $1790, depending on the funeral home. And that figure doesn't include other fees tacked on by the mortician, such as getting copies of the death certificate or storing the body overnight.
Ironically, the drop in body donations in Vermont runs contrary to what's happening in many other parts of the country, where anatomical donations have hit record highs. The Anatomy Gifts Registry of Glen Burnie, Md., is one of the nation's only nonprofit organizations that handles whole-body donations for medical schools and research facilities in the 48 contiguous states. According to executive vice president Brent Bardsley, his organization has had two consecutive record months of activity — with donations rising from 60 to 80 bodies in a usual month to more than 100 a month in August and September.
Why the body boom? Bardsley, too, suggests the economy is a factor. Many families simply can't afford the cost of a funeral anymore. In fact, his organization has begun getting referrals from a seemingly unlikely source: undertakers. Apparently, some funeral directors have started turning to the registry as a way of recouping expenses they've already incurred from families who couldn't pay for a full-blown funeral service or even a less costly cremation. Unlike UVM, the Anatomy Gifts Registry reimburses families and funeral homes for all their costs.
******
In an age when so many other aspects of scientific education and research are done with computer models and simulations, anatomists say when it comes to learning one's way around the human body, there's still no substitute for the real McCoy.
Dr. Jean Szilva teaches gross anatomy and neuroscience to students training to become doctors and physical therapists. Szilva, who's been teaching at UVM since 1994, explains why a "cadaver experience" is so vital to her students' education: While computer models present an average or idealized version of human structures — nerves, arteries, veins, muscles, bones, tendons and ligaments — cadavers provide the full range of human diversity. Part of the students' lesson comes from cutting into actual flesh and bone, which, as she puts it, "gives eyes to their fingertips."
"To see what arthritis is, to feel the roughness of the joints, to see the bone overgrowth," she adds, is "a visual and tactile experience that cannot easily be erased from your memory."
Moreover, the process of dissecting cadavers and learning how to identify various structures and their relationships trains students' minds to think and problem-solve like doctors. When students see firsthand how metastatic cancer has spread throughout a body, they will understand, viscerally, what cancer patients mean when they say they "feel tired all over."
Needless to say, not everyone feels warm and fuzzy about the idea of someone tinkering with their innards. And UVM can't accept every body it is bequeathed, Parsons points out. People who are overly emaciated or obese when they die pose unique challenges for storage, preservation and dissection. Likewise, patients who die from highly communicable diseases, such as hepatitis C and HIV/AIDS, cannot be accepted.
Parsons says the university is looking into solutions to its cadaver shortage. One possibility is asking other institutions; in the past, UVM has helped out nearby facilities when it had a surplus. In the longer term, he says, the university is exploring possible funding streams that would enable it to reimburse families for the cost of transporting their deceased to UVM.
For their part, Szilva and Parsons both emphasize the enormous level of dignity, respect and appreciation with which anatomical donations are treated at UVM; at the end of each school year, the students hold a memorial service to thank the people who made this aspect of their medical education possible. The school also maintains a plot and memorial bench near campus for cremains that aren't reclaimed by the next of kin.
And Szilva knows that, like Parsons, she'll be on the dissecting table herself someday. As she puts it, "I think it's a great opportunity for me to teach one last class."
******
Tom Scribner of Waterbury is one of the undisclosed number of Vermonters who plan to leave their bodies to UVM — when the time comes. "I'm 50 years old and not planning on going anywhere right away," he emphasizes. Scribner's interest is mostly philanthropic; he says his body has "some pretty interesting stuff in it that medical students may be interested in," including surgical implants and the remains of several unusual procedures.
But Scribner, who doesn't cotton to the idea of a pricey funeral, admits that he's concerned about burdening his loved ones with the expense of getting his remains to the university. As he puts it, "It's not like in the movie Vacation, where the Griswolds were going down the highway with a body on the roof."
Not that that would be a problem in Vermont. Actually, it's perfectly legal for Vermonters to move their own dead. No federal law prevents the transport of a dead body across state lines, either, though funeral consumer advocates strongly recommend checking the laws in each state and obtaining the proper paperwork, such as a copy of a death certificate, beforehand. This will head off any awkward and potentially time-consuming encounters with suspicious members of law enforcement.
For his part, UVM's Parsons suggests that self-transport may not be the most desirable method of delivery. At the very least, he says, people should call ahead to let the university know they're coming, and not just show up at the back door with dearly departed Uncle Mort.