Lots of Vermont ski resorts have jumped on the summer adventure trend in recent years, but Bromley Mountain, near Manchester, was the first. The Bromley Sun Mountain Adventure Park opened in 1976. It draws people from all over New England — both those who ski, and those who don't.
Sun Mountain looks like a carnival. Bungee trampoline rides, water slides, basketball toss, and a ride that calls itself "Space Bikes," which entails riding a bicycle all the way around a pole — vertically — give the park a fair-like feel, while other features, such as scenic chairlift rides and a slightly terrifying Alpine Slide, remind visitors they're still at a ski mountain.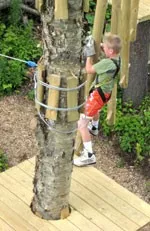 This June, Bromley introduced a new feature: the Aerial Adventure Park. It consists of five different ropes courses that wind through a secluded forest-like section of Bromley Resort. Admission to the Sun Mountain Adventure Park is $39 a day. For $20 extra — or $30 without the Sun Mountain pass — you get two hours of aerial adventure (enough for me to complete three of the five courses). Is it worth it? I strapped on a harness to find out.
The aerial park was my first stop at Bromley, but before going anywhere near a karabiner, I signed a waiver and attended Ground School — a short but mandatory pre-aerial session that teaches visitors all about safety on the course.
Then, we were off. I started with a beginner green course, trundling off across a floating wooden bridge, my harness clipped to the guide wire. This shaky bridge was the easiest part of the course. Over the next two hours, it wasn't hard to pretend I had been chosen to participate in the Hunger Games, as I climbed and zip-lined my way through the trees, at times clutching for dear life to a wire or piece of wobbly wood in a desperate attempt not to fall. Of course, because one of your two karabiners is always attached to a safety wire, I couldn't fall, except into an uncomfortably tight harness. Nonetheless, I took my safety very seriously, as did everyone else.

"Abort, mom, abort! No more than three people on a platform at one time! You have to go back!" yelled one girl.
"Dad, I can't do this! It's not worth it!" yelled another.
"Jump, Jess! You have no other choice!" instructed a desperate-sounding parent.
Like I said, it's not hard to be Katniss up there. The higher levels, blue and black, which have prerequisites (you must complete a green trail to do blue, and you must complete blue to do black), are not for the faint of heart. The teen boys in front of me were having a blast, but the 9-year-old girl behind us shed a few tears mid—rope ladder (in her defense, that was totally the scariest part). Easier levels are manageable without being boring — they're great for younger kids and those afraid of heights.
Though I've always been a bit of a wimp when it comes to heights, I had a blast on the aerial park, which was easily my favorite part of the resort. It was challenging but fun, and its wooded location was beautiful — unlike many ropes courses, which are "all on telephone poles," according to one friendly attendant. When I stopped to rest on a high platform, it was peaceful, too.
A few things to note before you go: the aerial adventure is only open to those ages 7 and up (the rest of the park, however, is accessible to everyone, and young kids have their own area, called the Kids Zone). Sneakers or similarly close-toed, secure shoes, are a must. Check the website (link here) before you visit, as they often have deals and discounts on tickets. And most importantly, don't forget your inner Everdeen.