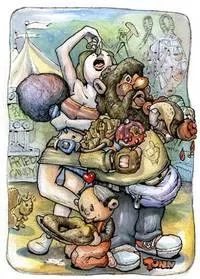 There's something about the fair that brings out the culinary kid in everybody. A few whirls on "The Tornado" or failed games of "Drown the Clown," and suddenly "What's for dinner?" is fried meat on a stick followed by fried dough slathered in "maple." The first local heirloom apples of the year are showing up in stores, but their stock is low on the midway, unless they're coated in a sheet of sticky caramel or tooth-shattering red candy. At the Champlain Valley Fair, even the most principled eaters end up surrendering to the sizzle . . . of trans fat?
Once you've opted to give your id free rein, though, does it matter whether you get your sausage from Bob's Tower of Meat or Mr. Pork? Don't let the proliferation of products fool you: Not all fair food is created equal. And don't bother asking a vendor what sets her apart. She'll just say, "Our [insert food here] is the best on the midway!"
How do you get a taste of what's really the best on the midway? For two long nights, I taxed my arterial walls, and those of a couple of friends, to find out.
It all began with a corn dog on a stick for $2.50 from a nameless edifice near the Expo buildings. The deep brown outside coating was thick and sweet with a delicate corn flavor. The dog inside was insipid — you could hardly tell it was there — but the overall eating experience was enjoyable nonetheless.
For those not wedded to the corny side of the dog, there was an option with more oomph at the locally owned Piggy Bar. "Research shows that corn dogs started between 1935 and 1945," owner Bob Von Bruns, an IBM employee, explained. As he told it, the folks from Al's French Frys came in contact with "a new kind of food" somewhere in the South, and persuaded a couple of their friends — his parents — to come up with their own version.
The single stall has been making Northern-style battered dogs — i.e., sans corn — since 1947. They call 'em "pigs in blankets" after the venerable pastry-wrapped sausage dish from Britain. (An even older version, from Germany, goes by the name Würstchen im Schlafrock. Translation: sausage in a nightgown.) Whatever their batter is made of, the dogs are slightly softer than the corn-dipped variety, but with a similarly sweet flavor. "Sorry, it's a family recipe," Von Bruns explained when asked for specs. He does advertise one key ingredient: meaty McKenzie dogs.
The staffers at the Piggy Bar also fried up battered mozzarella sticks, served with marinara sauce for dipping. The sauce was slightly bitter, and the taste of the cheese got lost in the copious coating, but eating them was still fun and messy, as it should be with midway nosh. At 75 cents each perstick, they were one of the best deals at the fair.
Speaking of good deals, a couple of food stands, run by the Essex Junction Lions Club and the Burlington chapter of the Benevolent and Protective Order of Elks, let you indulge while salving your conscience by supporting community service. Food from the Lions Club wasn't anything special, but it tasted good. The cheeseburger — a thin patty with a slice of American on a skinny bun — met this critic's expectations: No matter how many artisan cheeses you try, there's still a je ne sais quoi about Kraft singles.
The pepper steak was, well, slightly misnamed. Instead of slender strips of meat mixed with peppers and onions, it was another burger with a few veggies sprinkled on top. But who cares, when you're eating for a good cause? The Lions provide scholarships for local students and supply eyeglasses to people who can't afford them.
Seeking a few more savory bites before the sugar rush to come, I dropped by the closest of several Fontana Foods stands, decorated with colored light- bulbs and Italian flags, to see about getting something big and meaty. Asked what sets them apart from the plethora of sausage vendors, they gave the stock answer. I took their word for it and ordered "the best Italian sausage at the fair."
Not so much. The standard-issue meat was mild, and the bun was about as flavorful as a wad of cotton, though the onions were caramelized and toothsome. The promised peppers? Only green, and few and far between.
A specimen from Mr. Sausage of Vermont, sampled on another evening, turned out to be much better. The pepper-to-onion ratio was higher, with some expensive strips of red bell thrown in. The bun, while still white, was tastier. But the best part was the pork sausage itself. Flecked with fennel seeds and seasoned with hints of hot pepper, it was almost worth the $6.
"It's our own recipe," boasted Michael Bishop, who works for Subaru when he's not slinging sausages. "That's what makes it so different." The company even has its own packaging. Bishop proudly whipped out a cardboard box emblazoned with the Mr. Sausage of Vermont label.
My next stop: The Dizzy Dozen. The stand, named after owner and Sears employee "Dizzy" Desilets, has been a CVF regular for 11 years. Its main gig is mini maple-apple donuts, but sales-wise, "donuts don't match fried dough," Desilets explained. The cute, warm rings were just the right size, with a distinctive apple flavor. If I hadn't been stuffing my face for the previous hour, I might have downed a dozen myself.
To make ends meet, the stand has also been selling nachos, bowls of chili and chicken wings, too. An expensive order of wings, $7 for 10, was a startlingly good value. Maybe because they weren't slathered in hot stuff — these weren't buffalo wings — the chicken pieces were as crispy as any I've tried. Hot dipping sauce and a choice of Bleu or ranch came on the side. With any order of nachos or wings, you get to "play the slots" for a chance to win a dozen donuts. Losers — or those who missed the Fair — need not despair: For the next two weekends, Dizzy'll be frying up the batter at Adams Apple Orchard in Williston.
Oil quality matters, and that's nowhere more evident than in fried dough dishes. A cheery yellow joint near the grandstand offered the rectangles of hot, puffy stuff with chocolate, maple frosting, cinnamon sugar or pizza sauce. I got mine with faux maple. The sweet treat tasted just like a Dunkin' Donuts maple-frosted, except better because it was hot and four times as big. Given that a DDMF weighs in at 210 calories, I'd guess the slab contained around 840. Luckily for my waistline, I had someone to share it with. Vermont maple pride aside, it was good.
On another visit, I encountered a fried dough stand that boasted apple and strawberry toppings. "Ooh, vitamins," I thought, not having encountered a healthy item in hours. Since I'd previously sampled some dough, I opted for a funnel cake. Wearing a ponytail and a streak of flour across her face, the young frymaster poured the batter through a funnel into a vat of boiling oil, creating something that looked like a bird's nest. When it was brown and crisp, she extracted it with tongs and slathered it with a slick coating of strawberry goop.
I thought I was in for a treat, but the cake's main flavor was that of grease of a certain age. Unfortunately, there's no way to tell how recently a vendor changed their oil without asking. I didn't.
Fried dough and funnel cakes are fair standards, but these days, you never know what'll come out of a Frialator. Oreos, for one thing. When the sandwich cookies are dipped and boiled in oil, they transform into Oreo pudding encased in golden fried batter. From there, I sought out the deep-fried cheesecake from the Fajita Shack. Although the owner called it "premium cheesecake," I wouldn't call it anything to write home about.
For a really sublime dessert, though, bypass all those temptations and head straight for The Maple Sugar House, which puts Vermont's most precious fluid resource to numerous hedonistic uses. A maple creemee was a little too much vanilla and not enough maple, but still delish. The real maple-frosted donuts were bread-y instead of cake-like, but the icing itself was just right. I took home a bag of maple pecans and some maple cotton candy. The cotton candy had the texture of moist fiberglass insulation and lent itself to being rolled into crunchy little pellets. Perfect.
After two days and nearly $60 worth of fair food, what had I learned? If it looks more like a hut and less like a mother ship, a stand is likely to be local, and the locally owned ones tend to have pretty good food. The moms, pops and kids who stand behind the counters are typically doing this because they love to meet folks and cook for 'em, not because they have to. "It's a fun thing, mostly," says Dizzy Desilets.
And don't complain that the fair's already over and it's too late for you to visit Mr. Sausage or the Piggy Bar. Sure, the midway is transient. But this culinary scene, unlike the one downtown, is one where the more things change, the more they really do stay the same: Von Bruns says the waiting list for new food vendors is 50 years long.