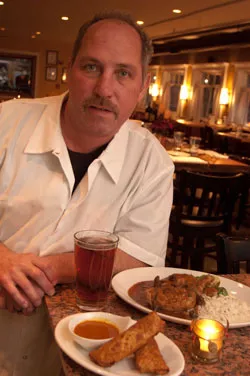 Matthew Thorsen
John Delpha
When chef John Delpha opened the Belted Cow Bistro in Essex Junction in 2009, he introduced a creative, earthy menu built on local ingredients. Dishes such as flatbread with duck confit, Vermont blue cheese and black figs; seared scallops in a parsnip purée; and halibut with pea-shoot broth and ramp butter were seasonal bistro fare in an elegant setting.
Those who loved it ate it up, literally. But the local perception that the Cow was a special-occasion restaurant never faded, according to Delpha, who was perplexed that some diners saw it as high end and visited just once or twice a year.
So Delpha is switching gears, as many other Vermont chefs already have. Come January, instead of smoked-pork tartine or seared scallops, diners will find chicken and biscuits, meat loaf, fried chicken, pulled-pork sandwiches, chicken cacciatore, and hot turkey sandwiches on the menu — classic comfort foods.
"The writing was on the wall. We tried to make this happen for two and a half years, and it never really caught on," says Delpha, who noticed an even more distinct drop in business after Tropical Storm Irene. "There's a perception that we're expensive, but I think we're rather reasonable." Entrées at the Cow are in the $20-and-up range.
To reinforce a more casual feel, Delpha and his wife and co-owner, Caitlin Bilodeau, have removed the wine glasses that used to adorn each table. They're planning to get rid of the communal table — popular in Boston restaurants where Delpha previously worked, but eschewed by Vermont diners — and expand the bar area. Next step: bringing in tap beers and televisions.
When a restaurant changes its format for broader appeal, the shift can be bittersweet for chef and diners alike. In this languishing economy, many foodies are conflicted, craving traditional ragú made with local veal even as they opt for meals that won't keep them from paying the gas bill. Can local chefs fulfill their limited-budget longings with "elevated" comfort food?
Perhaps so, some chefs say — and perhaps the change isn't a bad thing. Comfort food may be a perfect farm-to-table cuisine, and it can be as creatively prepared as any. After all, it's thrilling to discover a small masterpiece in the form of a burger or mac and cheese.
The Belted Cow is already giving diners a taste of some planned comfort-food dishes by offering them as specials. Take Delpha's version of chicken cacciatore: Far from the burning red glop of yesteryear, it gracefully rides the line between Italian and French cuisine. The tender dark meat falls from the bone, and the deeply rich, salty brown sauce is laced with smoke and earth. Buttery risotto sops up the juices, and the dish is so huge it can make two meals.
Clearly, this is a new brand of comfort food. "I can do this food better than anyone else," asserts Delpha, whose barbecue is sinfully delicious, and whose pork belly and porcetta are the stuff of local legend. "The only cans we're opening here are tomatoes."
At the Kitchen Table Bistro in Richmond, chef-owner Steve Atkins has been experimenting with "elevated comfort food," too. He concurs with Delpha that the special-occasion label can stick to eateries where the ingredients are farm fresh and the kitchen "pays attention to the details."
Three years ago, Atkins revamped his menu, adding "larger small plates and medium plates" to give diners more flexibility. "We didn't want people to not come in for [just] a bowl of mussels, or a beer or a glass of wine," he says. "We just want people."
Atkins, who grew up in Shelburne, has worked in California's Napa Valley, where locals tend to eat out "three, four, five times a week," he says. "In Vermont, we're not there. You need a pretty good population density to support that. [The local cuisine] reflects who we are as a people. You don't see people walking around in ball gowns. We're in Birkenstocks and flannels. We're comfortable."
The Kitchen Table's current menu ranges from the relatively casual — Caesar salad and cider-steamed mussels — to refined entrées such as a steak tartare made with Boyden Farm beef and seared, wild striped bass with roasted parsnips and celery root. The menu isn't divided into sections, but it graduates upward in price.
Atkins says the comfort-food approach "is more of how I cook in general," and how he eats, too. "I'm not trying to create a whole new experience," he says. "You see really great ingredients [in Vermont]. The fun and excitement and challenge of it is using whatever is in season this time of year."
Seasonality and farm-to-table produce are Vermont's strengths, certainly. But the broader comfort-food trend predates the current recession and goes well beyond the state's borders. Jeff Roberts, an instructor at the New England Culinary Institute, thinks our propensity for comfort food is indicative of a tumultuous decade — one that started with 9/11 and has included two wars, various natural disasters and a recession. "Food is as much a cultural indicator as fashion," he says. "It is quite interesting to see how it changes and reflects social movements, anything from people feeling good [to] people feeling bad."
A "whole new group of foods" arrived on menus after 9/11, Roberts notes, and the trend found its ultimate expression in, for instance, eateries and chains devoted to single items such as grilled cheese, hot dogs and even cereal. "These kinds of foods are reflective of people's psychology and emotions," Roberts says. "People are still concerned about the economy." He pinpoints the advent of the most recent comfort-food cycle to the beginning of the recession.
At Elements Food & Spirit in St. Johnsbury, co-owner Keith Chamberlin says the recession, together with local cultural influences, has compelled the staff to change the eatery's ambience during its eight years in business. Tables that used to hold white tablecloths and wine glasses are now covered in butcher paper, for instance. The menu, too, has changed dramatically.
"When we opened, people said, 'Fine dining, fine dining, fine dining.' We were always squeamish about that perception," Chamberlin says. "Fine dining is really a thing of the past. We're such an informal society now."
The perception of white-tablecloth restaurants as formal is endemic to New England, he suggests. "In most situations, we'd be thought of as a good, informal, food-serious neighborhood restaurant. In our neck of the woods, we've struggled with the fine-dining stigma — a stuffy, high-end restaurant experience," Chamberlin adds. "It's a different cultural sensibility."
Long before wildcrafting was hot, Elements made dishes with ingredients gathered from the landscape. The smoked trout and apple cakes on the restaurant's regular menu were inspired.
Now Elements' menu includes pulled-pork sliders, scallops wrapped in bacon with a maple glaze, and grilled sirloin with a Bordelaise sauce. It's all still delectable, but reflects something of a shift from the eatery's early identity. "We got away from the fussy appetizer-and-entrée model and offered a little bit more variety in the way people think about dining — for instance, if they wanted to graze more," Chamberlin explains.
The menu at Vergennes' Bar Antidote, created by chef and co-owner Ian Huizenga, has always focused on comfort food with a twist — one example is grilled cheese on local bread with smoked gouda, local apples, sage pesto and a cider reduction. Huizenga agrees that such fare is a great fit for Vermont's farm-to-table restaurant culture. "Food is moving back to the roots of curing, braising and using more farm-fresh ingredients," he says. "I think that is basic, casual comfort food getting away from using products [from] half a globe away. It is more of a trend to have a local product on the menu and have it be affordable."
Huizenga practices what he preaches: He raises his own pigs using scraps from the restaurant.
What do diners think of the local comfort-food trend? Are they driving it, or driven by it? Kirsten Schimoler, who works as a senior food scientist and flavor guru at Ben & Jerry's, says she "eats to live" and dines out three or four times a week, mostly around Burlington and Waterbury. She believes comfort food may be cresting. "It is hard to go anywhere without seeing a burger, meatloaf, mac-and-cheese, fried chicken, pie, doughnuts, etc. in some form," she writes in an email. "I love them, but it's not all I want to eat. Not only are those things everywhere, but it's turned into the $16 to $18 burger."
Schimoler would like more variety within that price range. "It's nice to see other classics such as pork chops or cassoulet on the menu — not so mainstream but surely comforting," she suggests.
However the comfort-food trend plays out, Vermont diners really can't lose. The state has become a nexus of chef-farmer collaboration, with the Vermont Fresh Network a prime connector. If the mainstream of diners continues to dictate comfort, chefs will rise to the challenge with typical aplomb — and local beef, cheese and veggies.
"Twenty years ago, there wasn't even the concept that restaurants like this could exist" in Vermont, says Atkins of the Kitchen Table's contemporary approach to farm-to-table fare. "And we're here."