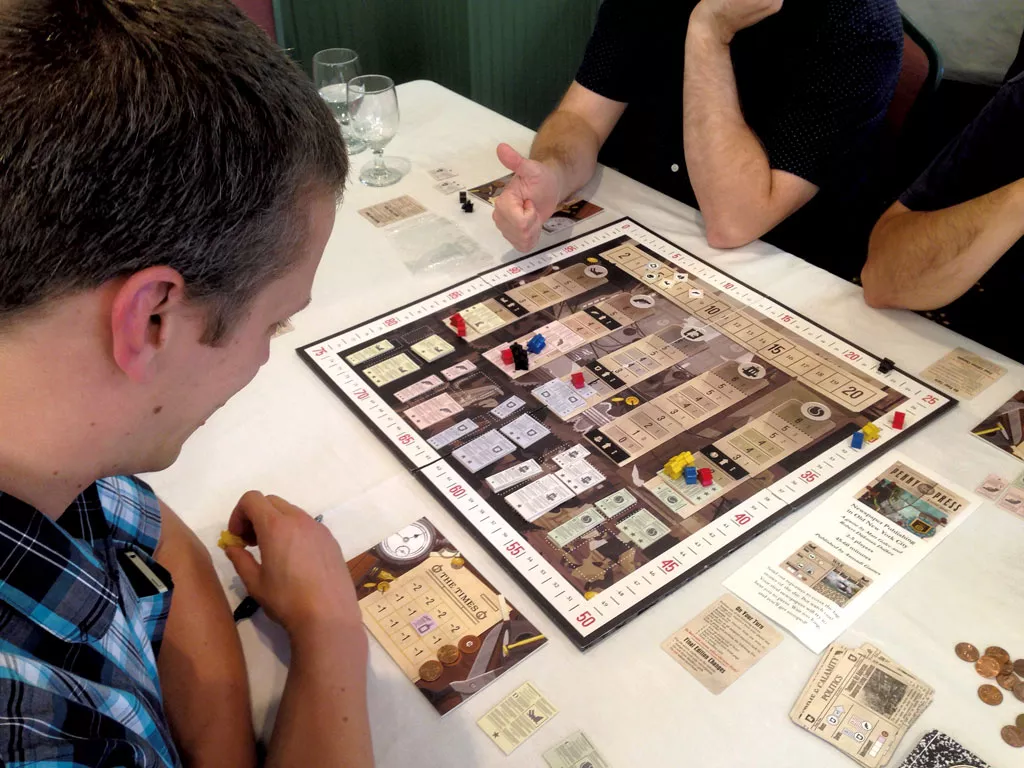 Courtesy Of Matt Golec
Matt Golec and Robert Dijkman Dulkes
I never talk about my game nights, never mind publicize them. There's not much to say about a few guys hunkered down at a kitchen table, rolling dice, dealing cards, and pouring out cold beer and puerile jokes in equal measure.
Just to be clear, my gaming group shuns traditional guy games. Instead of poker, we're more likely to tackle something with "Cthulhu" or "Catan" in the title — you know, board games. We're part of the international renaissance of tabletop games — the kind that don't require software or a joystick, but have about as much in common with your childhood Monopoly board as War and Peace does with the card game War.
While reticence is our general rule, on a recent day in September, we decided to come out of our gamer closet. The occasion was a private screening of a new game with the game designers themselves.
The designers in questions are locals: Two Upper Valley residents have managed to make a name for themselves in this land of plastic and cardboard. Matt Golec is a 45-year-old stay-at-home dad from Norwich; Robert Dijkman Dulkes, also 45, is a computer programmer from Lebanon, N.H. Last summer, they were two amateur game designers hoping to share their labor of love with a wider audience. Now they sit on the eve of their big debut as pro designers.
Their game, Penny Press, puts players at the helm of competing newspapers during the era of yellow journalism. Players attempt to outmaneuver one another, get the scoop on hot stories and print a superior paper, angling to become the most successful news baron in turn-of-the-century New York City. It's almost enough to make you don a fedora with a press card tucked into the ribbon.
The impetus to design their own game came to Golec and Dijkman Dulkes four years ago after an evening spent at their local game shop. "It started, as these things tend to do, over drinks," recalls Golec in an interview. They discussed game mechanics — what was good, bad and lacking in various games — and decided to make their own as a way to get deeper into their hobby.
The idea of a news-themed game occurred to them soon thereafter — not surprisingly, considering Golec was once a career journalist. Dijkman Dulkes notes that the game has come a long way since then. "It was called Penny Press [originally], but that was about the only similarity it had with today's Penny Press."
The two spent countless hours refining, adding, scrapping and tweaking rules and mechanics, always using the game's theme as a compass. A game's "theme" is its core concept, and, in an effective one, everything players do has meaning in relation to the carefully constructed central metaphor. In Penny Press, for instance, actions with cards and game pieces represent all aspects of journalism. "You send out your reporters, get stories and assemble them on your newspaper," Golec explains. "You shouldn't be doing things that newspaper reporters or editors wouldn't be doing, so when you send out your reporters, that's part of the metaphor."
In Penny Press, reporters must get the story to win. In real life, that could mean leaving the comfort of your kitchen table to game in public.
That's just what I did when my gaming group got a chance to sit down with Golec and Dijkman Dulkes for a private play-through of Penny Press. We gathered at Fall-loha, an assembly of the Green Mountain Gamers at the Best Western Windjammer Conference Center in South Burlington.
The Green Mountain Gamers are more than just a niche group of hobbyists: They're a microcosm of what's happening worldwide. In the U.S. alone, tabletop gaming has increased rapidly in popularity, blooming into a near-billion-dollar industry in 2013. When we arrived, gamers were already ensconced at tables, and the room was alive with the rattle of dice, the whip-whip-whip of cards being dealt and raucous table banter. It was like being at our kitchen table — minus the beer.
Watch Penny Press being played in this video below:
Golec and Dijkman Dulkes quickly set up Penny Press at an open table and started their tutorial. It was at this point that I realized I was about to hustle fake news stories while on a real-world journalistic assignment. The moment was so meta I had trouble processing: It was the sort of awakening that usually signals the arrival of enlightenment or madness. Somehow I still managed to listen to Golec's presentation.
In a game of Penny Press, players send out reporters from their newsrooms, assigning or reassigning them to stories (represented by tiles) throughout New York in an attempt to scoop rival newspapers. Players earn points by "going to press" and arranging the story tiles on a "front page" to make a paper. The game tests your ability to multitask, to outmaneuver your opponents and to reason spatially — putting people who suck at Tetris at a serious disadvantage.
But would being an actual journalist confer an advantage? Everyone else in my group, Golec and Dijkman Dulkes included, seemed to think so. It was clear that my initial observation had been dead on: This was more than mere recreation. My professional reputation was on the line.
When I pulled a headline card reading "The Report of My Death Was an Exaggeration" and picturing Mark Twain draped in a white leisure suit with a commanding moustache, it seemed a clear omen. Pulling a story about an infamous instance of journalistic bungling all but spelled my demise.
It would be difficult to detail all the subtle touches that make Penny Press such a compelling game, but it abounds in clever mechanics that give the players a wide range of means to manipulate the game's outcome — every one of which seemed to elude me.
However, those mechanics were not lost on some big names in the gaming industry. In 2013, Golec and Dijkman Dulkes were preparing for their first public presentation of Penny Press at the Boston Festival of Indie Games when they saw a call for entries in the first Tabletop Deathmatch, an independent-game design contest sponsored by the makers of party-game favorite Cards Against Humanity. The duo figured they might as well enter, but expected the experience to be little more than a warm-up for their presentation in Boston.
A month after their submission, Golec and Dijkman Dulkes learned that the pool of 500 entries had been winnowed down to 16 teams — theirs included. They were invited to Gen Con 2013, the mecca of gaming conventions, to participate in the next round, which was to be filmed and turned into a YouTube reality series. Armed with a pasted-up prototype of Penny Press, the duo arrived and pitched the game before a panel of judges. To Golec and Dijkman Dulkes' surprise, they clinched a co-win, netting $10,000, invaluable professional feedback and a booth at Gen Con 2014.
Then things picked up momentum. Soon after their win, the two were approached by Asmadi Games and engaged in talks that eventually ended in a publishing deal. Asmadi helped them put together a Kickstarter campaign that subsequently pulled in another $60,000 to create the first printing of Penny Press.
When Golec and Dijkman Dulkes arrived at Gen Con 2014, they were already small-time celebrities. Strangers approached them and expressed their excitement about Penny Press, they relate. Since then, the two designers have been managing the details of the game's production, including wrangling an artist — well-known cartoonist Mackenzie Schubert — writing rules, fulfilling Kickstarter promises and hammering out the game's final design.
In both the games my four-person group played with Golec and Dijkman Dulkes at Fall-loha, I eked out a second-place finish — which, in a game with only one winner, is as good as finishing dead last. So much for my journalistic edge. Yet the defeat was not nearly as dire as I had expected; when a game is well designed, a loss feels inconsequential. And Penny Press is just fun to play — a plain, nothing-but-the-facts truth that you can take to print.
When the games were over and the board stored back in the box, my fellow gamers and I agreed that Golec and Dijkman Dulkes' past four years have been well spent. The two say that slow and steady is the best approach to game design, and they believe their long production cycle was one of the factors that helped make the game so strong. "It needs to be as close to perfect as we can get it," Dijkman Dulkes says.
Besides their own personal standards, both designers give credit to their generous Kickstarter backers. "We have to be really responsible with that money and make sure that when they get it back, they say, 'Oh, yeah, I totally spent my money on something worthwhile,'" Dijkman Dulkes says. "I'd feel ashamed if that was not the case."
Golec and Dijkman Dulkes plan to design another game as soon as Penny Press is finalized and on the market. "There's so many out there, you want to make a good one," Golec says. "You want to make one that's going to stand out."
INFO
Penny Press will be available for purchase ($50) online and in game stores in mid to late November. Matt Golec and Robert Dijkman Dulkes will appear at the tabletop gaming convention A Fistful of Carnage, Friday through Sunday, November 7 to 9, at the Killington Grand Resort. The duo will run play-throughs of Penny Press on Saturday, November 8.
The original print version of this article was headlined "Stop the Press"