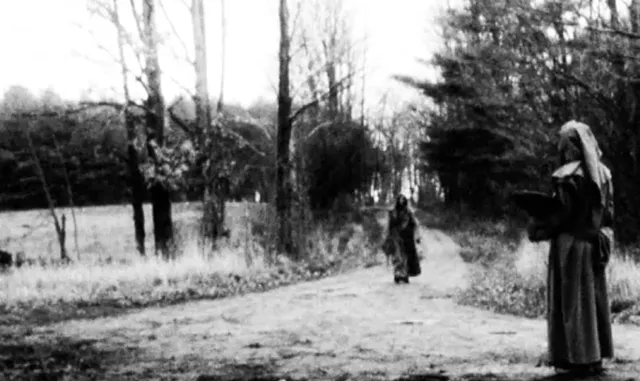 Courtesy Of Vermont International Film Foundation
A scene from "Transformations"
The first 15 minutes of a scary movie are often dedicated to establishing unease. Though viewers probably know what's coming, death and dismemberment are no good without ample time to dread them. The idyllic family in their new house, the teenagers looking for some fun — a good horror movie has a way of twisting these normal, happy scenes into something slightly off, just eerie enough to raise one's hackles. And then, presumably, the true horror starts, bringing some form of release. Yes, it's scary, but at least the viewer has escaped that dreadful anticipation.
In The Animal, a 1976 feature filmed in rural Vermont by experimental filmmaker Walter Ungerer, the beat never drops. A man and a woman live in a house in the woods in the middle of winter. They do not appear to have much to talk about or even particularly to like each other. The woman is having eerie dreams and encounters with mysterious, silent children. The man dismisses her concerns. They do a lot of cross-country skiing. The entire thing is full of lingering shots and the kind of yawning silence that could drive anyone to the brink of insanity.
Not much happens in the movie, and what does happen isn't explained. But, in a 21st-century Halloween season when jump scares are a dime a dozen, it's unique to watch something slow and strange and to revel in the claustrophobic spookiness of rural Vermont.
The Animal and the 1972 short "Transformations," also filmed in Vermont, will screen at theaters in Brattleboro, Greensboro, Montpelier and Woodstock during the Vermont Folk Horror Roadshow from October 26 through 30, presented by the Vermont Folklife Center and the Vermont International Film Foundation.
Both movies, originally shot on 16mm film, have been preserved by the Vermont Archive Movie Project, launched in 2014 and adopted by VTIFF in 2015. VAMP operates an online database of films that were made by Vermonters, were shot in Vermont or deal with Vermont subjects.
Nora Jacobson, VAMP's coordinator, said neither of the films at the Roadshow are "horror" in the way people usually think of the genre.
"In Walter's film, there's something mysterious and a little frightening about it because someone disappears. But there's no horror, there's no blood, there's no guts," Jacobson said. "It's more of a suggestion."
"Transformations," a short film by Barbara Hirschfeld with music by Julia Haines, is described in the VAMP database as "feminist experimental fiction." Hirschfeld and Haines filmed it with a collective of Vermont women in Norwich. The eight-minute film is composed of short scenes of women preparing for and participating in some kind of ritual.
"These are not bad witches," Jacobson said. "It's really more pagan than ... [the] Halloween kind of evil witches on a broomstick with a black cap."
In a description on the Folklife Center's website, associate director and archivist Andy Kolovos writes, "As for this folklorist, I take a fairly broad view of what I consider 'folk horror': Any creative work that draws folklore (belief, folk and fairy tales, urban legends, etc.) into the conventions of horror fits the bill for me."
Horror that involves witches, pagan rituals and folklore has cropped up in a few popular and well-reviewed movies in the past several years, including 2015's The Witch and this year's Midsommar.
"I'm one of these people who thinks that there's a value in being a little afraid, in a safe way. One of the things that horror brings us is that opportunity," Kolovos said. "The scary story is there to teach us a lesson. The scary story allows us to reflect."
Folks seeking more than subtle uneasiness in their horror experience could cue up a movie on Netflix. But there's something so exciting about sharing terror with a roomful of strangers, and Vermont venues offer plenty of other options in the weeks leading up to Halloween.
In Burlington, the Main Street Landing Performing Arts Center, in partnership with the Green Mountain Gore Society, has been showing scary movies every Tuesday all October. The final screening, on October 29, will be Deep Red, a 1975 film by Italian director Dario Argento. Part murder mystery and part slasher film, Deep Red has fantastic, dizzying music by an Italian progressive rock band, pints of neon-red fake blood and some excellent camera work during a scene involving mirrors. But it isn't just a gore fest — there's a pretty decent twist at the end. When Deep Red came out, it was panned by a New York Times reviewer who called Argento "a director of incomparable incompetence," yet today the film is held up as a prime example of the Italian giallo style of moviemaking.
Over at Burlington's ArtsRiot, the Cinema Casualties series presents a double feature on October 30. In Night of the Demons, teenagers encounter an abandoned funeral parlor. What could possibly go wrong? The second film, Dr. Butcher M.D., is another Italian movie; its original title, Zombie Holocaust, says it all.
Palace 9 Cinemas in South Burlington is also offering a few special Halloween showings. On October 24, viewers can catch Candy Corn, a 2019 film in which carnival freaks raise the dead and take revenge on town bullies. On Halloween, the theater will show The House That Dripped Blood (1971), four linked vignettes about different protagonists living out terrible misfortunes in a haunted mansion.
Seven Days takes no responsibility for any ensuing nightmares.