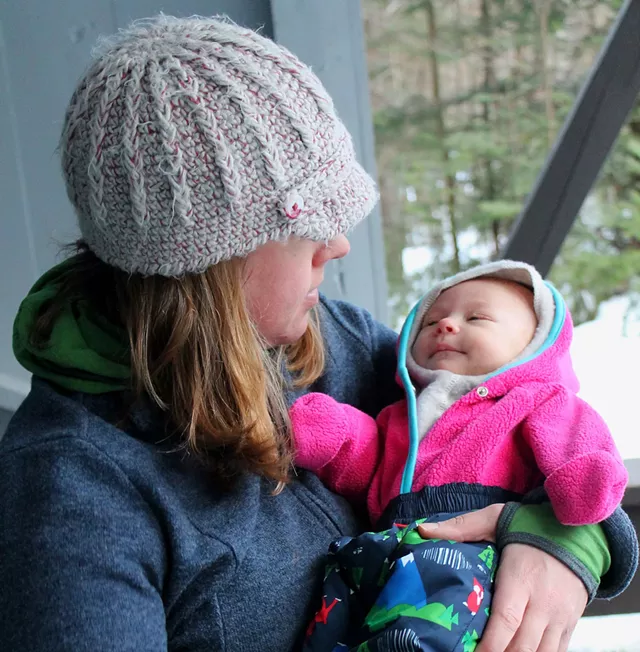 Tristan Von Duntz
Galbraith and baby Elise
My friend Judy called last Saturday and suggested the best idea I'd heard in a long time. She and her fiancée, Phil, would head over on Sunday around noon with their cross-country skis, board games and provisions for making a yummy dinner. We'd spend the day taking turns skiing in the town forest near our house, then have dinner and hang out. The women would ski together while the men stayed home with our three-month-old Elise, then we'd swap.
After feeding Elise and handing her off to her dad and Phil, Judy and I glided through beautiful woods and fields, catching up on her wedding plans, work and relationships. The temperature never rose above 10 degrees, but the sky was clear and the sun was so strong that when the driving wind settled down, it felt downright balmy.
We returned home after about an hour and a half, just as Elise was waking from a nap. The guys then headed out on their ski tour, while Judy and I hung out with baby, sipped tea, listened to music and eventually started making dinner. It was a perfect Sunday, filled with much-needed outside and social time.
Judy's idea was especially welcome because, after a string of days where the temperature barely rose above the single digits, I was feeling very homebound. It was too cold to take the baby anywhere, even just to walk the dog down the road. My outside-loving self was having a really hard time with this. I depend on getting my heart and legs pumping in the fresh air for mental clarity, better sleep and a more positive outlook. That Sunday with Judy and Phil really turned things around for me.
When the temperature is not hovering around zero, I head outside with Elise to cross-country ski, snowshoe, hike and walk. The key to getting outside with babies in the winter is to bundle them well to keep body temperature up and protect skin from exposure.
When I'm outside with Elise in cold temperatures, I assess how she's doing in three ways: I look at her skin to make sure it's not wind-burnt (red) or too cold-looking (greyish-pale), I feel her cheeks with my hand to make sure they're not too cold and I feel the skin inside her clothing to make sure she is warm under all her layers.
[jump] Here are some tips that have worked well for me:
Tristan Von Duntz
Elise wearing a Danish Woolen Delight balaclava
•
Layer
: Dress your baby in a base layer to regulate body temperature, an insulating layer to add warmth and an outer layer for protection from the elements. I like Westford, Vermont-based
Danish Woolen Delight
for wool base layers and
Patagonia
for insulating fleece layers and buntings that are water- and wind-resistant.
•
Add a Balaclava
: A hat is essential, but a balaclava — a garment which covers most of the face and neck — is even better. Danish Woolens makes a great one that tucks into baby's clothing to keep the neck warm.
•
Don't Forget the Hands and Feet
: Warm wool mittens and socks should be under all those layers. Wool is ideal because it provides warmth even if it gets wet. I use
Smartwool
baby socks and hand-knitted wool thumbless baby mittens I bought on Etsy from
Barking Dog Designs
.
With baby all bundled up, you're set to head outside. Keep outings to an hour or so, adjusting up or down depending on the temperature. And remember to check in with her periodically to make sure she's warm enough. You'll have a happy baby
and
happy parents.