Tristan Von Duntz
Sarah and Tristan celebrate bike riding and sunshine
At the core of my relationship with my partner, Tristan, is a shared love — a need, even — to get outside. The fresh air, views and vigorous fun on bikes, skis or our own two feet is a much-needed break from a stressful day or busy work week. In our first year as parents, we learned to integrate our love for the outdoors into our new family life. I'm not going to say we're pros at bringing the kiddo along on our adventures, but we're working on it.
Our family bike ride last weekend was a great success. After lunch, and just as our 15-month-old daughter, Elise, was winding down for her mid-day nap, we set out on two wheels. We dressed Elise in warm layers, mittens and a hat and bundled her in a down bunting, then strapped her into our bike trailer. With the addition of her favorite blanket and stuffed animal, she was ready for nap time on the go.
[jump]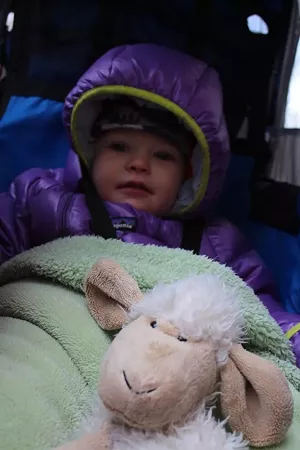 Tristan Von Duntz
Elise snuggled into her bike trailer
Tristan attached the bike trailer to his fat bike, and we headed out for a 10-mile ride on the dirt roads around our house. As we pedaled away from home, the weight of deadlines, bosses and to-do lists lifted. We forgot about everyday stresses and were taken over by the child-like fun and ease of riding a bike. We took turns racing ahead of each other, dodging pot holes in the dirt roads, and joking around — being careful not to jostle our sleeping daughter too much. As the sun warmed the roads, small droplets of mud flung onto our faces. It was great fun!
We rode our bikes down the road to
the gardens at nearby Goddard College
. We stopped to walk in a labyrinth and check out some intricate stone work, then sat on the stairs under an ornate fountain and took in the afternoon sunshine while Elise slept in her trailer. After we had soaked up the sun, we hopped back on the bikes and climbed the hills to nearby Newtown Dairy Farm in Marshfield. From this spot, we could see the Worcester Range to the west. We stopped along the side of the road to look at the snow on our beloved Hunger and Worcester Mountains.
Tristan Von Duntz
Stopping to take in the view
From there, we pedaled onward and rounded the corner to take in more mountain views, this time looking east into
Groton State Forest
. We turned around at the local town forest trail head, and headed back home. On our way, we climbed more hills, took in plenty of sunshine and celebrated Elise's solid, fresh-air nap. Most importantly, we took the time to be grateful for an afternoon on our bikes as a family.