Sarah Galbraith
Elise navigates a downhill section of trail
My 16-month-old daughter, Elise, has hiking in her genes. Her dad, Tristan, and I have backpacked thousands of miles together on long-distance trails like Vermont's
Long Trail
and California's
John Muir Trail
. So when we geared up for our usual walk with the dog on a recent evening and Elise insisted on walking a full mile by herself, we weren't surprised. We were proud.
Elise's newfound love for walking on her own, however, means that sometimes she doesn't want to be confined to the hiking carrier. Since she was a baby, we've put in many miles with her on our backs, so she got accustomed to being carried on long hikes and will still sit comfortably at times. But now that she's mobile, she wants to hike some of the way, too. That means our hikes have slowed down considerably.
For an active parent, moving at a toddler's pace through the woods can be boring or frustrating. When Elise stops to pick up every stone or to thoroughly check out every puddle, I have found myself saying things like, "C'mon, Elise! Mommy wants to catch the sunset over the mountains. Let's go!" My pleading never makes her go any faster and I end up feeling let down when we finally arrive at our lookout destination only to catch the final rays of a sun that has already dipped behind the Green Mountains.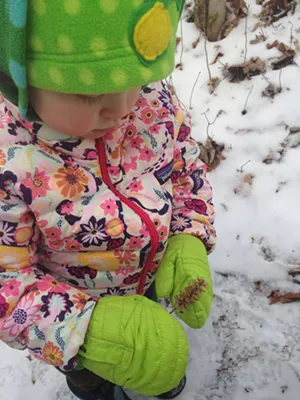 Sarah Galbraith
Elise checks out a flower on the side of the trail
But something occurred to me recently on one of these long walks. I asked myself, "What's my objective, here? Am I hiking with my daughter to meet my own needs?" If the point is my own enjoyment and fitness, then I should just hire a babysitter or have Tristan watch her and go out on my own.
No, my reason for taking Elise along is to share the experience of being outdoors and teach her the joy I get from being in nature. I want to integrate her into the outdoorsy life that Tristan and I have built for ourselves.
With that in mind, I've started taking hikes at the slow pace of a toddler's tiny steps these days. At times Elise will let me carry her, and we're able to cover some ground. But other times, I plop her down next to a mud puddle and quiet my mind as she explores it from every angle. I get down on her level to look at wet pebbles and water-logged leaves. In these moments of exploration, Elise is teaching
me
something: to slow down and appreciate the beautiful world around us.