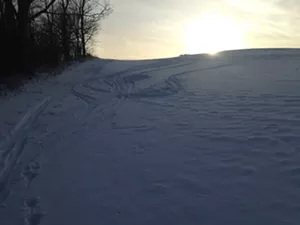 Sarah Galbraith
A local ski hill provides a much-needed refresher
I am just three months into parenting a toddler — my 15-month-old daughter, Elise — and I'm already tired. So tired that I dream of hiring a babysitter just so I can go into my bedroom, lie on the floor and do nothing for two hours. The idea of simply being very still and quiet seems so luxurious and dreamy.
But when I needed a pick-me-up on a recent weekend day, I knew the answer wasn't on my bedroom floor, but outside in the ski box on top of my car. Instead of skiing together as a family, which we often do, I knew I needed some kid-free time.
I suited up, found my ski boots and headed out the door, leaving Elise at home with my partner, Tristan. My destination was my local town forest, where there are miles of trails for cross-country tours and hundreds of acres for back-country exploring, plus an open pasture on a hillside that's perfect for making downhill turns.
At the trailhead, I unloaded my waxless back-country skis, buckled up my boots, stepped into my bindings and glided into the snow. A favorite song was playing in my head and the afternoon sun was casting beautiful, long shadows across the glistening snow. As I skied along, I noticed different animal prints. A coyote's tracks criss-crossed the hill. A raccoon's little paw marks indicated it had climbed down from a tree and wandered out into the open. A round imprint suggested that an animal may have hunkered down for a rest. Perhaps that coyote was a mother taking a break from the tiresome demands of her own toddler-aged pup. I laughed to myself, imagining I shared something in common with a tired mother of another species.
[jump]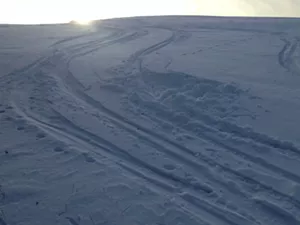 Sarah Galbraith
Making ski turns in the afternoon sunlight
I drank in the scenery as if it were filling an empty glass. It was so nice to stop and enjoy each moment on my own. I loved being free to head in whichever direction I wanted. This was my time.
I skied to the top of the hill and took a run down it, making quick turns in soft snow. Each turn brought an ear-to-ear grin to my face. I got to the bottom of the hill and was eager for more, so I skied back to the top for another run — then another, and another. I kept this up until I started to feel worn out. When I began thinking about a crisp, cold beer and dinner at home with my family, I knew that it was time to head home to Tristan and Elise. But even then, I couldn't resist one more time down the hill.
Eventually, I glided back to my car under a pink sky, feeling strong, confident and totally happy. Most importantly, I felt re-energized and ready for an ecstatic greeting from my rambunctious little girl. I had missed my family while I was skiing alone but I had also reconnected with myself — and that felt really good.