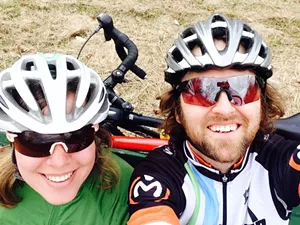 Sarah and Tristan taking a riding break.
Outdoor adventure is the foundation of my relationship with my partner of 16 years, Tristan. We're held together, at least in part, by a need to see what's at the top of that climb or around the bend.
Our outdoor loves include hiking, backpacking, canoeing, skiing, mountain biking, dirt road cycling, gardening and walking. It's been relatively easy to bring our almost-6-month-old daughter, Elise, along on all of those adventures, with the exception of one: cycling.
Before Elise was born last November, Tristan and I mountain biked through the summer and fall up to five times per week and hit the dirt roads on our cross bikes whenever the weather turned rainy. We've ridden countless miles of dirt roads right out our back door through Marshfield, Plainfield, Calais, Danville, Peacham, Groton, Hardwick and beyond.
Our kids' bike trailer, a gift from a friend, will eventually be an essential piece of gear. But until Elise can steadily sit and hold her head up with a helmet on — which we hear from other cycling parents will be around 1 year old — we can't use it. For now, Elise is sitting out our biking adventures.
That's why we decided to get a babysitter so Tristan and I can get out and ride together.
These rides are our form of a date, I suppose, so hiring a babysitter for a bike ride isn't that much different from hiring one for dinner and drinks. When we found our babysitter, Kayla, for our first bike ride together this spring, my giddiness was similar to what you might experience on a first date with a boy you really like. While I was excited to ride with Tristan, it was really my bike and the miles of dirt road that lay before us that made my heart go pitter-patter.
Leaving Elise with Kayla was really hard at first. I was scared that something bad would happen or that Elise would feel neglected. I pictured her red-faced and crying the whole time. I felt guilty for leaving her. Compounding the guilt was the feeling that a bike ride was too selfish. And there was the financial aspect. I stressed about how the money spent to pay a babysitter could be used for other things, like diapers.
But my love for cycling with Tristan and the warm spring day called to me. Once Kayla was settled in and Elise was happily playing, we hopped on our bikes and rode down the driveway, taking a route that includes a favorite climb toward East Montpelier.
We pedaled hard and fast, dodging potholes and chatting the whole way. As we settled into our climb, we took in the views and talked about our day. We reconnected with each other and the landscape around us, feeding our need to travel up the hill and around the bend.
We stopped to look out over the hills in the direction of home. I could see where our house is nestled and pictured Elise, content with the babysitter. I thought about Elise growing up as part of a family who is fit, healthy and happy. That bike ride was worth every penny – and more.