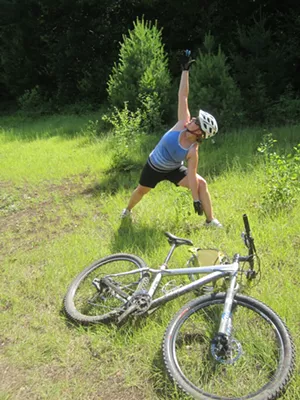 Sarah stretching on the trail
Mud season, Vermont's oh-so-charming fifth season marked by muddy roads and trails, can be a tough time of year for outdoorsy people. Sure, there are still ski turns to be made; snow in the mountains is likely to stick around until June this year. Dirt road, or gravel, cycling is phenomenal these days, too. But hiking, backpacking, trail running, and mountain biking aren't options until the trails dry up.
While this is a tricky time of year to get outside, it's the perfect time of year to make sure you're in the best shape to hit the trails once they are open. For me, this means working with a physical therapist on a major trouble spot for many new moms — my weak core.
Pretty shortly after my daughter, Elise, was born five months ago, I began experiencing severe back, hip and neck pain. It turns out that my pelvis was having a really hard time holding everything together: My hip flexors are very tight from cycling, running, and backcountry skiing, plus years of sitting at a desk. My poor posture was being made worse by hunching during nursing, which was throwing off the natural curve of my spine. And my core muscles — or lack thereof — were not balancing out all of this tugging and pulling on my pelvis, which caused major low back pain.
When my pain was at its worst, I could barely lift Elise. I knew I couldn't let this back pain prevent me from getting outside this summer. I called the physical therapist that helped my partner, Tristan after his knee surgery, Noreen Harrington at
Choice Physical Therapy
, just one of the many excellent physical therapists in Vermont.
[jump]
One of the first moves Noreen had me do was to lay on my back with my legs bent and feet on the floor, and simply lift my head. She told me I couldn't cheat by using my neck muscles, but had to use my abdominal muscles to originate the movement. I could hardly do it! I couldn't believe how far I had to go to find my core muscles.
"You'll get it back," Noreen told me. "Faster than you think."
I have thankfully progressed past those first basic moves. Now the key moves for me are stretches for my tight hip flexors and strengtheners for my abdominals, glutes and outer hips. The stretching is limited to a few prescribed moves, like the
butterfly stretch
. The strengtheners have included pilates moves, like
pelvic tilts
,
clam shells
and
side-leg lifts
for my outer hips and very slow
bridge raises
. It's all an effort to stabilize my pelvis.
By June, when I'm 7 months postpartum, I should be able to rejoin yoga and pilates classes to further strengthen my core. As for getting outside, I have been able to continue to bike and ski as long as I do stretches to minimize back pain. I look forward to being fully back in action once the trails are dry!