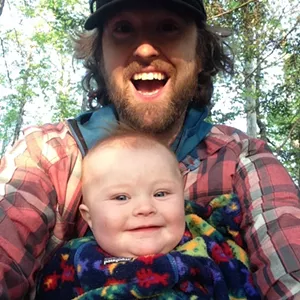 Sarah Galbraith
Elise and her dad, Tristan, enjoy an evening walk
For me, life is all about the 5 to 9, meaning the hours that I am not at work. Don't get me wrong, I love the working hours of my day and view my work as a nonprofit program manager as a contribution to society. Still, for me, the real living happens after I shut down my computer or punch out on the time clock. I relish 6 p.m. hikes, bike trips and paddles into the sunset.
I was immediately struck, then, when I read this
blog post
by career adventurer Alastair Humphreys. He has biked and backpacked all over the world and rowed across the Atlantic Ocean. But it was only after he and his wife started a family that he learned to make the most of smaller windows of time in the wilderness, closer to his home. He did this so he could find some balance between his career as a writer and motivational speaker and his family life.
In a recent
interview
with the New York Times, Humphreys preaches "the gospel of short, perspective-shifting bursts of travel closer to home, inspiring followers to pitch a tent in nearby woods, explore their city by moonlight, or hold a family slumber party in the backyard." He has coined the term "microadventure" and believes that a lot of fun and exploration can happen in the hours we're not at work.
My partner, Tristan, and I have been microadventuring for years. Together we have spent many work nights in our tent, perched high on the Long Trail. We would hike in after work with a no-cook dinner like sandwiches and chips, set up camp, enjoy ourselves by a campfire and sleep soundly in nature. We'd wake up before sunrise so we had time to hike back out to our car and drive home, drop our stuff at our apartment, shower, head to work and find breakfast and coffee along the way. It was a great start to the day!
After we settled into home ownership five years ago, we found our time outside of work occupied by chores like mowing the lawn, tending our large vegetable garden or power-washing moss off the side of our house. Still, we invested in good headlamps and bike lights so that we could get out after dark. Some nights we tended to our housework, then rode our bikes or hiked at night; other times we rode or hiked right after work and then were the crazy neighbors picking green beans by headlamp at 10 p.m.. We continued to find many opportunities to spend a night in our tent, like when we drove four hours to visit our family and camped in their backyard under the fruit trees.
Now that we have a 6-month-old daughter, Elise, I want to show her how to balance work and life. It's important to have a career, make progress on home projects and keep up with chores, but it's also important to unwind, exercise and connect with nature and friends.
Last Thursday, Tristan, Elise and I left home at 6:30 p.m. for a hike in the Marshfield Town Forest. We packed a simple dinner of turkey and vegetable wraps and a local craft beer for the adults to share, and put Elise in our
hiking carrier
for the 1-mile walk to a grassy picnic spot with a view. The three of us took in the magic of the evening; we listened as the spring peepers and snipes came out to sing and we watched the first planets and stars come into view. After we had our fill, we headed home wearing our trusty headlamps and Elise fell asleep in her carrier. We knew that times like these are not only vital to our well being but also solidify what's important to us as a family.