Always be prepared to turn around.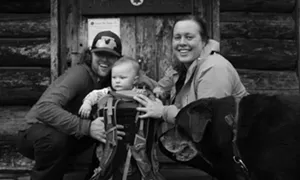 Tristan von Duntz
Our family poses in front of the entrance to Taft Lodge, just below the summit of Mt. Mansfield
I've issued this advice here before: When adventuring outdoors with your little ones, be adaptable and ready to change your plans. But I'd never actually had to put that advice into practice until recently.
On Veteran's Day, Tristan and I set out with our 1-year-old daughter, Elise, and our pup, Odin, to climb Mt. Mansfield. We chose the hardest route up the mountain — and perhaps the hardest hiking trail in all of the state: the aptly named Hell Brook Trail, which is about 1.5 steep miles to the top.
Before you decide we're crazy, please know that we're very experienced hikers and back country travelers. We've hiked and backpacked thousands of miles together, including this particular trail a handful of times. We knew exactly what we were getting ourselves into: Steep terrain, rocky trail and sections of hand-over-foot climbing. We knew it would be tough, but within our ability level.
On this day, we planned to hang at the Adam's Apple, a rocky outcropping with a dramatic view just below the summit. From there, we would amble over to Taft Lodge, and old-school enclosed mountain shelter on the Long Trail. Then, we would take the Profanity Trail from the Lodge to the Chin (Mt. Mansfield's summit); we would hike the Long Trail back down to our car, parked on Route 108 in Smugglers Notch. We packed warm food and tea, plenty of water, and extra layers for everyone. We stuffed Elise into a down suit, and she bobbed along the trail on her dad's back looking like a purple version of the Stay Puft Marshmallow Man.
Sarah Galbraith
Tristan and Elise take in the unique terrain on Mt. Mansfield
The dramatic rocky terrain of this mountain has always captured our imaginations. We set out with a spring in our step, excited to head into the mountains with our young child. But the extra weight of a baby — plus 12 months of sub-par sleep and limited time spent outdoors to keep us in shape — caused us to move more slowly than we had planned. Slippery rocks from rain earlier that morning slowed us down even more. At a trail junction, we realized it had taken us twice as long to cover the distance than we had planned. To shorten things, we decided to cut straight to Taft Lodge on the Hell Brook Cutoff Trail and skip the Adam's Apple. We would have lunch at the Lodge, then summit the mountain from there.
The Hell Brook Cutoff Trail, which looked on the map like a mellow traverse along a single contour line over to the lodge, instead turned out to also include many steep up and down sections, much like the Hell Brook Trail itself. We again found ourselves climbing over wet rocks, some of which required us to hoist our 70-pound dog up and over. We were tired, but looking forward to eating lunch at the Lodge just below the summit, and then making that final push to stand on top of this big mountain for the first time with our daughter.
We got to the Lodge and checked the time again. We were getting worried about having enough daylight to summit and get back down to our car. We had packed fully charged headlamps, as we always do, and we are no strangers to hiking at night, even in rugged terrain. But neither of us wanted to be out too late, and we were already feeling tired.
As we hiked up to the Lodge, our legs feeling like jelly from all the climbing and exertion, the dark and craggy summit loomed ahead. But in this moment, instead of feeling drawn to it, we felt tired. I surprised myself when I said to Tristan, "I don't want to climb up there." He agreed, and reminded me of an important rule when hiking mountains: Don't expend all of your energy getting to the top so that none is left to get safely back down.
In that moment, we scrapped our plan for the day. Now, we would eat lunch in the lodge; this spot was to be our grand summit. It wasn't what we had set out to do, and part of me still wanted to accomplish our original goal. But I looked back up at the summit and thought,
I don't have that in me today.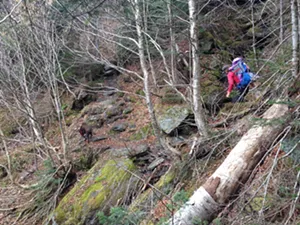 Sarah Galbraith
Tristan, Elise and Odin navigate one of several stream crossings while climbing Mt. Mansfield
Elise had been having a great time all along, oblivious to our struggles. She squealed and giggled at the rocky terrain, getting total delight out of watching Odin scramble around like a mountain goat. At the lodge, we all shared a roast beef sandwich, warm chicken noodle soup from a thermos, hot tea and bananas. Elise munched her food happily and scrambled around the picnic table inside the lodge. We changed her diaper and I nursed her, and we took some family photos together.
Then we started our downhill trip. As we hiked down the old familiar Long Trail, Tristan and I talked about what we would do differently next time. We would skip the exceptionally steep terrain of the Hell Brook Trail and opt for a different way up. There are several other excellent summit trails on the mountain.
On the way down, Tristan hopped on rocks, spoke in gibberish and did his best impression of the Swedish Chef from the Muppets. Elise laughed and laughed.
We got back to our car just after dark, and were grateful for the chance to rest. It wasn't the big-mountain adventure we had planned on, but it was the right decision for our family. Turning around can be tough, especially for experienced outdoor travelers who are committed to a goal. But, knowing the grit and determination that a long hike requires, we also knew it was the right thing to do.