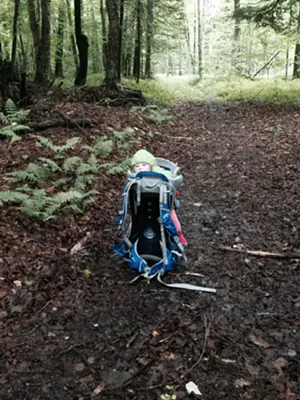 Tristan von Duntz
Elise keeps a safe distance while her parents clear a downed tree from a local trail.
My partner, Tristan, and I have been hiking, biking and backcountry skiing together for 16 years. The addition of our daughter — 8-month-old Elise — has slowed us down a bit. It now takes more gear to get outside with her and more planning to hit the trails without her. We've adapted some of our adventures to meet her needs, like biking together on
bike paths
instead of single-track mountain bike trails.
Elise has also given us a new focus on giving back. She has us thinking ahead to future generations, and also thinking back to the creation of our favorite trails and conserved lands. It's turned into a renewed initiative to pitch in and care for Vermont's outdoor spaces.
Even before Elise came along, Tristan and I volunteered in several ways. Together we adopted Skyline Lodge, which is an overnight shelter on the Long Trail. We would hike into the shelter three times a year to report on its condition and note if any repairs were needed. We got to get out for a fun hike and give back to an important cause at the same time.
Tristan has served for three years on the board of directors for the
Camel's Hump Challenge
, which is a 13-mile backcountry ski tour that circles the summit of Camel's Hump in Huntington, and together we have prepared the trail before the big event. We are also both ambassadors to the
Vermont Mountain Bike Association
, recruiting new members to support mountain biking in Vermont. And we're ambassadors to the
Catamount Trail Association
, using our positions to spread the word about the benefits of human-powered skiing.
Closer to home, we have been long-standing volunteers in our local town forest. Four years ago, right after buying our house, we showed up to a trail work day to help maintain the trails we had already come to enjoy skiing, running and hiking on. We went on to adopt one of the trails in the town forest, removing downed trees and keeping an eye on trail conditions throughout the year.
Our volunteer work also includes founding and directing a local mountain bike club, which is planning — and hopefully building very soon — the first public mountain bike trails in our community of Marshfield. Elise has been with us every step of the way, including napping in the carrier while we present at meetings and babbling along with us in the hiking pack while we scout new trails and sing her songs to keep her entertained.
[jump]
Starting a new family is a great time for any outdoorsy couple to think about the future: Will your kids grow up to have the same outdoor playground that you enjoy today? Here are some ideas for parents and families who want to pitch in:
Volunteering reaps many positive benefits: Your family can get outside together, your favorite places are preserved and cared for to enjoy today and important outdoor recreation resources are conserved for future generations. Plus, volunteering is a great way to meet other outdoor enthusiasts and families — and it shows your kids how important it is to give back.