Tristan von Duntz
Sarah, Elise and their dog, Odin, hunting for "the one"
One of the ways I keep excitement in my life post-baby is by weaving it into everyday events. That's why I frequently bike on dirt roads from my home in Marshfield to my office in Montpelier. Or run errands to the post office and co-op on my bike. Finding these opportunities for activity and adventure keeps me sane.
The drive to bring adventure into our everyday life spilled into our annual tradition of getting a Christmas tree this year. Normally we find our Christmas tree at a local farm. It's a picturesque Vermont setting: big red barn, old farmhouse and excited families dotting the expansive hillside of manicured trees. But this year, we decided to head to the Green Mountain National Forest, where finding a tree would be more of an adventure: We would hike and explore to find our tree.
We packed our hiking gear and a hand saw, and drove south to the Green Mountain National Forest district ranger's office on Route 100 in Rochester, where we found a beautiful building with interpretive nature guides, maps and a friendly staff. We bought a Christmas tree permit for $5 (it's an orange tag that attaches to your tree after you cut it) and set out with a map for Forest Service Road 39 in the Texas Falls Recreation Area. We knew from exploring this area before that it would be a great spot to find a tree.
In our car, we followed gravel roads up a mountainside past cascading waterfalls and rippling streams, until we gained enough elevation to find spruce trees. We followed a side road to a dead end in a field at the edge of a forest. There, we parked the car and got the family ready: We put our 1-year-old daughter, Elise, in her hiking carrier and decked out our dog,Odin, in blaze orange to protect him from hunters. We scanned the surrounding woods and headed into the forest on a series of old logging roads. We walked up a hillside, visiting stands of spruces along the way.
[jump]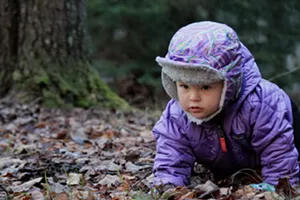 TRISTAN VON DUNTZ
One-year-old Elise explores the forest
We saw some trees that we liked, but nothing stood out as "the one" until we came to the edge of a clearing. "Look at that one!" my partner Tristan exclaimed. He was pointing to a beautiful spruce that was perfectly filled out on all sides. As if to suggest that this was in fact the perfect tree, a ray of sunshine broke through the overhead canopy of tall spruce trees to light up the little beauty. We got closer to make sure there wasn't a flat side or dead branches and all checked out. The tree was about 10 feet tall, the perfectly size for our living room. I took a branch in my hand and pushed my nose up against it, inhaling the fresh pine scent. The tree was just what we were hoping for.
We took turns posing next to it, then Tristan cut it down with our handsaw. With tree in hand, we headed back to the car. We were so excited to bring home a natural tree that represented our love for mountains, wild places and family adventure.

For more information on getting a Christmas tree permit in Vermont, click here. Fourth graders are eligible for a free Christmas tree voucher.