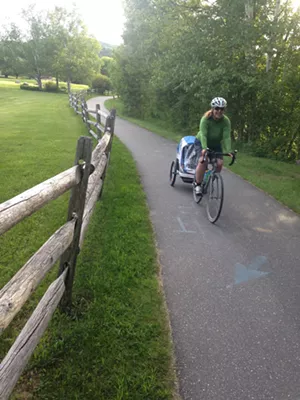 Tristan Von Duntz
Sarah with baby Elise in tow
At 7 months old, our daughter Elise has excellent head control and is sitting on her own without much support from us. While these are exciting milestones for any parent, they are especially exciting to us as cyclists. They mean she's ready to be pulled along in a bike trailer!
For a baby as young as Elise, it is best to stick to smooth and gently rolling terrain. This minimizes bumps that could injure a baby's neck and developing brain. For this reason, our first jaunt with Elise in the trailer was on the
Stowe Recreation Path
. The paved-surface trail meanders along a river valley with plenty of picturesque spots for breaks.
My partner, Tristan, and I headed out to the rec path with Elise on a beautiful Sunday. We brought warm layers and cooler clothing options for Elise, sunscreen, bug spray, snacks, and a sippy cup, plus extra diapers and trash bags. We parked in the public parking lot behind Stowe Community Church on Main Street, where there's a grassy area with picnic tables.
With all of our gear packed into a large compartment on the bike trailer, we attached it to my bike and loaded Elise in. I took her for a practice loop around the parking lot to get a feel for pulling weight and turning, listening carefully for any sounds of discontent. Thankfully there were none, so we started out on our rec-path jaunt.
Riding a smooth, paved trail is quite different from our preferred cycling terrain, like the excellent single-track mountain biking trails at Cady Hill Forest (on Route 108 in Stowe) or the miles of hilly dirt roads right outside our door in Marshfield. The rec path is far easier cycling — and a little less exciting — but it was still nice to get outside with the whole family. Towing a trailer did add some resistance to my spinning wheels, though, which created a bit of a burn for my legs!
Elise was happy-go-lucky for the first few miles, but then began to fuss. We found a nice spot to pull off the trail next to the West Branch River with benches, picnic tables and a bonus view of Mount Mansfield.
After some snacks and playtime, we were ready to continue on the 5-mile trip to the end of the path. Elise continued to fuss off and on, but we cooed and sang to her to keep her happy. We pedaled through cool, shaded forests and sunny open fields, past horses and ducks. We even caught a glimpse of a kingfisher!
At the other end of the path, we stopped and took Elise out of the trailer to play some more. We sat on picnic tables in the shade and made silly faces, sang songs, and practiced new words and sounds. Elise's smiles and babbles often get a lot of attention, and she enjoyed meeting other riders and runners on the path.
Our stomachs started growling, so we loaded Elise back into the trailer for the return trip. She fussed a bit at first, but soon fell asleep. Lucky for us, the rec path provides access to many restaurants along the way. We couldn't resist stopping at
Piecasso
, a pizza place on Route 108. Tristan went in to grab some slices and a drink, and we ate on the picnic table out front while Elise slept in the trailer.
When we finally returned to our car, we loaded in a still-sleeping Elise and high-fived our success. Hopefully this is just the beginning of many years of cycling together.