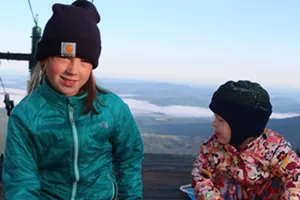 Tristan von Duntz
Rheia and Elise on a backpacking trip
I spent Labor Day weekend laboring under the weight of the heaviest backpack I've ever carried. It was well worth the effort, though, to bring my 2-year-old daughter, Elise, on her first backpacking trip.
My partner, Tristan, and I hatched the plan on Friday before the long weekend, along with our friend, Dan, who brought his 8-year-old daughter, Rheia, on the trip. That Sunday, Tristan and I packed gear for two people into one pack — including our tent, camp stove, cooking pot and utensils, water filtration system, food and clothes. I planned to carry the pack, and Tristan would carry Elise in our Osprey Poco carrier, which has just enough storage for him to also carry a sleeping bag, sleeping pad and water.
We set out for Smugglers' Notch (Route 108) in Stowe, where we parked our cars for the night. From there we hiked the Sterling Pond Trail, a steep one-mile trail that includes stone steps and rock scrambles. We kept the hike interesting for Elise with toys that she could hold and play with. Rheia seemed happy hiking, and we took breaks for snacks and to point out the view of the valley below. It's always nice when you're climbing a steep trail to look back at how far you've come!
Tristan von Duntz
Elise in the hiking carrier
Eventually, we reached Sterling Pond, a beautiful alpine body of water. The shoreline was crowded with weekend visitors, but we managed to find a quiet spot to set our packs down. We all gave our legs a break after the steep climb and I took a refreshing, albeit cold, swim with our dog, Odin.
After our break, we continued 2.5 miles north on the Long Trail to our campsite. On the way, we stopped to have a quick trailside lunch of summer sausage, smoked gouda, and trail mix.
The trail led to the summit of Madonna Mountain — part of Smugglers' Notch Resort and our resting place for the night. The mountain summit is cleared for ski trails, so there are long-range views in every direction. After dropping our packs and taking in shimmering Lake Champlain and the dramatic rocky profile of Mt. Mansfield, we hiked a little further north on the Long Trail, without our packs. We sat down trailside and watched as Rheia helped Elise climb rocks and explore the thick forest of moss that lined the sides of the trail.
[jump]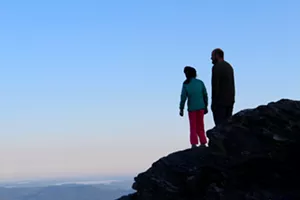 Tristan von Duntz
Dan and Rheia at dawn on Mt. Madonna
Later that evening, we took in the sunset, then ate burritos as the first stars came out. Tristan and I bundled up Elise for bedtime in a down jacket, fleece pants and a fleece hat that snapped under her chin. It took some extra coaxing to get her to sleep that night, but she eventually settled in. Dan put Rheia to bed in their tent, then the adults talked, sipped whiskey, and watched the twinkling lights in the valley towns below before heading to bed.
Tristan von Duntz
Elise in the tent.
Tristan and I had pitched our tent so that we could see the sunrise in the morning, and Elise woke up happy and playful. She had slept through the whole night, nestled in between Tristan and me, with Odin at our feet. Soon it was back to running around and playing on the mountaintop. Dan pumped some water from a nearby stream, and we made oatmeal for breakfast and coffee in our backpacking French press before heading back down the mountain.