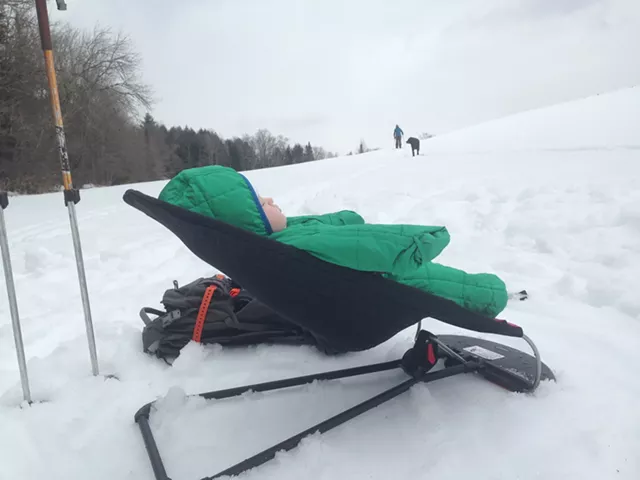 Tristan Von Duntz
Elise hangs at base camp while her parents take turns skiing a local hill
I hear often from other new parents who lament the large amount of gear required to get out with their little kids. Some even think it's not worth it because packing up everything needed to get themselves and their baby outside requires too great an effort.
As a new mom to a four-month-old daughter, I'm here to tell you two things:
Number one: It's worth it. Always. Getting your heart and legs pumping in the fresh air — not to mention the views and the wildlife — is a great pay-off for the work it takes to get ready. And exposing kids to outdoor exploration and fun in their early years is fundamental learning for the children of any outdoorsy family.
Number two: It doesn't have to require a lot of gear. Read on to learn more about my minimalist approach.
Before we settled into life as parents, my partner, Tristan, and I were long-distance backpackers preferring the simplicity and easy travel of lightweight backpacking, a discipline in which hikers carry minimal amounts of gear to keep their pack weight down.
We filled our backcountry ski packs — which we used for daytime ski tours — with extra layers, a map and compass, basic first aid supplies, a thermal space blanket, a lighter, a multi-tool, a thermos of hot tea and snacks. We carried everything we needed to handle an emergency, but kept the amount of gear to a minimum.
Now we pack a minimalist diaper bag in one of our backpacks when Elise comes along skiing. Instead of a big, bulky sack, we use a trifold carrier/changer combo like
this
one. We fill it with 4 to 6 disposable diapers depending on the duration of our trip, a slim package of travel wipes, a small bottle of hand sanitizer and a roll of Arm & Hammer deodorized diaper trash bags. An alternative option is a 1-gallon Ziploc bag. In this case, a waterproof jacket or an overturned pack can be used as a changing station.
I've used these bare-bones set-ups in a variety of outdoor situations, from winter hikes to a recent outdoors winter
mountain bike festival
. They've enabled me to change Elise on the fly, in bike shops and on picnic tables. I get to play outside
and
I have the joy of raising my daughter in the outdoors.
Tristan and I hope that Elise will be an adventurous kid one day, skiing the backcountry and hiking mountains right alongside us — while carrying her own gear. For now, we'll carry it for her. Thankfully, it won't weigh us down much.