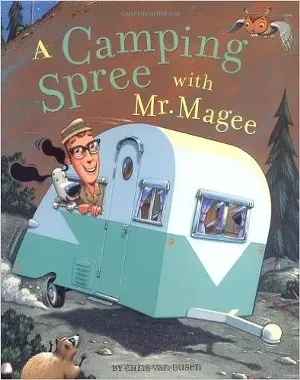 A Camping Spree with Mr. Magee
For parents who are aiming to raise their children in nature, there are lots of books that focus on outdoorsy fun. With the fabulous fall hiking season upon us (but fading fast), here are five picture books for young children that get me and my family excited for a hike.
Stella & Roy Go Camping
, by Ashley Wolff
This book takes place in the Yosemite Valley, which is a dream destination for my own family. Two children go hiking with their mother and talk about the many awesome animals — including bears — they see along the way.
A Camping Spree with Mr. Magee
, by Chris Van Dusen
With fabulous illustrations and an old-timey feel, this book tells the story of a charming man and his dog on a camping trip. The pair have some adventures with wildlife and
a mishap?
with a waterfall that should hold little ones' interest.
Do Princesses Wear Hiking Boots?
by Carmela LaVigna Coyle
An inquisitive girl asks her mom whether princesses do things like climb trees, ride bikes and play outside. The book helps smash gender stereotypes while, at the same time, encouraging girls to play and explore outside.
[jump]
"What's in the Woods?" by Charlie Harper & Zoe Burke
Henry Hikes to Fitchburg
, by D.B. Johnson
This book shares the philosophy of Henry David Thoreau in a way that children will appreciate by telling the tale of two friends, both bears, who take different approaches to reaching their destination. The book encourages young hikers to marvel at the natural world around them, and shows that long walks offer many rewards.
What's in the Woods?
, by Charley Harper and Zoe Burke
Remarkable illustrations encourage young children to look at the animals and plants around them while walking in the forest. The book ends with a pull-out, full-page illustration showing all of the animals and plants the reader came across in the book, with a key to help identify them.
And here's a sixth book to get you ready for winter fun with your kids!
Learning to Ski with Mr. Magee
, by Chris Van Dusen
A lovable canine-human pair give skiing a try and find adventure in the process, including a
run-in with a?
moose. The illustrations are gorgeous and show a magical scene full of winter beauty, from snow-white rabbits to bright red berries.