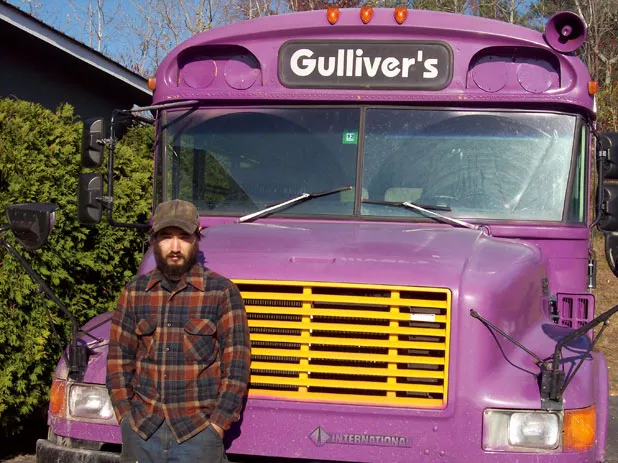 Near the front door of Gulliver's Doggie Daycare hangs a carefully assembled collage. Photos of canine regulars are decorated with swords and skull-and-crossbones-bedecked hats, flanking the announcement, "Ahoy! Pirate day is coming!!" If ever there was proof that animal companions have ascended to the status of pampered children, this is it.
Sometimes, though, even the most attentive parents have to go to work. If they're busy enough, they may not even be able to drive the kids to school. That's where Danny Bungen comes in. Bungen helms the big purple "Gully Bus." Between 6 and 8 each morning the vehicle stops all over Chittenden County, picking up pups ready to spend the day playing with pals new and old on the Williston Road daycare's playground equipment. If they get dirty, Mom or Dad can pay for a bath, too. At the end of the day, the Gully Bus takes everyone home, unless they're taking advantage of Gulliver's boarding services.
The image of Affenpinschers and Keeshonds sitting patiently in their seats singing "Hail to the Bus Driver" may be cute, but the less picturesque truth is that dogs are best left crated while bumping along on the road. According to Bungen, "A lot of the dogs are already crate-trained, so I just open the door and they come right on the bus. I leave the crate open and they pick one and get in."
There are no other jobs quite like Bungen's, which falls somewhere between trucking, pizza delivery and pet sitting. He's just glad he doesn't have to work behind the scenes at the daycare. "I change the bedding every Monday. I vacuum out the bus every Monday," he says. "Otherwise, I get off easy. I'm not back there dealing with dozens of dogs at a time or giving them baths."
To learn more about the nature of the beast, Seven Days hopped on board the Gully Bus after the last rider was safely home for supper.
SEVEN DAYS: Do you have pets?
DANNY BUNGEN: Yeah, I have two dogs, both farm dogs. Their names are Frances and Natty Gann.
SD: Are animals what attracted you to this job?
DB: I got into this because my wife and I've been living in Burlington for, like, a year now, and I just wanted a job where I would drive a truck, and it was pretty much the first thing I found. I've been having dogs my whole life, so that's never been a problem.
SD: Did anything make you particularly qualified?
DB: I've been driving trucks since I was a little kid, growing up on farms, working on different farms. I've also been a tow-truck driver in the past. I don't think that anyone else who applied was really qualified. No one could drive a standard. It's like a big diesel bus; I'm a learning diesel mechanic, so that was pretty interesting, so I can fix a lot of things. I'm just kind of learning on my own. I have a diesel pickup myself. I've been working on diesel trucks and tractors since I was a kid.
SD: How do you determine your route?
DB: You just have to do it. I've got a detailed map of the whole county, so if I don't know a dog, I just get the address and go there. Now I know a lot of the regular dogs, so I can just plan my loop around town. Come up with a pattern or do whatever I have to do.
SD: How far out do you travel?
DB: All over the county, everywhere from dirt roads that the bus can hardly fit down to paved roads the bus can hardly fit down in Burlington. Up mountain roads. Pretty much anything you can imagine.
SD: How many stops do you have to make each time?
DB: Usually there's between four and 10 stops. I've only had to do two routes once. Even if there are only three or four stops, if they're in different corners of the county, it still takes over three hours. There's some bumpy roads, but it's nice.
SD: Does the barking ever get distracting?
DB: Now and then. Some dogs are louder than others. And the dogs who I know bark a lot, I pick up last in the morning and drop them off first in the afternoon. Same thing with a new dog. If they haven't ridden the bus before, I try to do that, too, so it's not as crazy an experience to have a stranger pick them up and shove them in a crate. Once they've done it for a couple of days, they realize that coming here is fun, so they're into it. I've got treats on the bus for them, so it's not bad.
SD: Do you have to clean up a lot of barf?
DB: Now and then they get carsick. This dog threw up here today [motions toward a small crate], but that's only the second time that's happened since I've been driving the bus. I can't blame dogs for getting motion sickness. They can't see where they're going in their crates, and the bus is a bouncy ride. Especially on a dirt road, or in the potholes in Burlington. I try to take it easy on them and drive slow.
SD: Have Frances and Natty Gann ever been for a ride?
DB: My dogs wouldn't be able to handle it. It's just a social explosion!
SD: What's the hardest thing about your job?
DB: [Pauses for several beats.] There is no hardest or worst thing. It's a relaxed, easy job. Most of the dogs are good dogs.
SD: What's the most fun part?
DB: I love to drive trucks, and it's a standard. I guess that's the funnest thing, just driving. I like it more than an automatic. There's more to do and you have more control of the vehicle, because you can tell it what gears to go into. The bus is easy. It's diesel, so they put out more torque. It's all about mirrors, watching your tail swing so you don't crush anything.
SD: Do you have any favorite riders?
DB: Some dogs I like a little more than others. Most of the dogs are really nice. A lot of them have been riding the bus for so long, the bus shows up and they're at the door ready to go. I like those dogs because I don't even have to put them on a leash. It's fun. They're all pretty good dogs.
SD: What do you do with your free time?
DB: I heat with wood, so I do a lot of firewood. I work on my truck. I do odd jobs for people. My landlord runs an auto shop, so I help him do stuff. I am learning to play the banjo. It's a good way to pass the time, especially when winter comes and you're stuck in the house.
SD: You've only been driving the bus a month and a half; do you think you're in it for the long haul?
DB: I do think so. I like the owner a lot, and I also work for her on the side when I'm not doing this, so I'm really busy. I like everyone I work with. It's nice, because I work by myself the whole time in the bus; I plan my route, I go. If I need fuel, I pull over; if I want a cup of coffee or need to take a leak, I can do my own thing.