F
eeling worried about where you'll get your next meal? If you are, you're not alone. And if you're not, chances are you know someone who is. Tens of thousands of Vermont residents have experienced a loss of income during the coronavirus pandemic. Since last March, roughly one in three of us has struggled to buy groceries.
That's a shocking statistic. Here's another one: Just one in 10 Vermont residents is enrolled in the program that addresses this need most effectively —
3SquaresVT
, our state's version of the federal Supplemental Nutrition Assistance Program (SNAP). Like many federal programs that you pay into with your tax dollars — think Social Security, Medicare and unemployment insurance — 3SquaresVT exists to offer a helping hand during tough times.
"3SquaresVT has always been our first and strongest measure against hunger," says Anore Horton, executive director of Hunger Free Vermont. "3SquaresVT was available before the pandemic and will continue to be available when the pandemic comes to an end."
And thanks to recent adjustments, she adds, "Benefits are higher than ever."
So why aren't more people signing up? Food access advocates point to a variety of factors. Most prominent among them is that many Vermont residents just don't understand the program.
How to apply for 3SquaresVT
Find information about the program and how to apply online at vermontfoodhelp.com.
To get help applying, dial 855-855-6181, text 'VFBSNAP' to 85511, or send an email to 3SVT@vtfoodbank.org.
If you are 60 or older, you can call the Helpline at 1-800-642-5119 for personalized assistance.
If you have specific questions about the status of your 3SquaresVT application or case, contact Economic Services at 1-800-479-6151 or go to mybenefits.vt.gov and click on "Access My Benefits."
"Right now, a lot of folks are facing hunger who've never had to navigate that before," says Faye Longo, associate manager for 3SquaresVT community engagement at the Vermont Foodbank. "So many people are eligible for it, and they don't realize it. They have this idea that they have to be at rock-bottom to access these programs, and that's just not true."
Longo says she hears a lot of misconceptions about food assistance: "People tell me, 'I didn't think I was eligible because I own a house, or own a car, or work part time.'"
Eligibility for 3SquaresVT is based on income, expenses and the number of people in your household. The eligible recipients Longo has worked with over the years include business owners, retirees with pensions, and college students.
She and other food access advocates are urging Vermont residents who've lost a job, income or hours because of COVID-19 to check out the guidelines for 3SquaresVT and find out if they qualify. To help, Hunger Free Vermont has launched a new streamlined website,
vermontfoodhelp.com
, that describes who's eligible, how to apply and how to use the benefits.
You can actually screen yourself for eligibility using a new texting tool provided by the Vermont Foodbank — just text VFBSNAP to 85511.
Advocates are driving home the message that using 3SquaresVT helps the whole community.
Longo points out that the program not only offers access to food, it also acts as an economic stimulus for our state. Every eligible recipient is bringing federal dollars to Vermont. "It's supporting our local growers, our local producers, our local markets," she says. "It's building up the local food ecosystem, and we need that so badly right now."
Why apply for 3SquaresVT?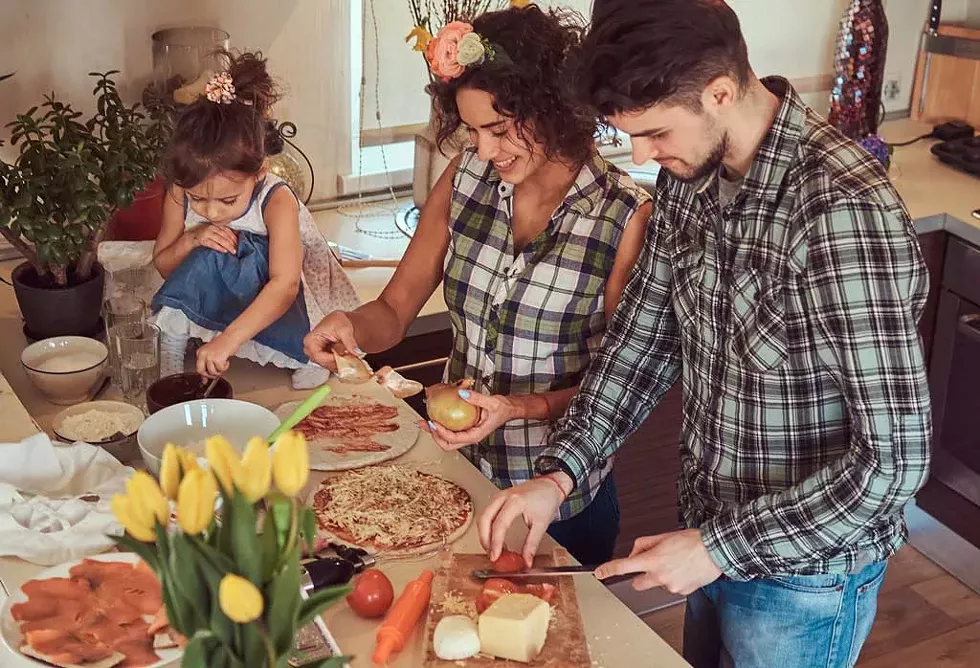 Vladimirs Poplavskis | Dreamstime
The most important reason to apply, if you're facing financial hardship, is that everyone needs to eat. "You can't work if you don't eat," Longo says. "You can't learn if you don't eat."
Not having enough to eat is distracting. She knows from experience.
Longo earned a BA from Southern New Hampshire University and a certificate in nonprofit management from Marlboro College Center for New Leadership. In 2017 she was named a
Vermont Business Magazine
"Rising Star." But Longo grew up "super poor" in the Northeast Kingdom, she says. As a child, she wouldn't get breakfast at home and would start the school day at a disadvantage.
"I was starving," Longo recalls, "and all I could think about was getting lunch." Most days, that was her only real meal. She notes that, even though food is necessary for survival, the grocery budget is often the first thing to be cut when people are in financial trouble.
People who can't afford food are making constant choices about it, Moseley explains.
Should I skip breakfast to eat lunch? Should I choose the less nutritious option because it's cheaper?
It's really stressful.
"It's like you have an extra job on top of everything else," he says. "And having a low-quality diet makes it that much harder."
3SquaresVT benefits relieve some of the pressure. The program gives participants a monthly stipend they can use to buy food.
With 3SquaresVT, "You're able to get the food you need in that moment," Longo says. Participants can account for food allergies and personal preferences when deciding what to bring home. It's more efficient than other assistance efforts, such as food pantries, which offer a selection of donated items. And it gives participants agency and control over the food they select.
"Choice is power," Longo says. "And dignity."
How it works
3SquaresVT is really easy to use, says John Carvajal, a Montpelier resident who's currently receiving benefits. He and his partner, Brittney, who's pregnant with their first child, qualify for 3SquaresVT.
Like so many others, they're struggling due to the pandemic. Both work as freelance illustrators; Carvajal drew the cartoon that accompanies this story (see below). The couple had planned to supplement their income with teaching gigs, but those in-person art classes were canceled. They've relied on 3SquaresVT since the summer.
Carvajal had used SNAP at other times in his life, so he didn't hesitate to apply when he needed it. "Food has always been one of those things that I'm not afraid to ask for help to get," he says.
Like everyone else in the program, they get a pre-set amount deposited monthly onto an electronic benefits transfer (EBT) card. They can use the card at any store that accepts it — that includes most grocery stores, co-ops and convenience stores, as well as many farmers markets.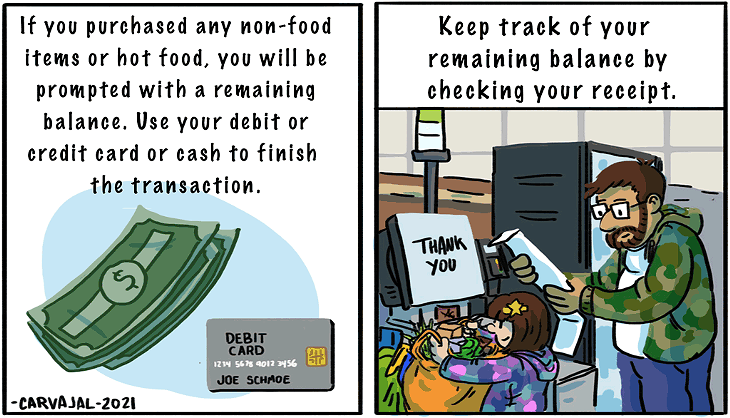 Carvajal and his partner often shop at the Shaw's near their apartment or at the Hunger Mountain Co-op, where they buy items in bulk. "We're very cautious and conscious of how much things cost," he says. "The biggest thing is that we don't buy any frozen or premade meals. Those will eat up benefits fast."
Most of their protein comes from eggs, tofu, fish and chicken. The couple might buy a big family pack of chicken patties, split it up into three-ounce servings — the portion size for poultry recommended by the American Heart Association — and freeze them to use later. "Sometimes we'll splurge and get salmon," Carvajal says.
Checking out using the EBT system is simple, he says. You gather your groceries, take them to a checkout lane — self-serve or with a cashier — pass them through the scanner and get out your EBT card.
"You just swipe it and put your pin code in," he says. "Just like you normally would. It is literally like having another credit card or debit card in your wallet."
Will you qualify?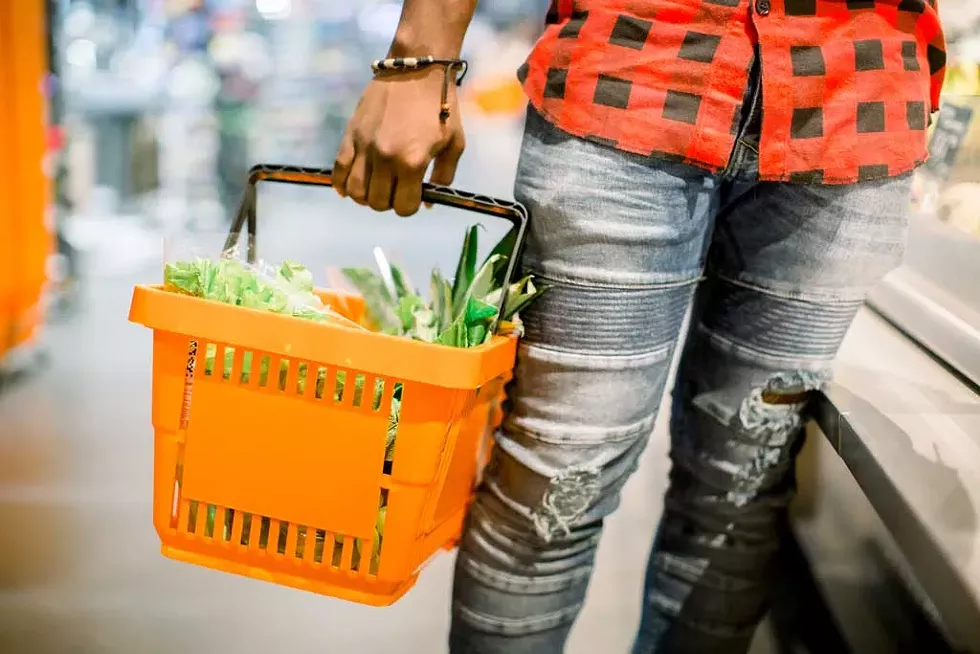 Sophia Shukina | Dreamstime
Though using the card is simple, applying for it can be a bit challenging, Carvajal acknowledges. Figuring out if you qualify can be tricky, as several factors affect eligibility.
The website,
vermontfoodhelp.com
, makes it much easier. It explains the criteria in detail and includes an eligibility calculator, along with information specific to different categories of applicants, such as people ages 60 and older, military families, AmeriCorps members, those who've lost jobs, and families receiving the Earned Income Tax Credit.
How to apply for 3SquaresVT
Find information about the program and how to apply online at vermontfoodhelp.com.
To get help applying, dial 855-855-6181, text 'VFBSNAP' to 85511, or send an email to 3SVT@vtfoodbank.org.
If you are 60 or older, you can call the Helpline at 1-800-642-5119 for personalized assistance.
If you have specific questions about the status of your 3SquaresVT application or case, contact Economic Services at 1-800-479-6151 or go to mybenefits.vt.gov and click on "Access My Benefits."
The website also spells out the steps in the application process, which includes an interview over the phone or in person. It can take a month or more to be approved.
But don't let that stop you, Longo advises; a little inconvenience is worth the payoff. "It opens the door so you can access other programs," she says. For example, once you're approved for 3SquaresVT, your children are automatically eligible for free and reduced lunch at school, and high school students can get help taking the SAT. Green Mountain Power and Vermont Gas customers can also access discounts.
You don't have to figure it all out yourself, Longo emphasizes: "There are people whose job it is to make this process easier for you. We're good at it, and we love doing it." You'll find contact information for them at
vermontfoodhelp.org
, which lists community partners around the state.
If you're struggling to buy food, even if you're not sure you qualify for 3SquaresVT, it's worth investigating and making a phone call. "Even if you're not eligible, there may be resources that you don't know about and I probably do," Longo says. "It never hurts to ask."
Who benefits from your benefits?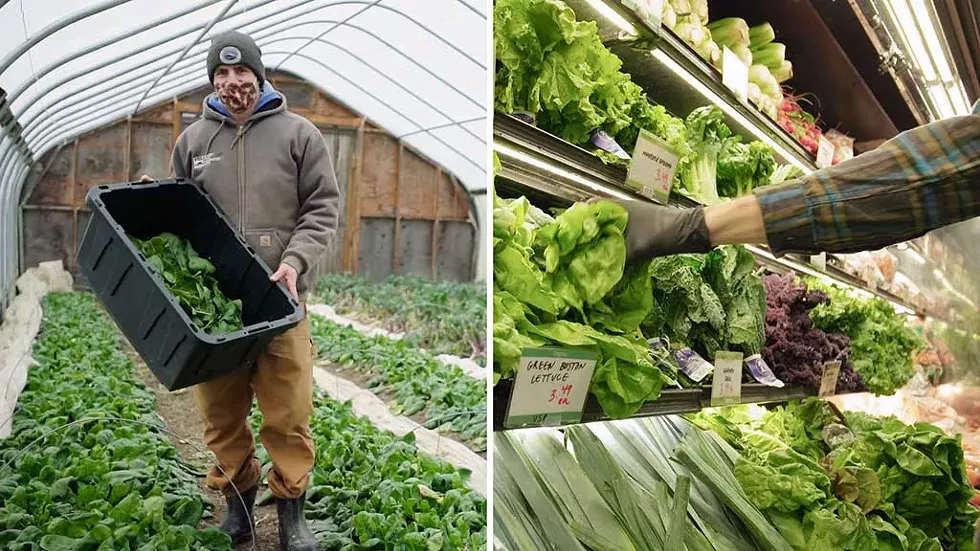 It's important to note that by accepting 3SquaresVT you're not hurting others or taking away money that's meant for someone else, according to Moseley. "That's not how it works," he says. In fact, the opposite is true. When you're eligible for benefits and you receive them, it helps make them available to others in the future.
How? Moseley explains that the federal government allocates money for 3SquaresVT based on the number of people who use it; right now, there's no cap on the number of participants. By not applying when you need it, "it's sending the message to the people in Washington that the need isn't there," he says.
Moseley's job is to help Vermont farmers access some of this money that's flowing to the state. He manages a program called Crop Cash, which doubles or even triples 3SquaresVT benefits for participants buying local produce. In other words, they can spend $10 worth of their benefits and get $30 worth in food. "And all that money goes directly back to the producers," Moseley says.
He estimates that, last year, 3SquaresVT funneled nearly $200,000 to Vermont farmers through farmers market and farmstand sales; some growers even process payments through their own EBT machines. These dollars strengthen the local food system for everyone.
Moseley has been doing food access work for years. Before taking the job at NOFA-VT, he worked with the Vermont Foodbank and Feeding Chittenden, helping low-income people access high-quality food. He strongly believes that food is important — it's the foundation of health, well-being and community connection, he says.
Oksanabratanova | Dreamstime
John Carvajal is mindful of the importance of a nourishing diet; it's part of the reason he applied for assistance. But there's more to a good meal than just nutritional value. "Food always seems to be, for me, that's how you show your love," he says.
One recent night, for example, Carvajal made dinner for himself and his pregnant partner — a simple meat-free dish.
"I sautéed some onions and mushrooms, cauliflower, green beans," he said in a phone interview. "I threw in some wide Thai noodles, tofu, a little bit of soy sauce, a few spices."
The noodles came from his partner's mother; the other ingredients were purchased using 3SquaresVT.
"It was tasty," Carvajal says.