Courtesy Of Britt Shorter
2018 Waking Windows dance-off
Certain cities are practically synonymous with the festivals they host. When a music lover thinks of Austin, Texas, the next thought is likely South by Southwest. Indio, Calif.? Coachella, of course. For Winooski, Vt., that festival is Waking Windows.
Nothing in Vermont compares to the beautiful madness of this three-day music and arts celebration. An annual signifier that summer is just around the corner, Waking Windows takes place the first weekend in May. Over the past eight years, it's grown from a small fringe gathering to a sprawling event attended by thousands. (A September offshoot takes place in Portland, Maine.)
For fans of underground and indie bands, Waking Windows is the gold standard in terms of both scale and cutting-edge lineup. Whatever kind of music you're into — metal, folk, electronica, indie pop, country or jazz — this fest has you covered.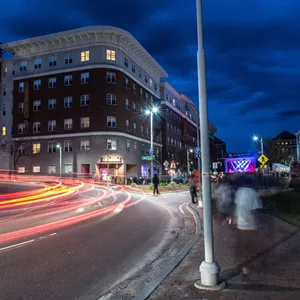 Courtesy Of Britt Shorter
The loop in downtown Winooski
"It's become part of the city's identity," said former Winooski mayor Seth Leonard in 2015. "As the festival has been growing and evolving with the city, the city has been growing and evolving with the festival."
Locally, Winooski is referred to as Burlington's Brooklyn, as it's directly adjacent and just across a river. A mix of stately restored historic buildings — including several old mills — and sleek new construction frames the diminutive downtown. Ongoing commercial revitalization has made the small city an ideal place to launch, and experience, an event like Waking Windows. Bars, restaurants, cafés and boutiques populate the perimeter of Winooski's central traffic circle, and most of them transform into music venues during the festival's run.
Courtesy Of Elliot Lee Hazel
Tune-Yards
Its producers have been bringing exciting musical talent to the Burlington area for years. Partly inspired by the Thing in the Spring, a similar shindig in Peterborough, N.H., Waking Windows debuted in 2011 with a series of showcase concerts at Winooski's primary rock club, the Monkey House. That venue continues to be one of the festival's major hubs.
Waking Windows' lineup always includes a mix of national, international, regional and local artists. In 2018, more than 250 acts performed, a large percentage of them Vermont-based. Over the years, bigger and bigger names have dominated the festival's top slots, as have up-and-comers.
For instance, Brooklyn-based rock band Big Thief played one of the most talked-about sets of Waking Windows in 2017. At the end of that year, numerous critics ranked the group's album Capacity high on their best-of lists, considerably raising the band's profile.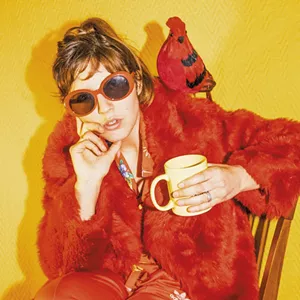 Courtesy Of Caroline Rose
Caroline Rose
This year, Oakland, Calif., art-pop mavericks Tune-Yards headline. Though based 3,000 miles away, founder and front person Merrill Garbus, a New England native, lived in southern Vermont before moving out west more than a decade ago. Other headliners include Chicago fuzz-rock five-piece Twin Peaks, Los Angeles electro-pop outfit KNOWER and Burlington expat pop-rocker Caroline Rose.
One of Waking Windows' many charms is the ease of wandering around town to take in a multitude of acts. In 2018, the 17 venues included two large outdoor stages in the center of downtown: the massive Main Stage, which blocks off Winooski Falls Way; and the Rotary Stage, a smaller setup in the park within the traffic circle. The Main Stage area also features food trucks and pop-up eateries. After picking up their wristbands, attendees can stroll in and out of all locations at their leisure.
Courtesy Of Daniel James Cardon,
Lydia Kern with her Waking Windows art installation "Perpetual Light"
Among the must-visit venues: the century-old Winooski United Methodist Church, which hosts some of the fest's most intimate sets. In late afternoon, the setting sun pours glorious light through its beautiful stained-glass windows. And Waterworks Food + Drink, perched at the edge of the rushing Winooski River, offers dramatic views and some of Waking Windows' wildest late-night acts.
In addition to live music, standup-comedy showcases and literary events have become integral to the festival's makeup. Occasionally, short films are screened, usually accompanied by discussions with the filmmaker. And no trip to Waking Windows would be complete without visiting the Downtown Artisan Market, which sets up near the Monkey House. There, attendees can browse the wares of local artists, crafters and fashion designers.
Infused with Vermont's quintessential DIY spirit, Waking Windows is well worth planning a trip around. If you go, keep in mind the simple, joyous greeting that locals have coined for the occasion: Happy Waking Windows!
Waking Windows takes place Friday, May 3, through Sunday, May 5, in downtown Winooski. Info, wakingwindows.com.
---
Courtesy Of Britt Shorter
2018 Waking Windows dance-off
Certaines villes sont pratiquement synonymes des festivals qu'elles accueillent. Quand on est amateur de musique, la ville d'Austin, au Texas, évoque instantanément South by Southwest. Indio, en Californie? Coachella, bien sûr. Et quand on pense à Winooski, au Vermont, c'est le festival Waking Windows qui vient tout de suite à l'esprit.
Rien ne se compare à la « belle folie » de cette célébration des arts et de la musique qui s'étire sur trois jours. Signal annuel de l'imminence de l'été, Waking Windows a lieu durant la première fin de semaine de mai. Au cours des huit dernières années, l'événement est passé de petite réunion marginale à une grande messe attirant des milliers de personnes. (Un rappel est même organisé en septembre à Portland, dans le Maine.)
Pour les fans de groupes indépendants et underground, Waking Windows est le summum en termes d'affluence et de programmation. Quel que soit votre style de musique — métal, folk, électronique, indie pop, country ou jazz — il y en a pour tous les goûts.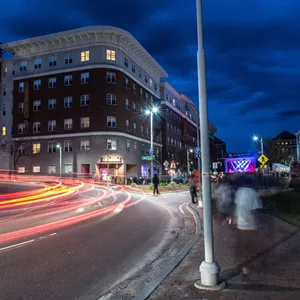 Courtesy Of Britt Shorter
The loop in downtown Winooski
« Le festival fait maintenant partie de l'identité de la ville, a déclaré l'ancien maire de Winooski, Seth Leonard, en 2015. « Le festival et la ville ont grandi et ont évolué au même rythme. »
À l'échelle locale, on considère Winooski comme le Brooklyn de Burlington, étant donné que la ville est directement adjacente et située de l'autre côté d'une rivière. Entre des bâtiments historiques majestueux — dont plusieurs vieux moulins — et de nouveaux immeubles aux lignes épurées se trouve le minuscule centre-ville. La revitalisation commerciale qui bat son plein fait de cette petite ville l'endroit idéal pour organiser, et vivre, un événement comme Waking Windows. Bars, restaurants, cafés et boutiques longent le périmètre du rond-point central de Winooski, et la plupart se transforment en scènes musicales durant la tenue du festival.
Courtesy Of Elliot Lee Hazel
Tune-Yards
Les producteurs du festival font venir des musiciens talentueux dans la région de Burlington depuis des années. En partie inspiré par Thing in the Spring, un événement similaire à Peterborough, dans le New Hampshire, Waking Windows a démarré en 2011 avec une série de concerts-démonstrations au principal club de rock de Winooski, le Monkey House. L'établissement continue d'être l'une des plaques tournantes du festival.
La programmation de Waking Windows se compose toujours d'un mélange d'artistes internationaux, nationaux, régionaux et locaux. En 2018, plus de 250 interprètes, dont la plupart viennent du Vermont, ont livré une prestation. Au fil des années, le festival est parvenu à attirer des noms toujours plus grands, tout en faisant la part belle aux nouveaux artistes sur le point de percer.
Par exemple, le groupe de rock Big Thief, originaire de Brooklyn, a donné l'un des spectacles qui a fait le plus parler lors de l'édition de 2017. Cette année-là, à l'issue du festival, de nombreux critiques de musique ont plébiscité l'album Capacity du groupe, dont la notoriété a ensuite connu une forte impulsion.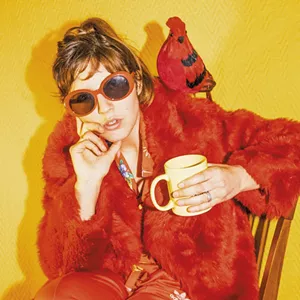 Courtesy Of Caroline Rose
Caroline Rose
Cette année, c'est le groupe pop non conformiste Tune-Yards, d'Oakland, en Californie, qui sera la tête d'affiche du festival. Même si ce groupe est basé à quelque 5 000 km de là, l'instigatrice de ce projet musical et chanteuse principale Merrill Garbus, native de la Nouvelle-Angleterre, a habité dans le sud du Vermont avant de s'installer sur la côte ouest il y a une dizaine d'années. Parmi les autres vedettes, mentionnons Twin Peaks, un quintette fuzz-rock de Chicago, KNOWER, un groupe d'électro-pop de Los Angeles, et la chanteuse de pop-rock Caroline Rose, originaire de Burlington.
L'un des nombreux charmes de Waking Windows, c'est qu'il est très facile de déambuler dans la ville pour passer d'un spectacle à un autre. En 2018, les 17 lieux de représentation comprenaient deux grandes scènes extérieures en plein cœur de la ville : l'énorme scène principale qui barre la route Falls Way, et la scène rotative, plus petite, installée dans le parc au centre du rond-point. On trouve également, dans le secteur de la scène principale, des camions de rue et des stands de restauration temporaires. Après avoir récupéré leur bracelet, les festivaliers peuvent circuler comme bon leur semble sur le site.
Courtesy Of Daniel James Cardon,
Lydia Kern with her Waking Windows art installation "Perpetual Light"
L'église méthodiste unie, vieille d'un siècle, compte parmi les lieux de représentation à ne pas manquer. Certains des spectacles les plus intimes du festival s'y déroulent. En fin d'après-midi, les rayons du soleil passent au travers des superbes vitraux dans un effet des plus spectaculaires. Le Waterworks Food + Drink, perché au bord de la tumultueuse rivière Winooski, offre un panorama saisissant et c'est l'endroit idéal pour les folles prestations de fin de soirée.
Au-delà de la musique, des numéros de stand-up comique et des événements littéraires font désormais partie intégrante du festival. Des courts métrages sont également projetés à l'occasion, et sont habituellement suivis de discussion avec le réalisateur. Enfin, aucune participation à Waking Windows ne serait complète sans une visite au marché des artisans au centre-ville, tout près du Monkey House. On y trouve tout un florilège d'artistes, de bricoleurs et de créateurs de mode locaux.
Parfaitement représentatif de l'esprit d'innovation qui caractérise le Vermont, Waking Windows vaut vraiment le détour. Si vous y allez, n'oubliez pas de faire comme les gens du coin et d'utiliser la jolie expression qu'ils ont créée pour l'occasion : « Happy Waking Windows! ».
Waking Windows a lieu du vendredi 3 mai au dimanche 5 mai, au centre-ville de Winooski. Info : wakingwindows.com.